This post may contain affiliate links. This means I may make a small commission at no additional cost to you when you make a purchase. Find out more in the Disclosure Policy
Juicy Chicken with Apple and Onions is a recipe infused with the tangy and sweet flavors of apple and onion. A quick recipe that's ready in about 30 minutes. Keep this recipe in mind for busy weeknights.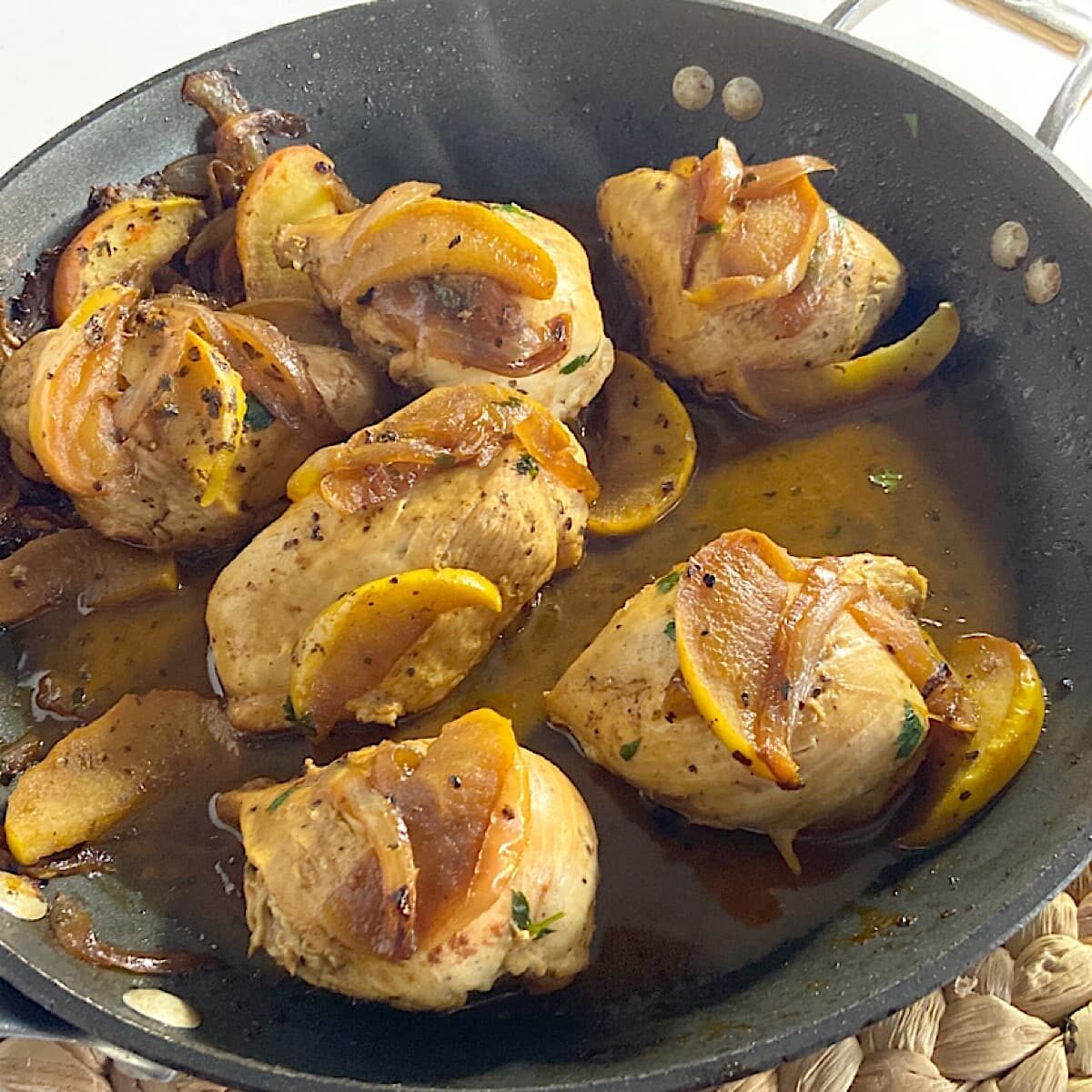 I'm always looking for a recipe to add an extra kick to chicken. This chicken saute with apples and onions recipe uses simple ingredients I have on hand. Apple adds a bit of sweetness and onion and brown sugar add caramelly depth.
Ingredients
Chicken: Depending on how many servings you need, plan on a 4-5 ounce portion of chicken. Most chicken breast halves run 8-10 ounces. Cutting the chicken into smaller equal pieces helps it cook more evenly.
And really a 4-5 ounce portion of protein is what you should aim for when heating a healthy diet.
Apple: For this recipe, I use any type of apple I happen to have on hand. Usually, a tart apple will give you the best flavor.
Onion: When available I use a sweet onion. They are usually available at my grocery store.
Garlic: Mincing garlic is easy with a press, but I keep a jar of minced garlic in the fridge. It's convenient and saves on clean-up.
Vinegar: I love white wine vinegar. It has a mildly tart flavor and imparts just enough tanginess to my recipes.
Olive Oil: I prefer to use olive oil for sautéing. Extra virgin olive oil has a lot of flavors and is a healthy substitute for butter.
Dark Brown Sugar: Brown sugar is a staple at my house and I can count on it being in the cabinet. Dark brown has more flavor.
Spices: Spices are simple in this recipe, including basil, poultry seasoning, parsley, salt, and pepper.
Easy Substitutions
Sometimes we have almost all the ingredients for a recipe but are missing just one. So frustrating, but you can often find a substitution.
Chicken breasts can be substituted with chicken thighs.
Out of apples, slice up a firm, not too ripe pear.
For vinegar, you can really use any type you have on hand. Apple cider vinegar adds a lot of flavors, start with 2 tablespoons rather than a 1/2 cup. Balsamic vinegar will add a little sweet flavor.
I always have olive oil on hand, but if you are out consider healthy canola oil or walnut oil.
If you are out of brown sugar, consider molasses, honey, or maple syrup. In a pinch, you could use dark corn syrup.
Mix it up with spices. Consider adding cinnamon, nutmeg, or even cardamom.
Instructions
Step 1. Cut each chicken breast into equal portions. Slice onion into thin slices. Set aside.
Step 2. Heat olive oil in a frying pan over medium heat. Add sliced onion. Stir and cook for 5 minutes until the onion starts to brown. Add garlic and stir.
Step 3. Add chicken portions to onion in pan. Add sliced apple.
Sprinkle with salt, pepper, sweet paprika, poultry seasoning and, and dried basil. Cook 3-4 minutes on each side until browned. Lower heat to low, cover, and cook for 10 minutes until internal temperature is a minimum of 165F measured with a temperature probe.
Sprinkle with chopped parsley. Serve chicken with apple slices and onion and a drizzle of sauce.
What to Serve with Chicken Apples and Onions
Serve chicken sauté with a leafy green salad and a side dish like Vegetable Couscous Salad or Roasted Acorn Squash.
Want more chicken recipes? Check out my Easy Healthy Chicken Recipes post for more dishes that use simple flavorful ingredients and are ready in less than an hour.
Other Healthy Dinner Recipes for You
---
September 2022 Update: Added Instructions and Other Healthy Dinners for You sections. Revised recipe instructions.