This post may contain affiliate links. This means I may make a small commission at no additional cost to you when you make a purchase. Find out more in the Disclosure Policy
Savory oven roasted acorn squash with Parmesan cheese is light and
flavorful side. It's a healthy alternative to french fries or other fried potato recipes.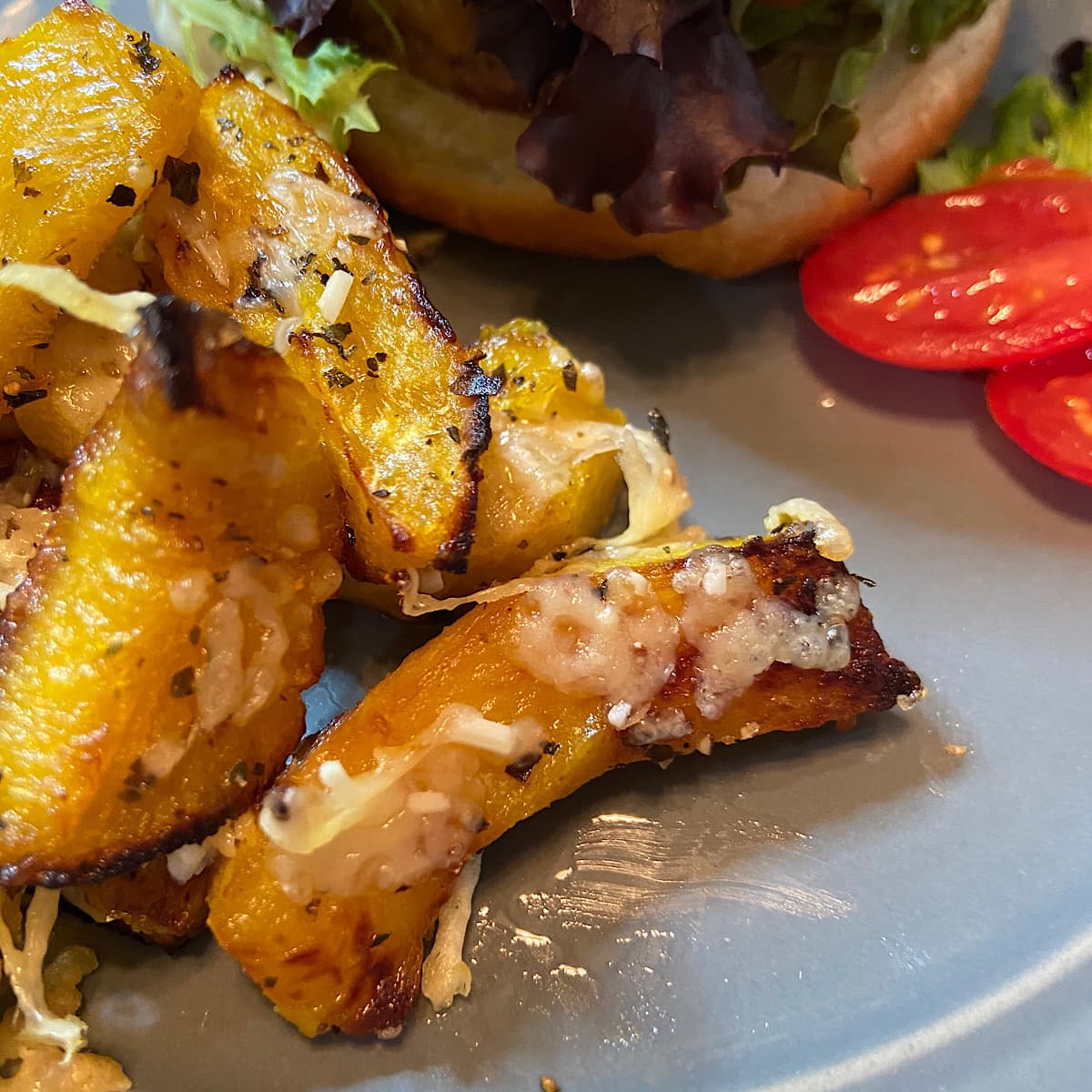 This easy acorn squash recipe is savory rather than sweet. Most recipes are prepared with brown sugar and dessert spices.
Ingredients
This savory roasted acorn squash recipe is made with:
acorn squash
EVOO
dried basil
shredded Parmesan cheese, and
salt, and pepper.
Instructions
Step 1. Prick the skin of the squash all around with a fork. Place the squash in the microwave and cook for 3 minutes. Rotate squash and cook for an additional 3 minutes. Carefully remove squash and let cool for 5-10 minutes.
Step 2. When cool to the touch, take a sharp knife and cut the squash in half. Use a metal spoon to scrape the inside of the squash removing seeds to the firm squash.
Place squash cut side down and carefully slice into 1-inch slices. Trim the skin at this time or leave it in place for additional color.
Step 3. Line a baking sheet with parchment paper. Space squash slices across the paper, Drizzle squash slices with olive oil. Sprinkle slices with basil, salt, and pepper. Place the baking sheet on the bottom rack of the oven and bake for 15 minutes.
Step 4. Rotate squash, and sprinkle with Parmesan cheese. Return the baking sheet to the bottom rack of the oven and bake for 10 minutes or until the cheese is melted and starts to brown.
Frequently Asked Questions
How to Peel an Acorn Squash
Acorn squash has very tough skin prior to cooking. The following is an easy way to cut the squash into slices.

First prick the squash skin with a fork or sharp knife, all around. Place the squash in a microwave on a microwave plate and cook for 3 minutes. Rotate squash and cook for an additional 3 minutes. Remove squash and allow to cool.

Next slice the squash in half. Use a metal spoon to clean out seeds and other debris.

Lastly, place the squash half, cut side down on a cutting board. Use a sharp knife to slice the squash into 1-inch slices. The slices can be easily peeled, or if you prefer you can leave them in place and roast them. They are edible.
How to Use a Kitchen Knife Safely
Winter squash all have tough skin and it is difficult to slice. It requires using a sharp knife so it is important to follow knife safety tips.

Remember when using a knife to:
1. Pick up the knife by its handle rather than the blade. Use your pointer finger and thumb to grasp the knife to the beginning of the blade for more control.

2. Only cut on a flat, solid surface, ideally a cutting board.

3. Cut food away from you.

4. Keep your fingers of the hand holding the food curved in a claw position and clear of the knife cutting and chopping food.

5. Clean and store knives properly when finished.
Is Acorn Squash Skin Edible
Acorn squash has tough outer skin. Most recipes will advise peeling the skin prior to cooking the recipe.

When you roast acorn squash, this is generally under a high oven temperature which cooks the skin and softens it making it edible.

So for this recipe, you can leave the skin in place and there is no need to peel.
What to Serve with Roasted Squash
This Savory Roasted Acorn Squash is a great side dish for burgers. Serve it as a carbohydrate side dish with roast, chicken or pork. You might enjoy it with Chicken with Apples and Onions.
Other Healthy Side Dish Recipes for You
---
October 2022 Update: Added Ingredient, Instructions, FAQs, and Other Side Dish Recipes Sections. Updated images. Minor updates to recipe card.