This post may contain affiliate links. This means I may make a small commission at no additional cost to you when you make a purchase. Find out more in the Disclosure Policy
This Pan-seared sea scallops recipe makes scallops that are tender, buttery, melt-in-your-mouth goodness.
This is a simple Mediterranean Diet scallops recipe that includes flavors of tangy lemon, olive oil, salty capers, and slightly bitter spinach on fettuccine.
Add a crust of french bread and a glass of wine or iced tea to the meal and you are set.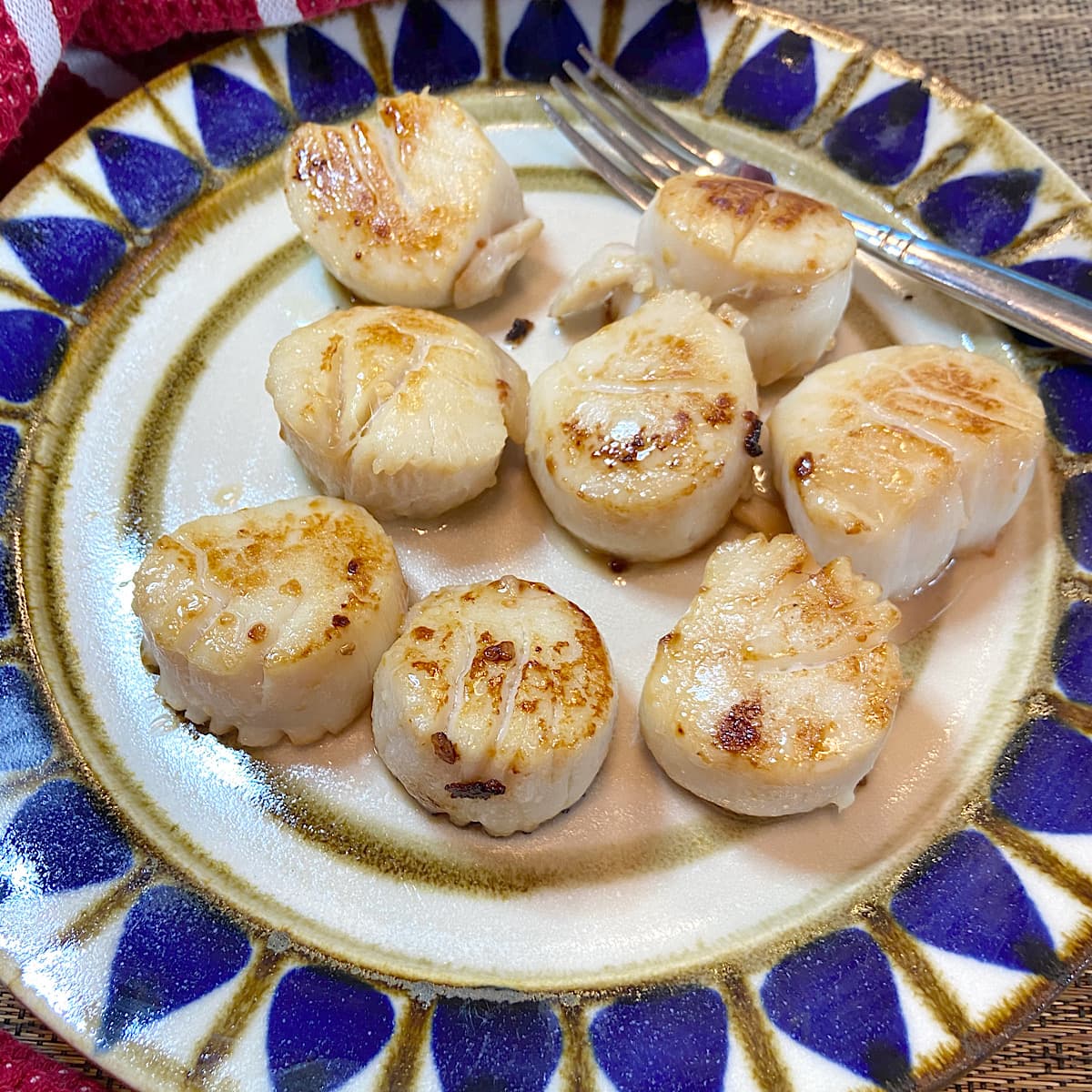 Scallops are usually a delicacy that we only order in a restaurant. Tender, juicy, and buttery-flavored, scallops melt in your mouth.
You can get all this flavor at home too. Mediterranean scallops are super easy to prepare.
Ingredients
Instructions
Step 1. Add water to a large stockpot with a pinch of water and bring to a boil. Cook fettuccini per package directions. Drain and drizzle with olive oil. Set aside.
Step 2. While the pasta is cooking, rinse the scallops under water and pat dry. Inspect scallops to see if their foot or attachment muscle is still connected. If so, just pinch it off. The scallops are now ready to prepare.
Step 3. Heat the frying pan over medium heat. Add olive oil and butter (optional for flavor). Stir in garlic. Sear scallops in the frying pan for 1-2 minutes.
Turn each and sear another 1-2 minutes until the scallops are golden brown. Remove from pan and set aside.
Add additional oil and garlic to the frying pan and stir for 1 minute.
Step 4. Add broth, and wine to the frying pan and bring to a boil. Sprinkle in lemon juice and zest. Stir in capers and pasta until coated with sauce.
Step 5. Sprinkle in fresh spinach. Cook until spinach wilts. Remove from heat. Place a serving of pasta on a plate and add 3 scallops.
Frequently Asked Questions
What are Scallops

Scallops are mollusk similar to clams and oysters and grow in a bivalve shell.

There are two types of scallops. The first type is bay scallops. They are smaller and often described as more tender.

Sea scallops are up to 3 times larger and are just as flavorful as their cousins, the bay scallop. 1
3.
How to Purchase Scallops

Scallops are bought by unit per pound. You can purchase larger sea scallops as 10-12 scallops per pound whereas bay scallops are smaller and may have up to 30 to 40 scallops per pound.2

Purchase fresh scallops at your local grocery store or fishmonger. You may also find them in frozen food in the grocery store or big box store.

Scallops are available as dry packs or wet packs. Dry-pack scallops are fresher and will give you a more accurate view of your final serving size.

Wet-packed scallops are treated with a solution that helps preserve them. It also encourages them to absorb more water to make them weigh more. This also causes wet scallops to lose more size during cooking.

If wet scallops are your only option at purchase, make sure and rinse them well prior to cooking.
What to Serve with Scallops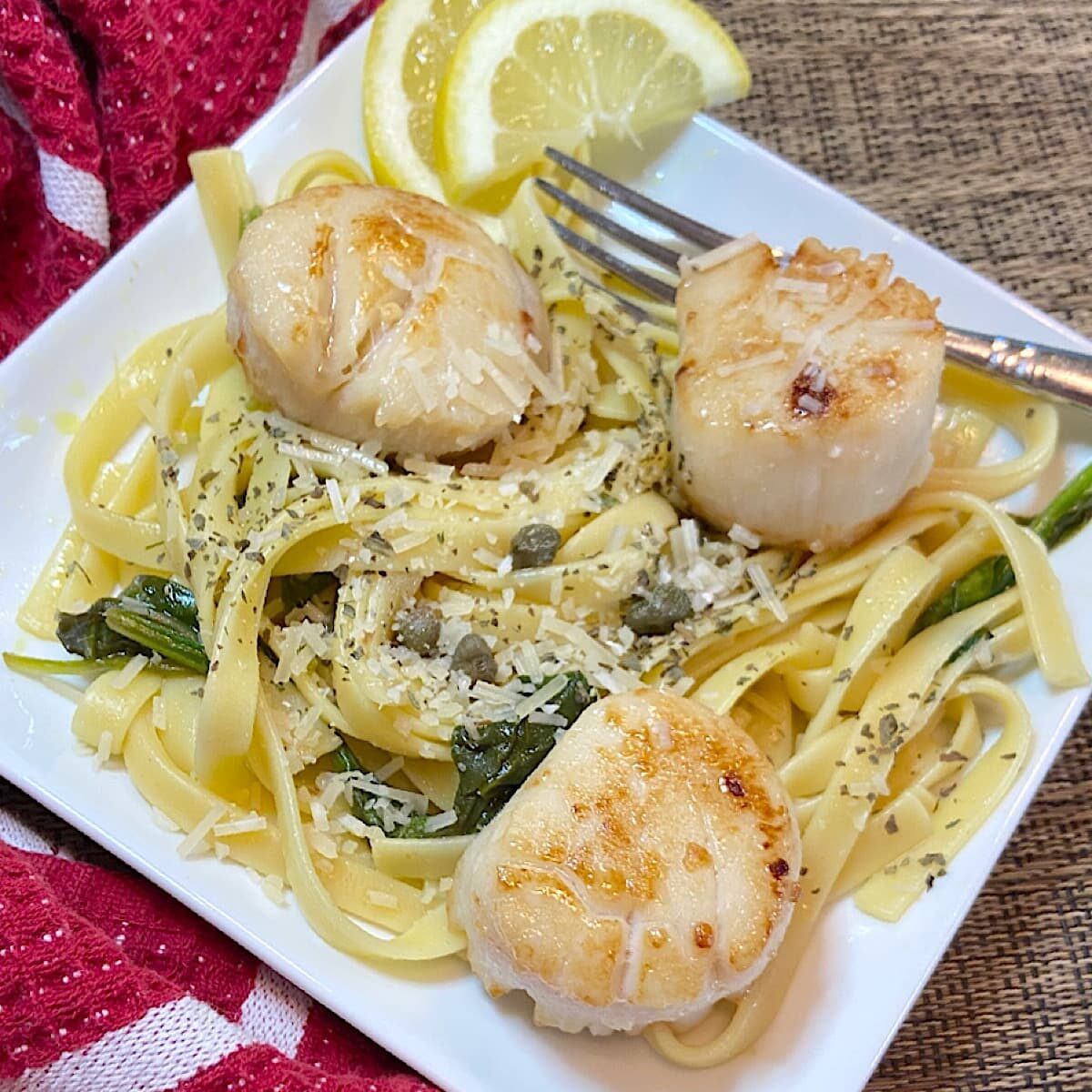 Serve Mediterranean scallops with pasta recipe with a leafy green salad and Homemade Ranch Dressing. Add a slice of bread and you have a wonderful meal.
If you like salmon, try my Salmon with Mediterranean Spice Rub or my simple recipe for Oven Baked Salmon.
Check out more Mediterranean Diet Recipes here.
Other Healthy Dinner Recipes
---
October 2022 Update: Minor updates to the recipe post.