This post may contain affiliate links. This means I may make a small commission at no additional cost to you when you make a purchase. Find out more in the Disclosure Policy
We eat a lot of chicken at our house. So much that it becomes boring. I am always trying to come up with ways to add a different flavor for more variety. If you are experiencing this same issue try my recipe for Baked Honey Mustard Chicken. Flavorful and moist, and quick to prepare.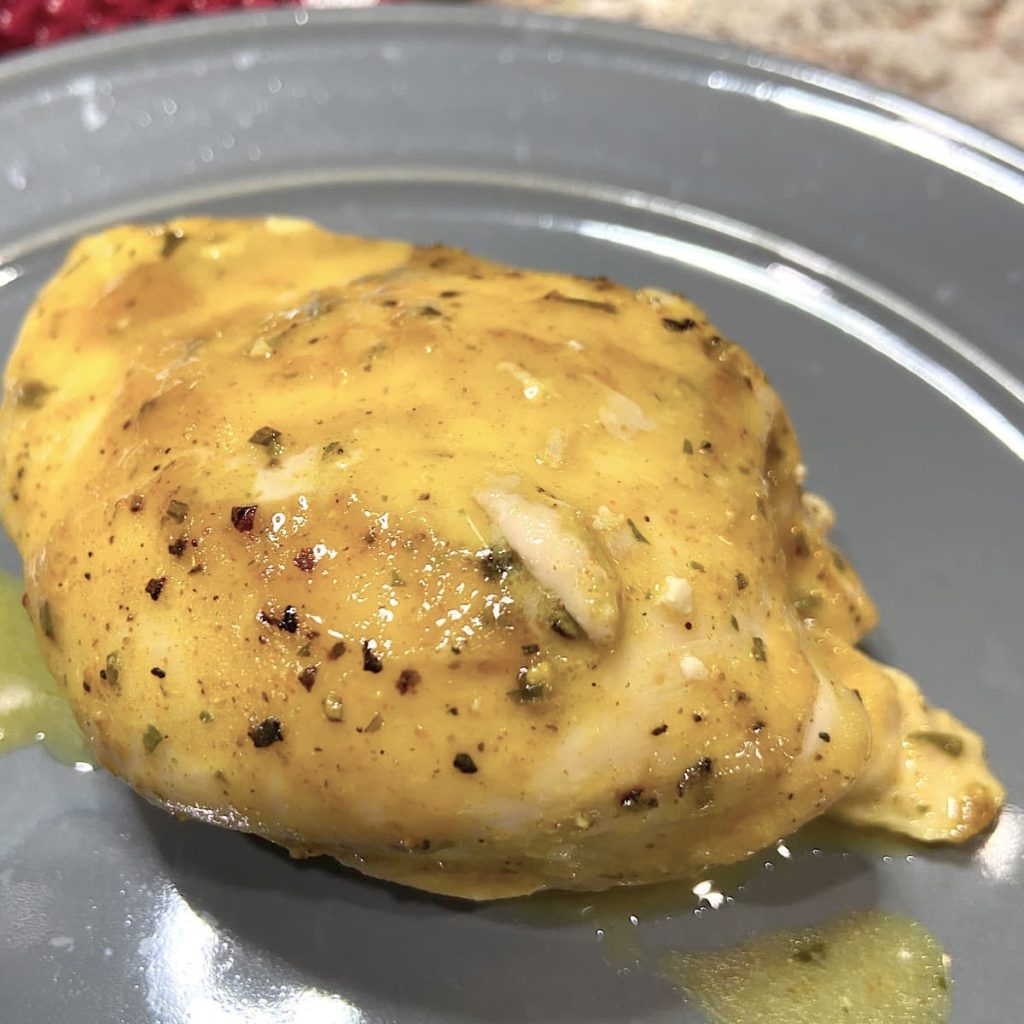 This is a simple recipe with a flavorful sauce. While I used Dijon mustard, you can use the type of mustard you have on hand or even mustard powder.
How is Mustard Made
Mustard is typically a condiment we think of for hot dogs, brats, and hamburgers. But, mustard's tangy flavor adds a unique depth to many savory dishes too.
Mustard is prepared from mustard seeds. Mustard seeds come in yellow, brown, and black. The seeds are ground to produce a light yellow, brown, or black powder.
The color of the seed and how finely the seeds are ground impacts the flavor and texture of the mustard. Stoneground mustards often include coarsely ground seeds and provide a stronger flavor, while the typical yellow mustard is smooth, creamy, and mild tasting.
The liquid used to wet the powder also impacts the final flavor. Water produces a stronger, hotter preparation while wine, vinegar, and other acidic liquids will lead to a milder flavor.
Common Types of Prepared Mustards1
Mustard powder can be mixed with a variety of liquids from water, wine, vinegar, beer, and milk. Mustards are also mixed with honey, applesauce, peppers, and other flavorings to enhance recipes. The following are a few common mustards.
Dijon Mustard is produced from brown mustard seeds and is typically made with white wine. Some brands attempt to mimic the verjuice or the unripe green grape juice originally used to make the mustard. Instead of verjuice, they now use wine vinegar, water, and salt. Dijon mustards have a more intense flavor.
French Mustard has a mildly tangy and slightly-sweet flavor with a dark brown color. Unlike the name suggests, French mustard originated in the UK.
English Mustard is bright yellow mustard with a very hot and spicy flavor and a thicker consistency. You will see this mustard used as an ingredient in recipes, but also as a condiment. But start slow because English mustard's flavor is a lot more intense.
Spicy Brown or Stone Ground Mustard is a coarsely ground mustard with a speckled texture that is spicer that other types of prepared mustard. Used in deli sandwiches, it often includes horseradish to make it hotter than other mustards.
Yellow Mustard is the typical mustard condiment we use on hot dogs and hamburgers. It has a mild flavor and a bright yellow color from the addition of turmeric.
How to Make Honey Mustard Chicken
Honey mustard chicken is a simple recipe.
Cut chicken breast halves are seasoned with salt and pepper.
A sauce is mixed with extra virgin olive oil, honey, and Dijon mustard. Spices are added and the sauce is poured over the chicken.
Find you are out of prepared mustard? You can easily whip up what you need at home rather than running to the store. Simply substitute the same amount of mustard powder for the amount of prepared mustard that your recipe calls for. Add twice the amount of liquid, such as wine or wine vinegar, water, milk, or even beer. Other spices can be added such as small amounts of turmeric, paprika, or garlic. Add salt to taste.
Bake Honey Baked Chicken at 365 degrees F for 25 to 30 minutes.
Cooking Tip: Are your chicken dishes sometimes a little dry? Me too. I found that using a temperature probe (#ad) to check the internal temperature of the chicken about 5 minutes before it should be done helps me not overcook the chicken.
For this recipe, your chicken should be ready once the internal temperature of the chicken reaches 165 degrees F.
What to Serve with Honey Mustard Chicken
This is a flavorful dish and works well with a side salad dressed with olive oil and balsamic vinegar. You might also like Favorite Corn Casserole, Easy Broccoli Slaw Recipe, or Roasted Acorn Squash.
Looking for more chicken dishes? Check out my post on Easy Healthy Chicken Recipes. Chicken entrées made with simple healthy ingredients and ready in less than an hour.
---
---
December 2020: This recipe was updated with new images and cooking tips.