This post may contain affiliate links. This means I may make a small commission at no additional cost to you when you make a purchase. Find out more in the Disclosure Policy
Flavorful Broccoli Slaw Recipe includes simple ingredients and a sweet and sour vinegarette. Perfect side dish for steak, chicken, or burgers. This is a year-round dish that works when you are looking for a side dish to enhance your meal.
I love this slaw recipe that includes simple ingredients right from your pantry. A light slightly sweet and tart vinegarette melds the flavors into a side that won't last long.
Ingredients for Broccoli Slaw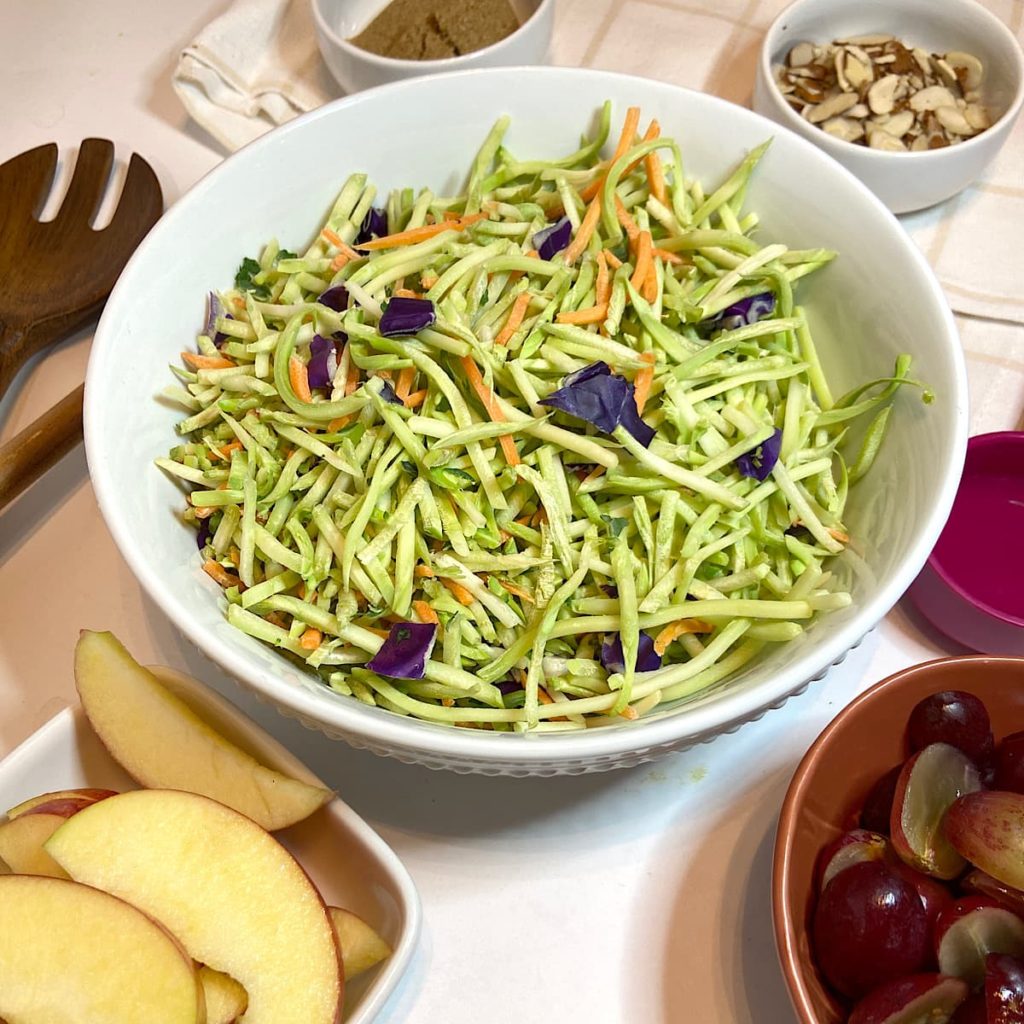 This is a quick preparation dish. A bag of Broccoli Slaw Mix that includes a bit of carrot and red cabbage sets a colorful base.
Add thinly sliced apple or pear or both.
Red grapes add color. A cup or so of halved grapes is plenty to add a sweet bite.
Toast sliced almonds in the microwave or in a dry skillet to add a smokey flavor.
Dress with a simple white wine vinegar and brown sugar vinegarette.
Most Important Tip: this salad needs time to marinate. It is best made ahead. Plan for at least 3 hours. It is even better when left overnight.
Substitutions When You Are Out
Apple: ripe pears work well with this salad. You could also add chunks of pineapple.
Grapes: out of grapes? Add a handful of golden raisins, dried cherries, or cranberries.
Sliced Almonds: you can easily substitute toasted pecans. Want the salad nut-free? Add toasted pumpkin seeds. They add a similar crunch and nutty flavor.
White Wine Vinegar: feel free to substitute apple cider vinegar. Be aware the dressing will have a stronger flavor.
Brown Sugar: looking to cut back or avoid sugar? Substitute an equal amount of a brown-sugar substitute. Products like Swerve Brown Sugar Substitute (#ad) taste great and are hard to distinguish from regular brown sugar.
What to Serve With Broccoli Slaw
Bacon-Wrapped Grilled Chicken Breast, Peppered Turkey Meatloaf, or Tasty Grilled Chicken Kabobs all work great with this Flavorful Broccoli Slaw recipe.