This post may contain affiliate links. This means I may make a small commission at no additional cost to you when you make a purchase. Find out more in the Disclosure Policy
Healthier Apple Spice Cookie with Pecans is a moist, soft, and cake-like cookie. Made with chopped apples, pecans, and Fall spices. They are so good it is hard to enjoy just one.
My family has an apple spice cookie that has been handed down for several generations. I decided to adapt this recipe with the addition of whole wheat pastry flour and olive oil to make it more heart-healthy,
Try this healthy version of Apple Spice Cookie with Pecans.
Ingredients
Flour
Most baking recipes call for all-purpose flour. A healthier alternative is using whole wheat flour.
Whole wheat flour includes fiber and bran from the original grain. It provides more nutrition and the fiber helps moderate blood sugar levels.
Pure whole wheat flour is milled from hard red wheat. It is strong flavored and its texture is grainy. It works in many recipes but is not ideal for this cookie.
When I decided to start adapting recipes to whole wheat I learned about whole wheat pastry flour that is made from white wheat.
Now you may be thinking pastry flour sounds like something that would be associated with all-purpose flour. But that is not the case.
Fats
I also substituted olive oil for shortening in the original recipe. This swap decreases the amount of saturated fat.
When substituting olive oil for butter or shortening, you will need less oil. I generally decrease the amount of oil by 25% of the butter or shortening a recipe would need.
Milk
This recipe calls for milk. You can substitute almond or another alternative milk if you prefer.
Nuts
If you are allergic or don't like nuts, a great substitution is golden raisins or chopped dried apricots.
Ingredients
cinnamon, cloves, nutmeg, salt
Instructions
Step 1. Preheat the oven to 375F.
Step 2. Mix dry ingredients, including flours, baking powder, spices, and salt. together in a large bowl.
Step 3. Combine wet ingredients in a second bowl. First, whisk eggs in a separate bowl. Add oil, milk, and vanilla. Combine sugars with the wet ingredients. Mix all until well combined.
Step 4. Combine wet ingredients with dry ingredients until a dough starts to form. Stir in chopped apples, and pecans.
Step 5. Line a baking sheet with parchment paper.
Step 6. Drop 2-inch spoonfuls onto the baking sheet. Leave space between cookies.
Step 7. Place the baking sheet on the bottom rack of the oven and bake for 10-12 minutes.
Step 8. Remove and cool on a wire rack.
Frequently Asked Questions
What is Whole Wheat Pastry Flour

Whole wheat pastry flour is a whole grain flour made from white wheat. It is milled with all the whole grain components including the bran and germ.

So you get the fiber and nutrients that are processed out of all-purpose flour.

Whole Wheat Pastry Flour has a finer texture, lighter color, and milder flavor than regular whole wheat flour milled from red wheat. This makes it great for baking.
Can I Substitute Whole Wheat Pastry Flour for All-Purpose in Baking

Whole wheat pastry flour has a lower gluten content than all-purpose flour, therefore it is not a good flour replacement for baking bread.
How to Store Cookies

These cookies are moist and cake-like. Store in an airtight container between sheets of parchment paper for 2-3 days.

For longer storage, freeze between sheets of parchment paper in a freezer-safe ziplock bag for up to 3 months.
Healthy Dessert and Snack Recipes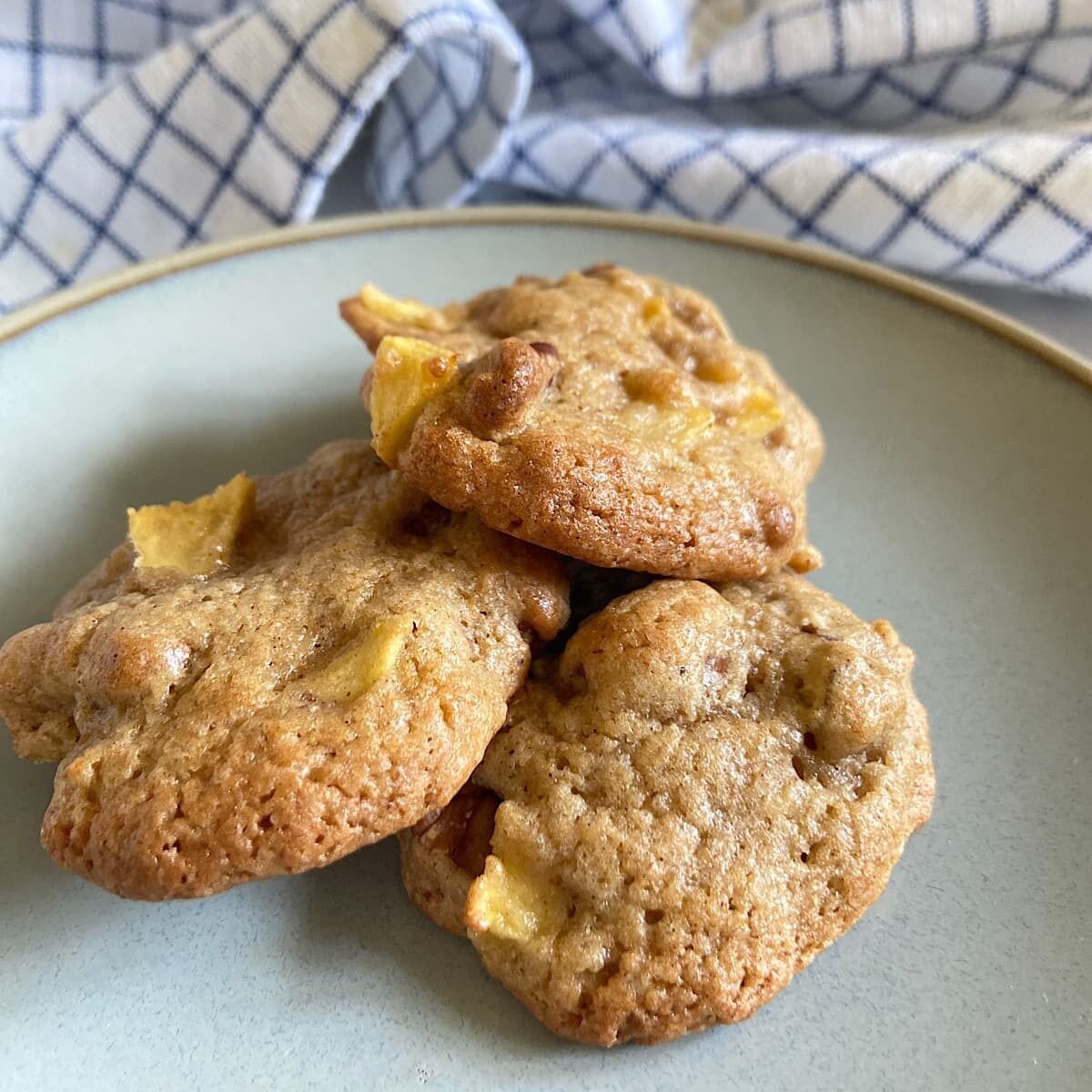 Looking for more Healthy Baked Snack and Dessert Recipes? You might like one of these.
Whole Wheat Cookie with Chips and Pecans - cookies that are crisp on the outside and tender on the inside. They calm the craving for something sweet.
Easy Carrot Cake - moist and flavorful cake. Made with healthier ingredients, it is a dessert you can enjoy for Easter brunch or any day of the year.
Tender and Healthy Blueberry Muffins - fluffy muffins with a tender crumb and full of delicious fruit flavor.
---
June 2022 Update: Minor updates to the recipe card. Organized blog post with ingredients, and Instruction sections.
---