This post may contain affiliate links. This means I may make a small commission at no additional cost to you when you make a purchase. Find out more in the Disclosure Policy
So we are all living in a new world. Experiencing extended-time working from home, extended Spring Breaks for children, constant sensational news coverage on television, on the internet and on your phone. Dealing with shortages of food, everyone at home all day every day and nowhere to go for our usual entertainment. Everything is closed. What I have found is that it is important to Create a Routine When Sheltering at Home.
Establish a Routine
I have for years dreamed of a work from home job. A job where I could work in my yoga pants and not worry about making myself presentable for the office. It would also eliminate my daily commute to and from work.
Well, now it has been mandated that since my job is not essential at the office, that I will work from home. I have all the equipment I need to do just that and occasionally when the weather has been bad we have been lucky enough to work from home for a day.
Now for the past weeks, I have been working at home. It takes a little adjustment and when it was just me at home I manage well.
Spring break for my middle and high school kids started this week. Now their time off has been extended due to the expanding virus of the hour. My husband is also working from home.
So we are all here together, all day every day. The first few days I felt overwhelmed with shopping, adjusting to working from home, making sure I have a plan for dinner, and all the ingredients I need to make that dinner.
By about day 3 of this new world, I was done. I decided something had to give. My kids were on their phones all day, I was basically in my jammies all day and I felt like things weren't going great.
I decided we needed a routine. My kids needed some jobs to keep them busy during the day. We needed to all work to keep our house tidy since we are all at home all day. And I decided I was going to get up like I was going to work and get dressed like I was going to be in the office.
It really helped. And amazingly, my kids liked it too!
Our routine looks something like this.
Rise at a reasonable time and make our beds. This is later for my kids than it is for me but still applies to both.
Tidy up our room and activities from the night before and take dirty clothes to the laundry. Start a load of clothes.
While I am working, the kids have free time to do what they want or when schooling at home to work on assignments.
After I am off work, we take a walk to get some fresh air and burn off some pent up energy.
Back at home we prepare dinner and eat together.
After we clean up from our meal, we work on a puzzle or play a game.
Free time for everyone. Laundry and other chores for me.
We all do better with a routine. The kids are much happier and know what to expect with their day and that helps keep everything in perspective.
Here are other areas to work into your routine when sheltering from home.
Cooking From Home
With limited options for eating out, we are cooking even more at home. I try to shop for the week, but I usually need to make an extra trip or two.
Let's face it when we stock up on groceries, we also stock up on those non-healthy snacks. At least I did. I try to only head to the store once a week so I try to get every item I might possibly need. With 3 teens at home, that includes snacks.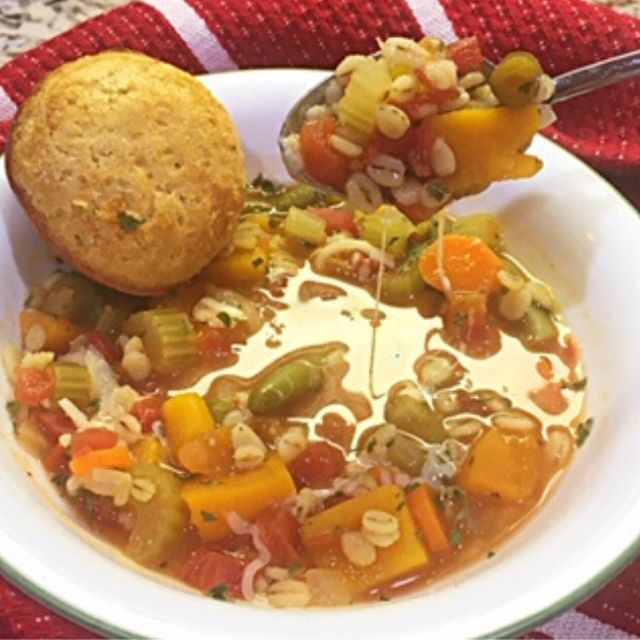 I have also stocked up on canned goods so my pantry is overflowing. A good recipe to use up all those pantry staples is Acorn Squash and Vegetable Barley Soup. Quick and easy soup will have dinner on the table in less than an hour.
Planning meals is important when you cook at home. I made one of my favorite meals earlier this week. A roasted turkey breast. I usually keep one in the freezer and roast twice a year outside of Thanksgiving.
Making a baked, bone-in turkey breast is great for meal planning. I assume I will get 3 meals from the turkey breast. Of course the first is the roasted turkey with mashed potatoes, gravy, and peas. My family loves this combination. Then I make an easy and quick Turkey Pasta with part of the leftovers. I pick a pasta and make an alfredo sauce and vegetables. Mix all together and layer half in a baking dish, sprinkle with cheese. Add the remainder of the pasta and sprinkle with cheese. Bake for 20-30 minutes until heated through. Kids eat this up.
The remainder of the turkey I freeze until I am ready to make hearty Turkey Wild Rice Soup.
This type of planning is crucial when you are buying a lot of groceries and cooking at home. Food is expensive and making the most we can out of it is important.
Watch Your Diet
With the media drawing us to the couch and limited options for getting out, watching your diet is also a good idea.
The Mediterranean Diet is a food plan that includes easy recipes that are flavorful and heart-healthy. This diet has limited rules and is easy to incorporate into your daily life.
The diet focuses on fresh fruits and vegetables, beans, nuts olive oil, whole grains, poultry, and fish. Many of your pantry staples work great with Mediterranean Diet recipes. Take a peek at my post, Mediterranean Diet -Learn the Basics to see how easy it is to follow.
Incorporating exercise and activity into your daily routine are other essential pillars of following the Mediterranean Diet and lifestyle.
Stay Active
Because we were sheltering at home, we decided that we would plan a walk every day when I get off work. Today we walked to our neighborhood park. It was a quick 30-minute loop and we all loved getting outside. We agreed that we would regularly change our route to keep it interesting.
What's important is that we are getting exercise. Being outside is a bonus. And we are doing it together. It has helped us connect and it was fun. We did cross paths with other walkers, but we made sure to keep the social distance.
If you can't get outside, then dust off your exercise bike and start a workout plan. Your workout doesn't have to include hours on the bum numbing machine but could include a simple plan like 15 minutes in the morning and 15 minutes in the evening.
Another idea is to add quick HIIT workouts. This high-intensity, short workout actually helps you burn more fat. For ideas on adding these quick workouts to your day, read my post, 6 HIIT Workouts to Burn More Fat.
Spend Time With Family
The third pillar of the Mediterranean Diet and lifestyle is nurturing relationships. With everyone home for the next few weeks and maybe longer, we are all reconnecting.
When setting up our daily and weekly routines, one of the mandates I made was that we would cook dinner together and eat dinner together.
Before our sheltering at home status, with our busy schedules, and after school activities, cooking and sitting down to enjoy our meal together rarely happened.
Preparing dinner and eating together is keeping us grounded. It helps me understand what is on my kids' minds and what issues they are dealing with.
Kid Activities
So what are kids supposed to do being home all day? Hanging out with buddies is not recommended. Like all their friends, they spend a lot of time on their phones playing games and chatting with friends, but eventually, that gets boring.
Some may be homeschooled and others will school from home. Until your school routine is established, the following are some ideas to help your kids when they are bored at home.
Model Car Kits
There is a range of difficulty with these kits based on the age and skill level of your child or even you. Some kits are plastic and snap together. Others require paint and are more advanced.
Puzzles
When I first suggested a puzzle my teens groaned and rolled their eyes. But my son found one of our older 300 piece puzzles and he and I put it together one night and he was hooked. It took us about 20 minutes to finish and left us both wanting to do more.
Next, we moved to a 1000 piece puzzle. Now, these take a minute to put together and is something that is best left out to work on rather than start to finish in one sitting. A good accessory is a puzzle organizer that allows you to zip up the puzzle and put it away until you are ready to work on it.
Drawing Kits
My kids like to draw but they want a little help in making their drawings special. There are instructional drawing kits that could be used as art projects while kids are homeschooling.
Our school district issued Ipads and laptops several years ago, so our kids will be schooling from home too. I think they will be glad to get back to a school routine even if it is from home.
Finish a Project
Making this use of forced time at home is a great opportunity to get caught up on those projects that you have been meaning to do, but just haven't had the time to do. A couple of things that I always have on my list is rearranging the furniture in our den and cleaning out closets and drawers and reorganizing.
I recently reorganized our master closet. We had an organizer installed that has made it so much cleaner and useful. Read about that project on my post Reorganizing Your Reach-in Closet. What a sense of accomplishment when we were finished. Take a look.
Keep Your Cool
We live in the information age. Unfortunately, the immediate up to date news reports and updates can cause anxiety and make you feel a little panicky. I suggest limiting your screen time. Pick a time once a day to check-in for the latest reports and walk away from your phone, and the TV reports.
My kids were talking about the virus of the day back in January. Asking questions and wondering what it all would mean for us.
At the time I tried to educate myself and to be honest with them too. I have a tendency to want to shelter my children, but with this fight, I think information and knowledge of how to stay safe are important.
It is important to follow the CDC guidelines. We wear a mask, keep a social distance, and carry hand sanitizer. We stay at home as much as possible. Once a day we get out for a walk, a drive or to run to the grocery store. When we bring products home, we wipe them down with sanitizer wipes and then wash our hands with soap and water. Hopefully, these actions will keep us all safe.
So we are living in scary times, but I like to believe that something good comes out of every situation. For our family, all this time together and the uncertainty has helped my snarky teens return to a closer relationship we all shared when they were just a few years younger.
Let me know what changes and benefits you are experiencing while sheltering at home.