This post may contain affiliate links. This means I may make a small commission at no additional cost to you when you make a purchase. Find out more in the Disclosure Policy
This cooked carrot and celery recipe is an easy side dish recipe. Amp up the flavor by cooking with white wine. Celery adds contrasting color and a tender-crisp crunch. This Honey Glazed Carrots and Celery recipe is a perfect side dish for Sunday dinner or Easter brunch.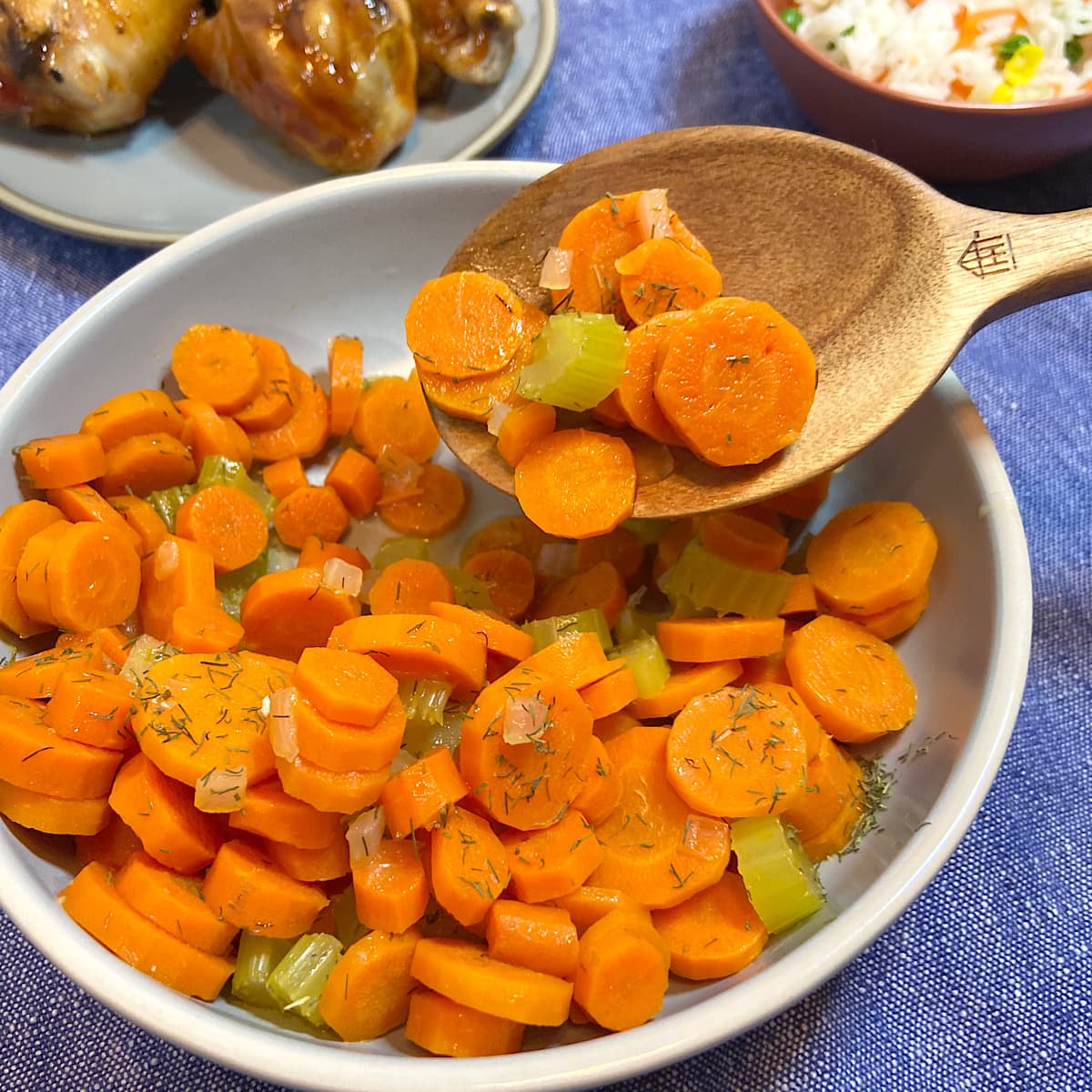 This dish is one of my favorite sauteed carrot and celery recipes. It includes simple ingredients that I almost always have on hand. Slicing carrots thinly on the diagonal adds additional visual interest.
Ingredients
This carrot and celery recipe includes simple ingredients you probably have on hand. Carrots and celery are the stars of this dish.
They are flavored with olive oil and sautéed with finely chopped onions. White wine, honey, and dried dill add extra flavor to this quick and easy side dish.
Instructions
Step 1. Clean, peel, and slice carrots. When I have a bit more time, I like to slice them diagonally for a more finished dish. Chop celery into uniform-sized slices and set both aside.
Time-saver tip: clean, peel, and slice carrots and celery a day or two in advance. Store in a plastic bag or a covered dish in the refrigerator. Add a tablespoon of water to keep vegetables moist. This will help eliminate chopping in the middle of preparing other dishes.
Step 2. Finely chop the onion. Heat olive oil in a medium saucepan and add onion. Sauté until just tender but don't over-brown. Add carrots, celery, water, wine, honey, and dried dill.
Step 3. Adjust burner temperature over medium-high heat, and bring ingredients to a boil. Reduce temperature to low and simmer for 10-12 minutes until vegetables are tender-crisp.
Step 4. Transfer to your serving dish and sprinkle with a dusting of dried dill.
FAQs
How to Clean Carrots

Carrots are root vegetables and should be cleaned prior to cooking. While technically you don't have to peel I always do.

Start by scrubbing them in water.

Next cut off the remaining carrot top.

To remove the outer skin of the carrot. You can use a sharp knife to scrape along the edge of the carrot. Scrape from top to bottom of carrot.

Carefully, hold the carrot and use the edge of the knife to scrape the carrot skin away from you.

A better way is to use a Hand Peeler. #ad A hand peeler is a safer appliance and will create a smoother finished carrot.

A hand peeler has a large non-slip handle for good grip and a sharp metal swiveling twin-blade that will easily remove the outer skin. Make sure to keep your fingers holding the carrot out of range of the peeler blade!
What are the Benefits of Carrots

Carrots are a healthy and plentiful vegetable and a common ingredient in our diet. We often eat them raw as snacks or in salads. Carrots can also be steamed, boiled, or roasted as a side dish.

Regular consumption of carrots may help keep your eyes healthy, help you avoid some forms of cancer, decrease constipation, and keep your immune system heart-healthy. 1 Plus they have a wonderful flavor and are an excellent side dish to any meal.
What to Serve with Carrots and Celery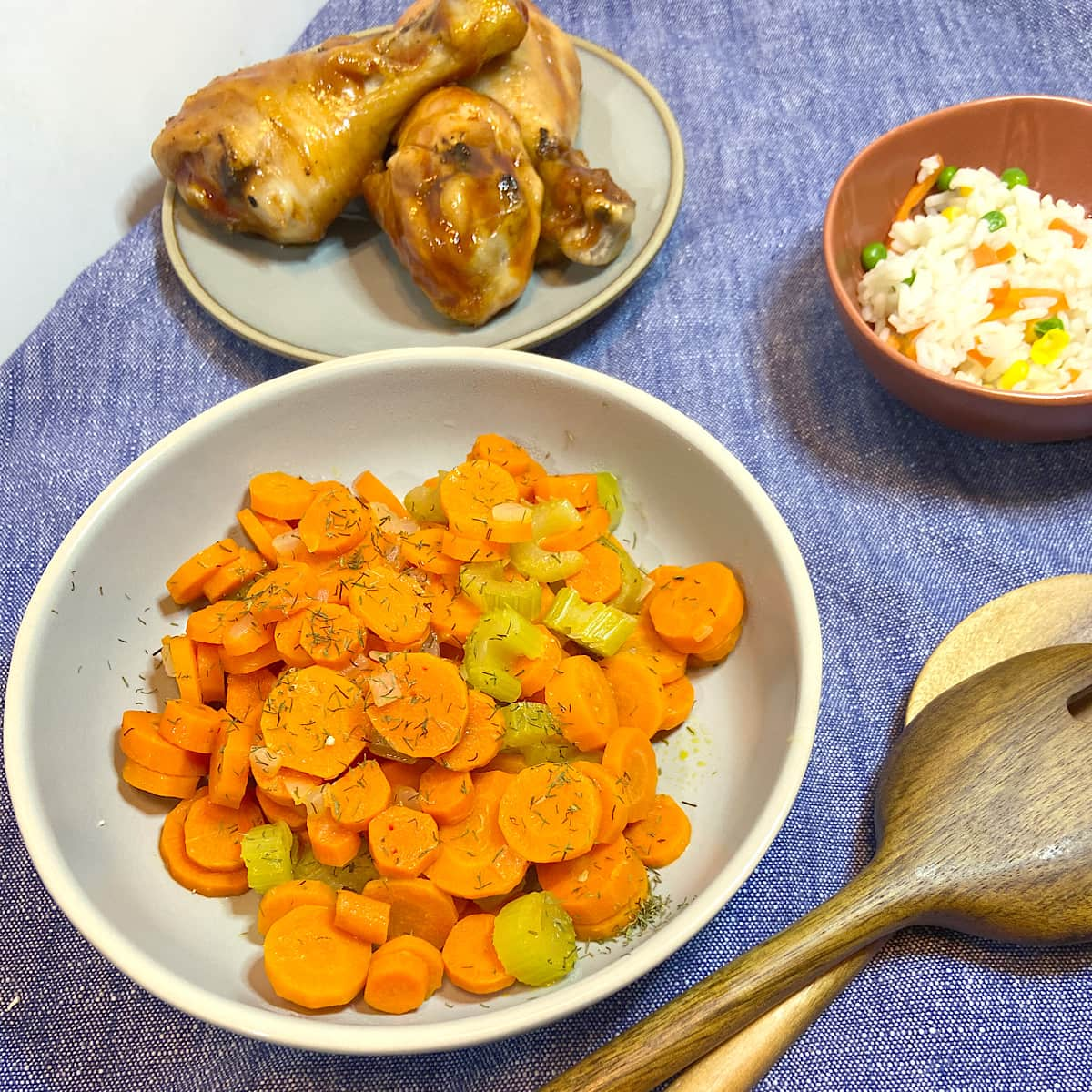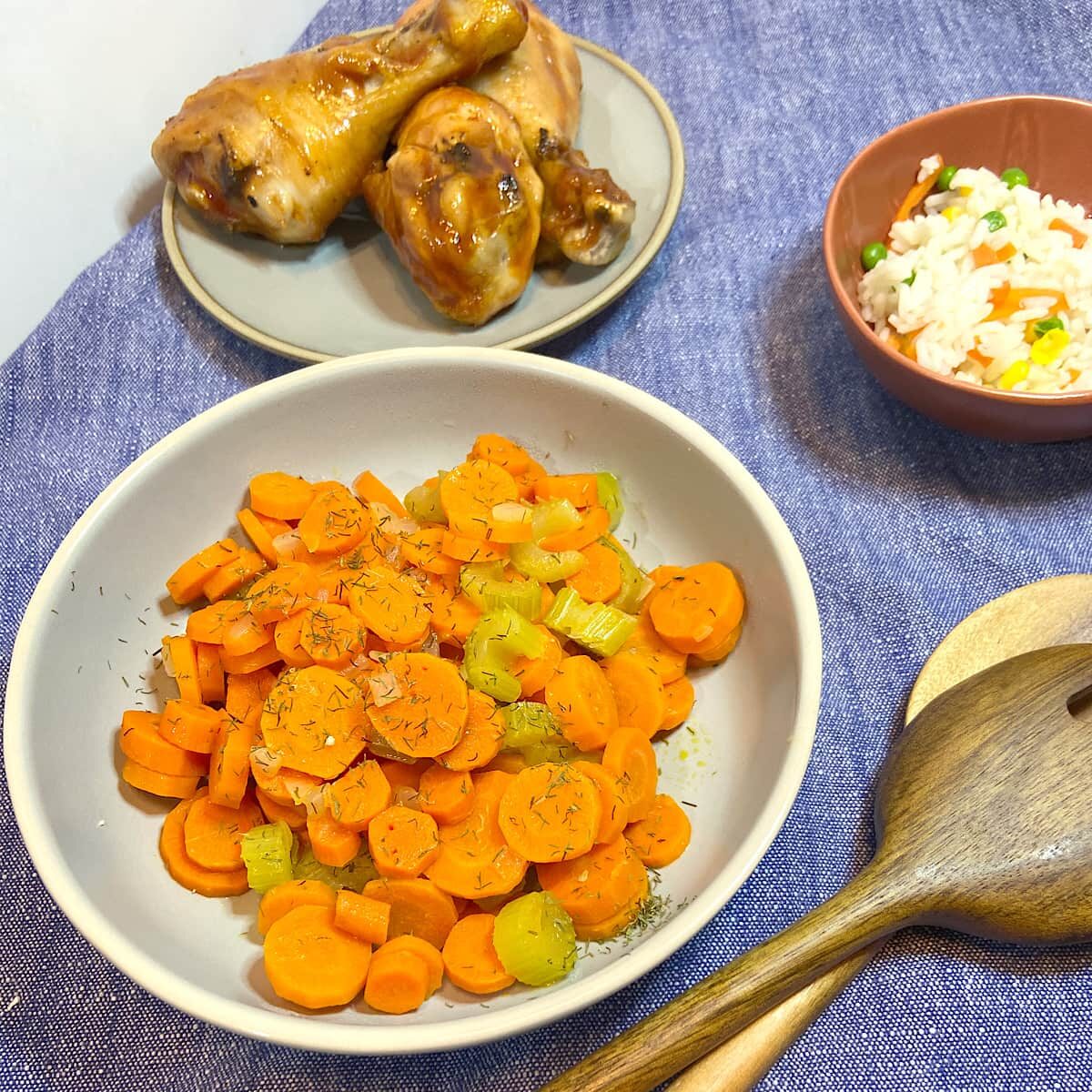 This easy carrot and celery side dish recipe is perfect with poultry, pork tenderloin, or beef roast. Perfect for a Sunday dinner or a holiday meal.
You might like it with an Oven-Baked Turkey Breast, Bacon-Wrapped Chicken Breasts, or Baked Chicken Legs with Sweet & Spicy Red Sauce.
Looking for another carrot side dish? Try my recipe for Easy Julienned Veggies. A colorful mixture of colorful julienned carrots, broccoli stalks, and parsnips. Check out more Side Dish Recipes.
Other Healthy Side Dish Recipes for You
---
March 2022 Update: Minor post and recipe card updates.