This post may contain affiliate links. This means I may make a small commission at no additional cost to you when you make a purchase. Find out more in the Disclosure Policy
There is something about Summer and salads. This is a tasty pear salad with grilled yellowfin tuna.
Arugula greens and slaw mix provide a flavorful and crunchy salad base. Toss in toasted sliced almonds and a handful of feta cheese. Dress with olive oil and balsamic vinegar for a quick and fresh salad.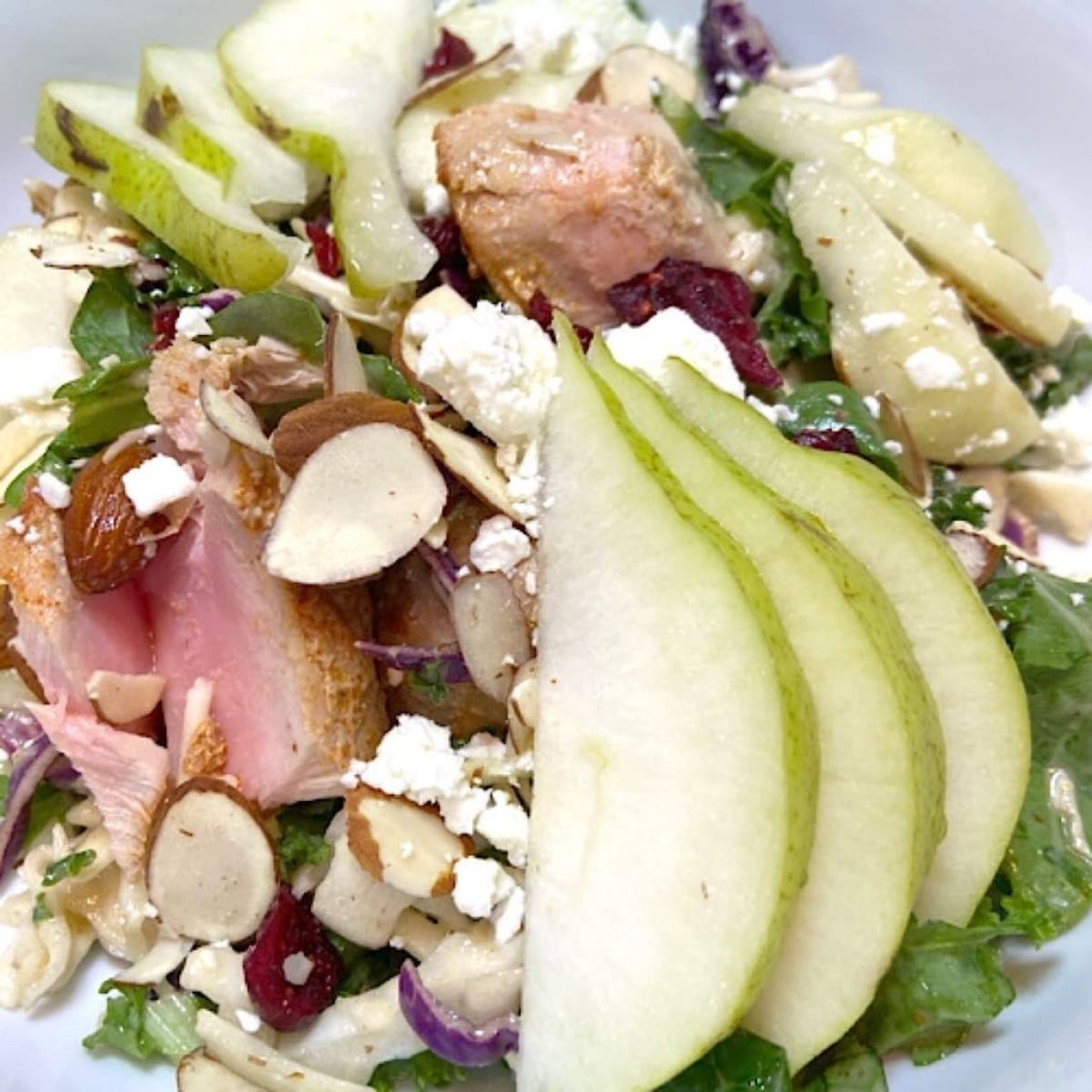 For many people hearing the term, tuna brings up images of tuna in the can.
Yellowfin tuna, named for its bright yellow fins and tail, is completely different. It is a dense fish that is protein-packed.
This is one of my favorite recipes for yellowfin tuna. The best preparation leaves the tuna seared on the outside and pink on the inside for a tender and flavorful fish.
Ingredients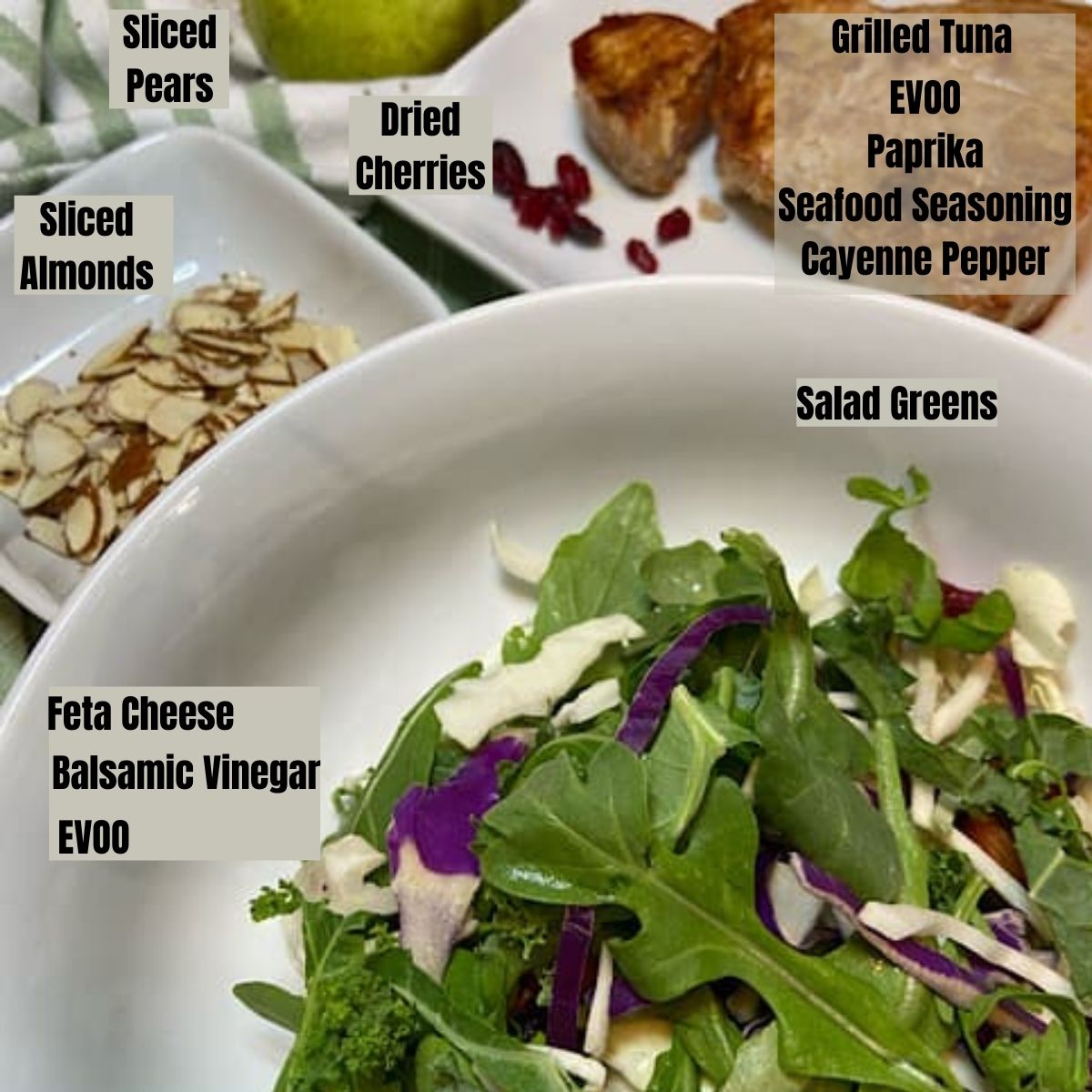 Tuna Selection & Seasoning
Look for a yellowfin tuna fillet that is about 1 inch to 1 1/2 inches thick. This thickness will help ensure that the grilled tuna does not cook too quickly.
Drizzle the fillet with extra virgin olive oil and season with paprika, seafood seasoning, and a bit of cayenne pepper.
Salad Ingredients
Instructions
Grilling Yellowfin Tuna
Preparation is key.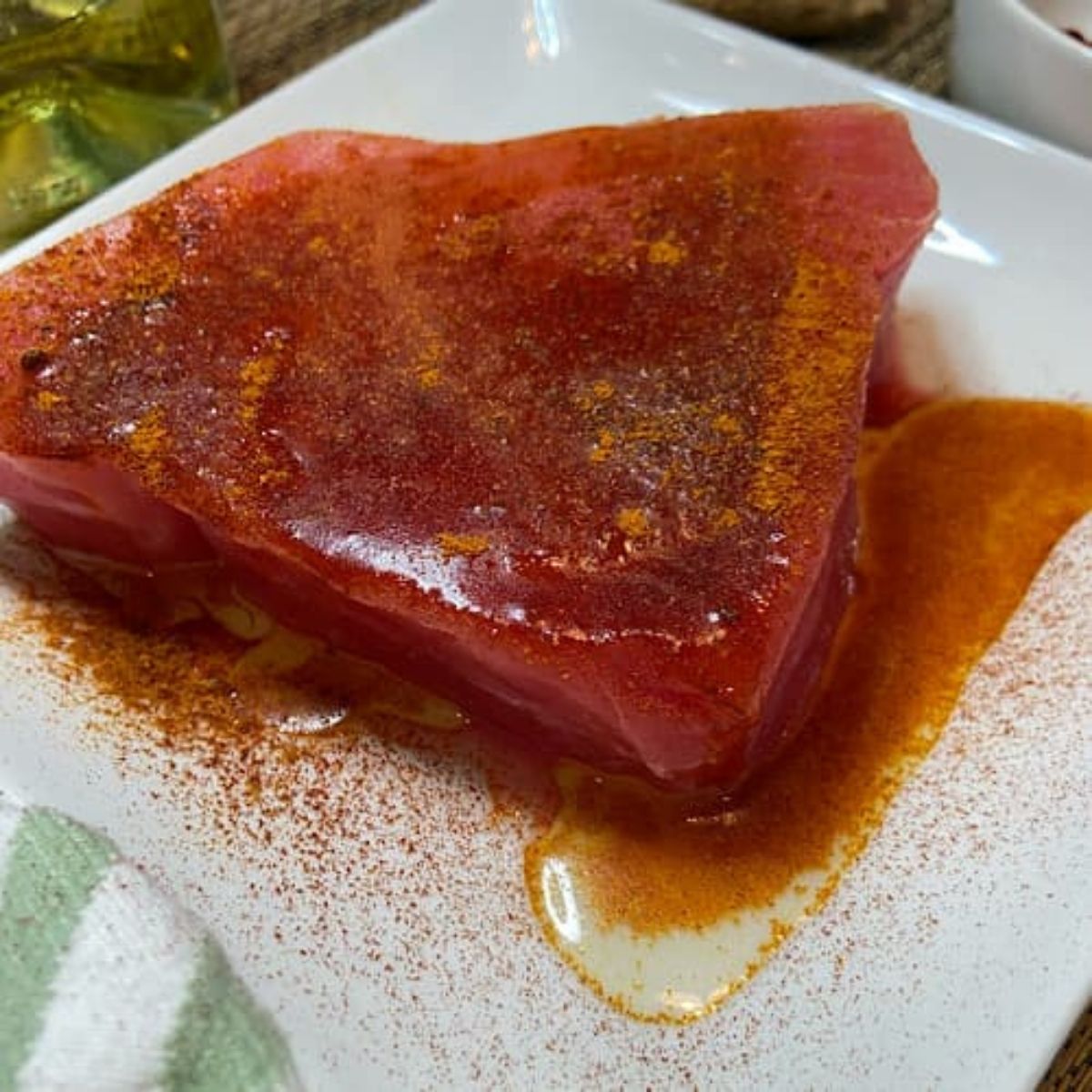 Step 1. First, thaw your tuna steak, if frozen. Drizzle with olive oil and sprinkle with paprika, seafood seasoning, and cayenne pepper.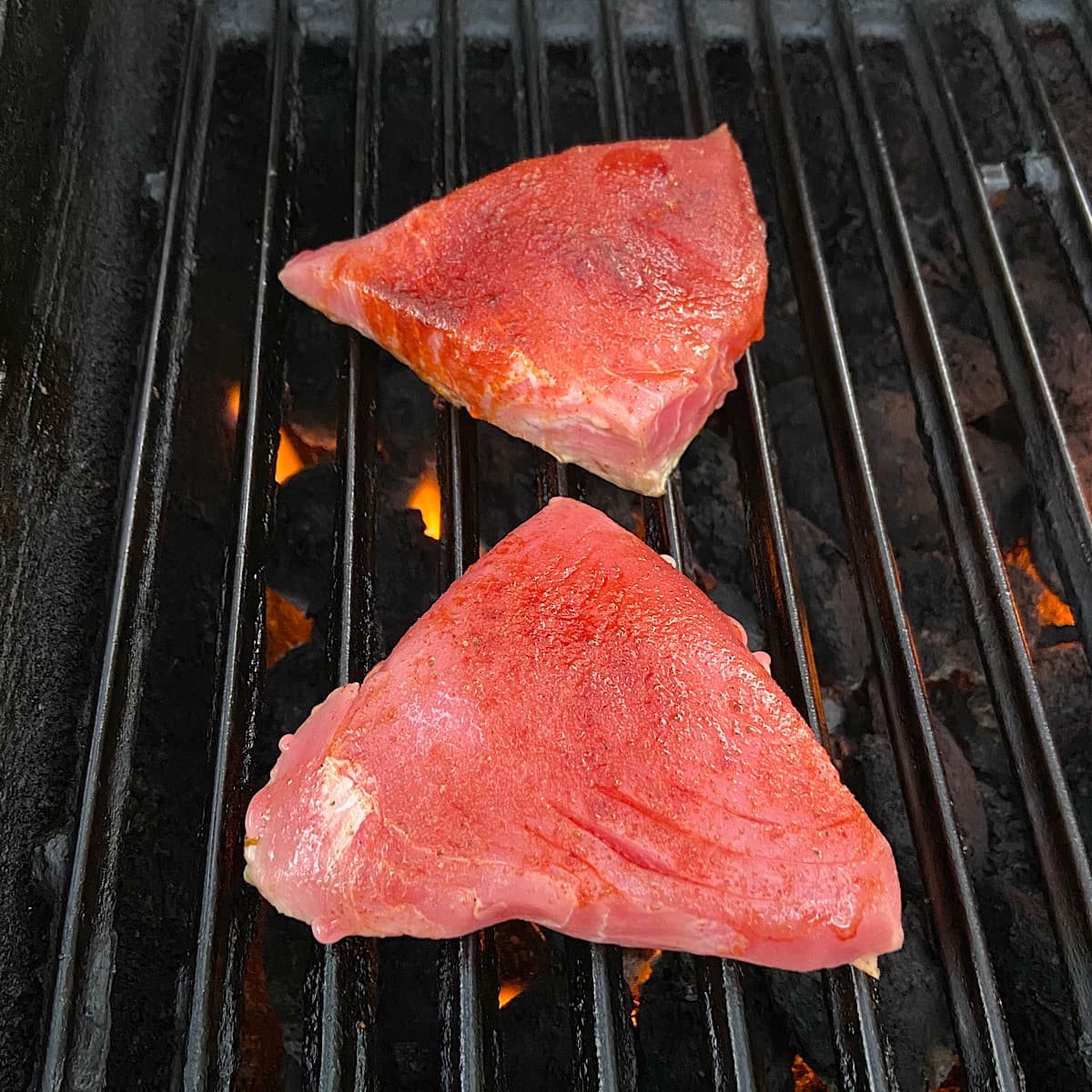 Step 2. For a medium-done tuna steak. Heat your grill to a high temperature. Add tuna steak to direct heat. Grill for 2 minutes. Turn and grill tuna for 2 additional minutes.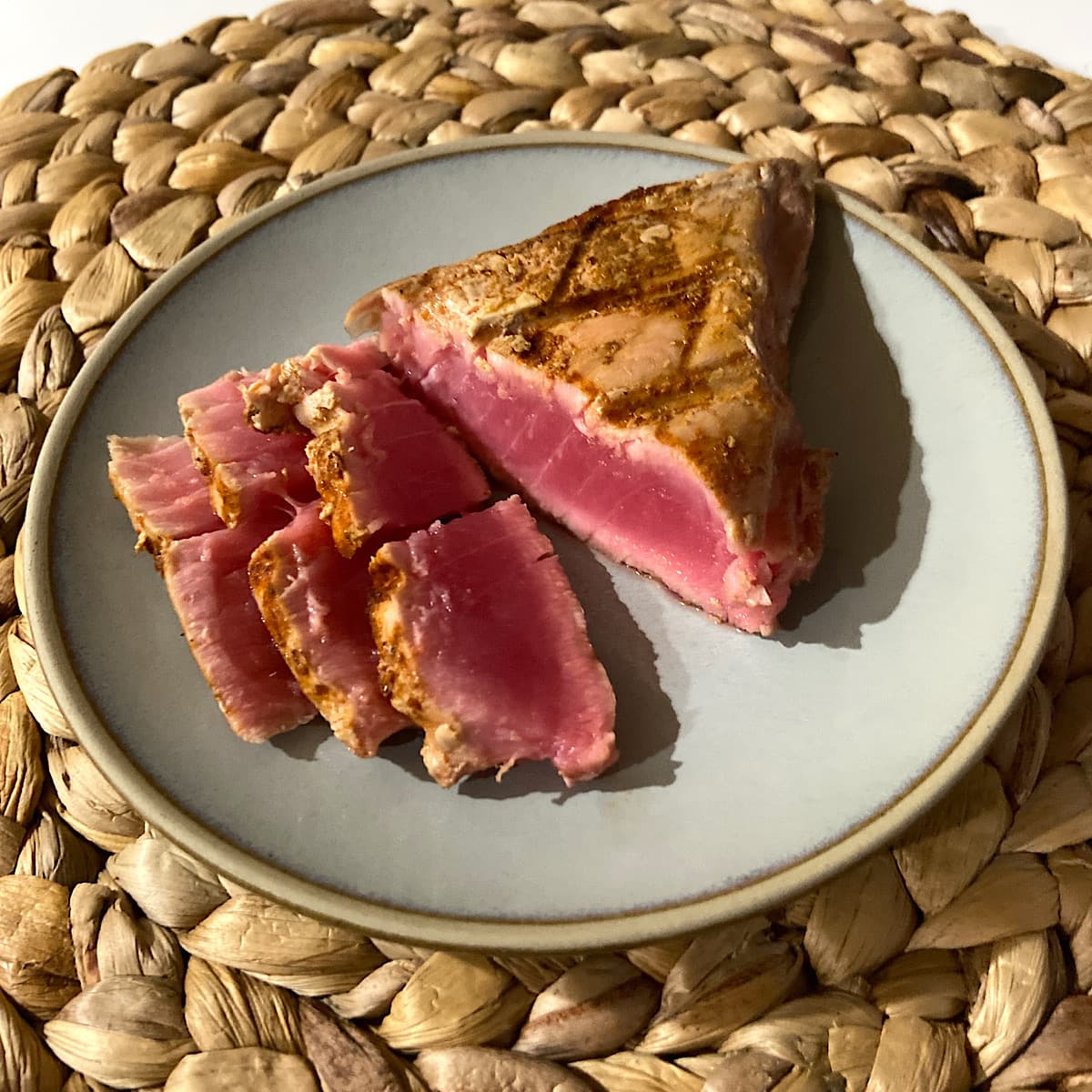 Remove tuna from the grill. It should be golden brown on the outside and medium pink on the inside. The internal temperature should be 115-120F.
When served as sushi, tuna steak is often served rare or just lightly seared. So you really can't undercook this fish.
Prefer a less rare steak? Adjust your cooking time to grill for one additional minute on each side. The tuna will be light pink on the inside.
These cooking estimates are based on a tuna steak that is 1 to 1 1/2 inches thick. If you have a thinner fillet you will need to adjust your cooking time.
Don't overcook. Overcooking the tuna will make it dry with a similar texture to canned tuna.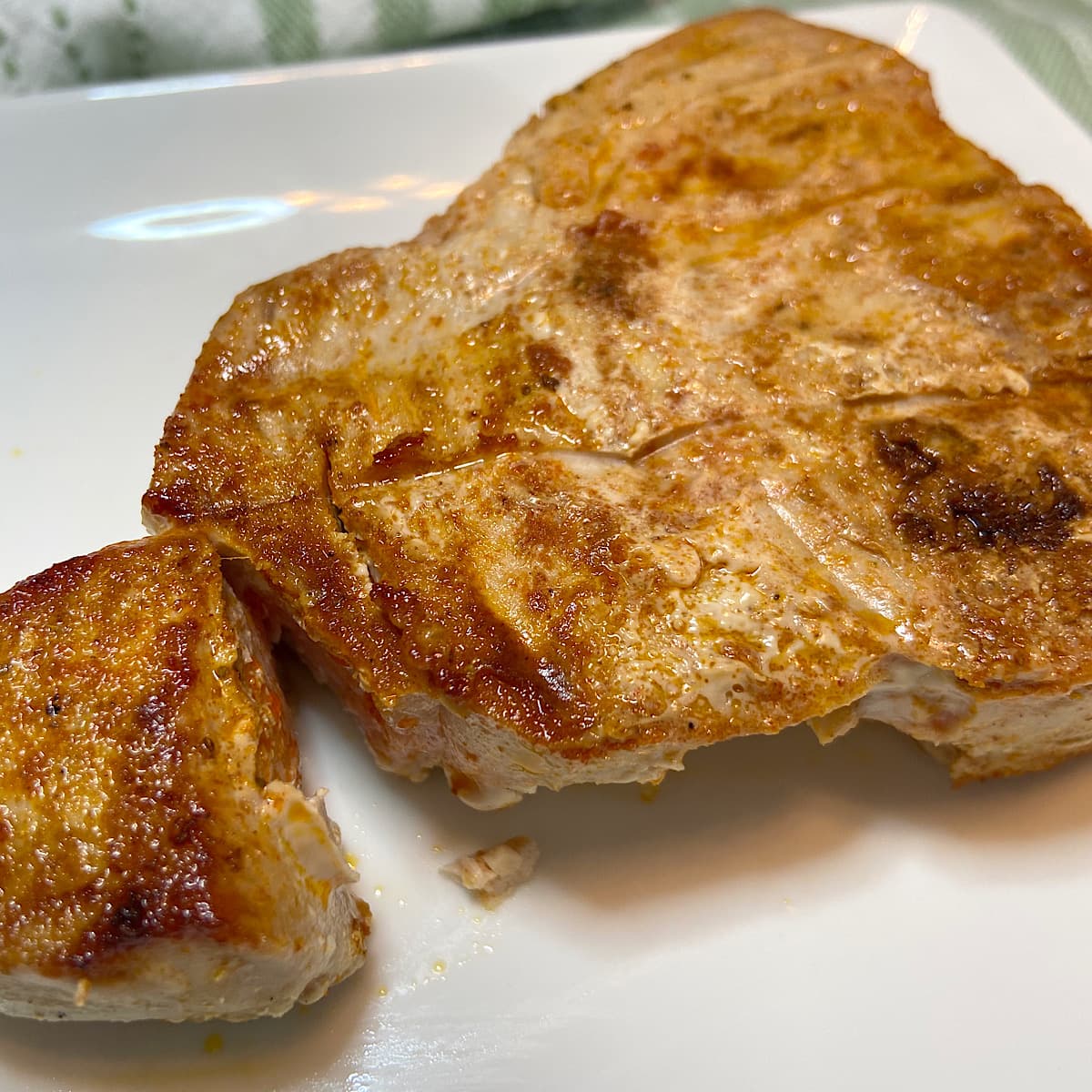 Assemble Salad
Step 1. Collect arugula and slaw mix and add to a large bowl. Mix and toss the greens
Step 2. Toast almonds. Toasted sliced almonds add a smokey flavor. To toast almonds, heat a frying pan over medium heat. Add almonds and stir for 3-5 minutes until they start to brown. Remove from heat and cool. Add to greens.
Step 3. Simply mix and toss your greens. Thinly slice a ripe pear and add to the salad. Add dried cherries, toasted almonds, and feta cheese.
Step 4. Gently flake tuna and add to salad in large chunks.
Step 5. Drizzle with olive oil and balsamic vinegar. Serve.
Frequently Asked Questions
What Is Yellowfin Tuna

Often referred to as ahi tuna, yellowfin is a tropical fish. It is named for its bright yellow fins and tail.

You will find yellowfin tuna in densely packed one-inch fillets.

Mild flavored and packed with protein1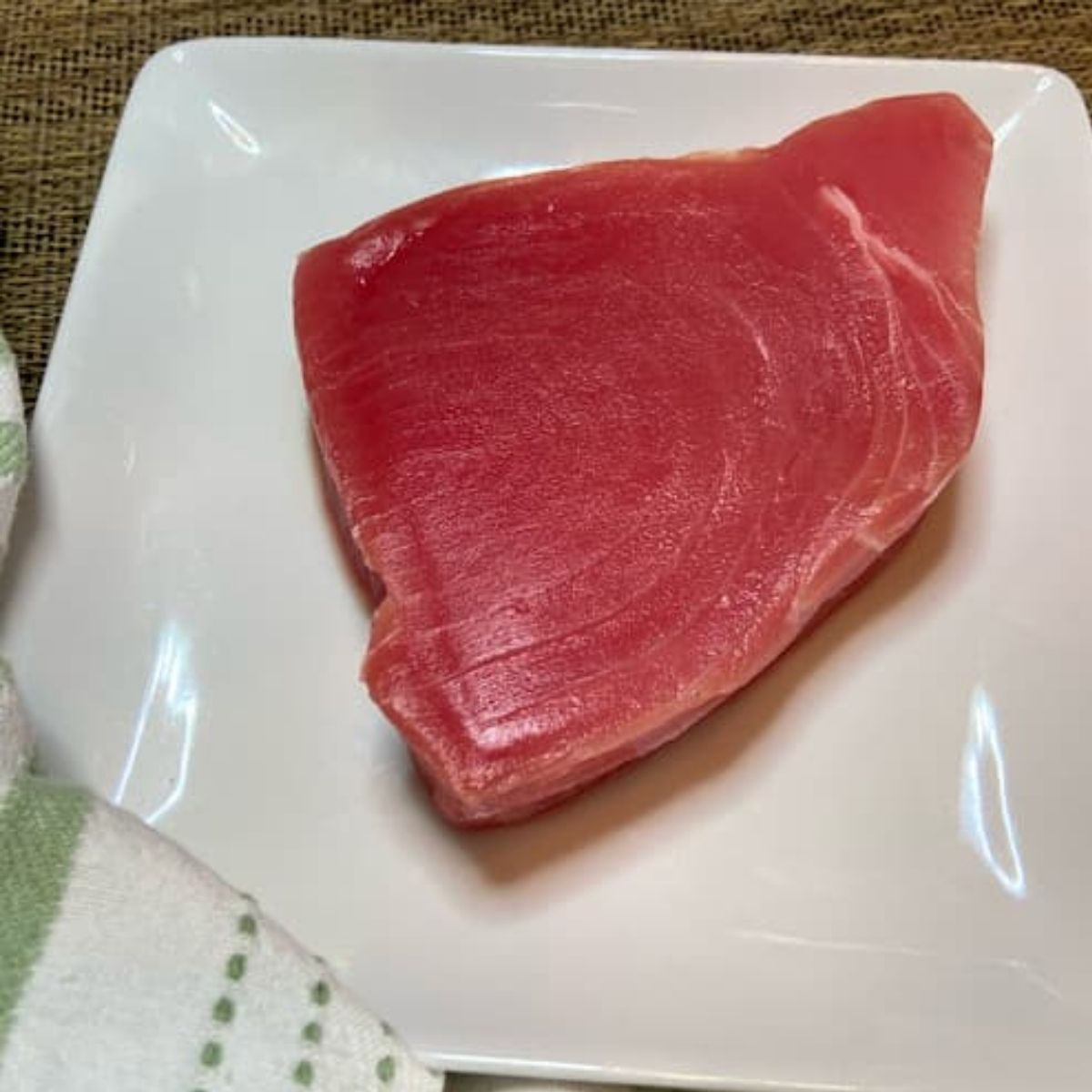 Where Can I Purchase Yellowfin Tuna

You can find yellowfin tuna in the seafood section of your local grocery or through a seafood monger.

In addition, many stores may have precut steak fillets frozen and ready for purchase. Thaw frozen filets prior to seasoning and grilling.
What to Serve with Grilled Yellowfin Tuna and Pear Salad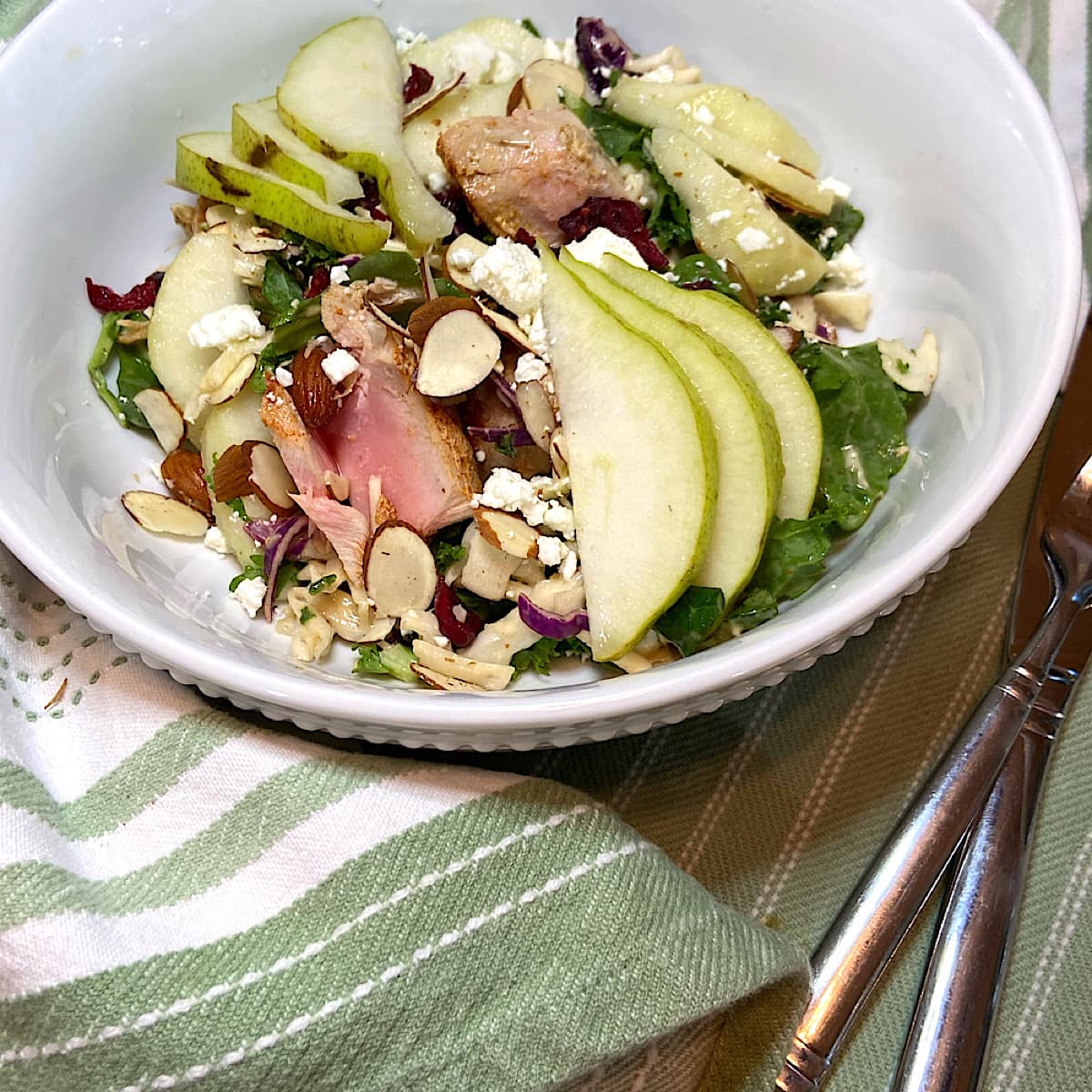 Serve this salad with a slice of french bread and your favorite white wine or iced tea and you have a light and filling Summer salad.
Looking for a dressing recipe, see my recipe for Raspberry Vinaigrette Dressing here.
Other Healthy Salad Recipes for You
---
October 2022 Update: Minor post updates.