This post may contain affiliate links. This means I may make a small commission at no additional cost to you when you make a purchase. Find out more in the Disclosure Policy
The next time you are looking for a chicken recipe that has a little something extra you need to try flavorful Greek Stuffed Chicken Breasts.
This dish is relatively simple to prepare. It is fork-tender and juicy, but with an extra kick.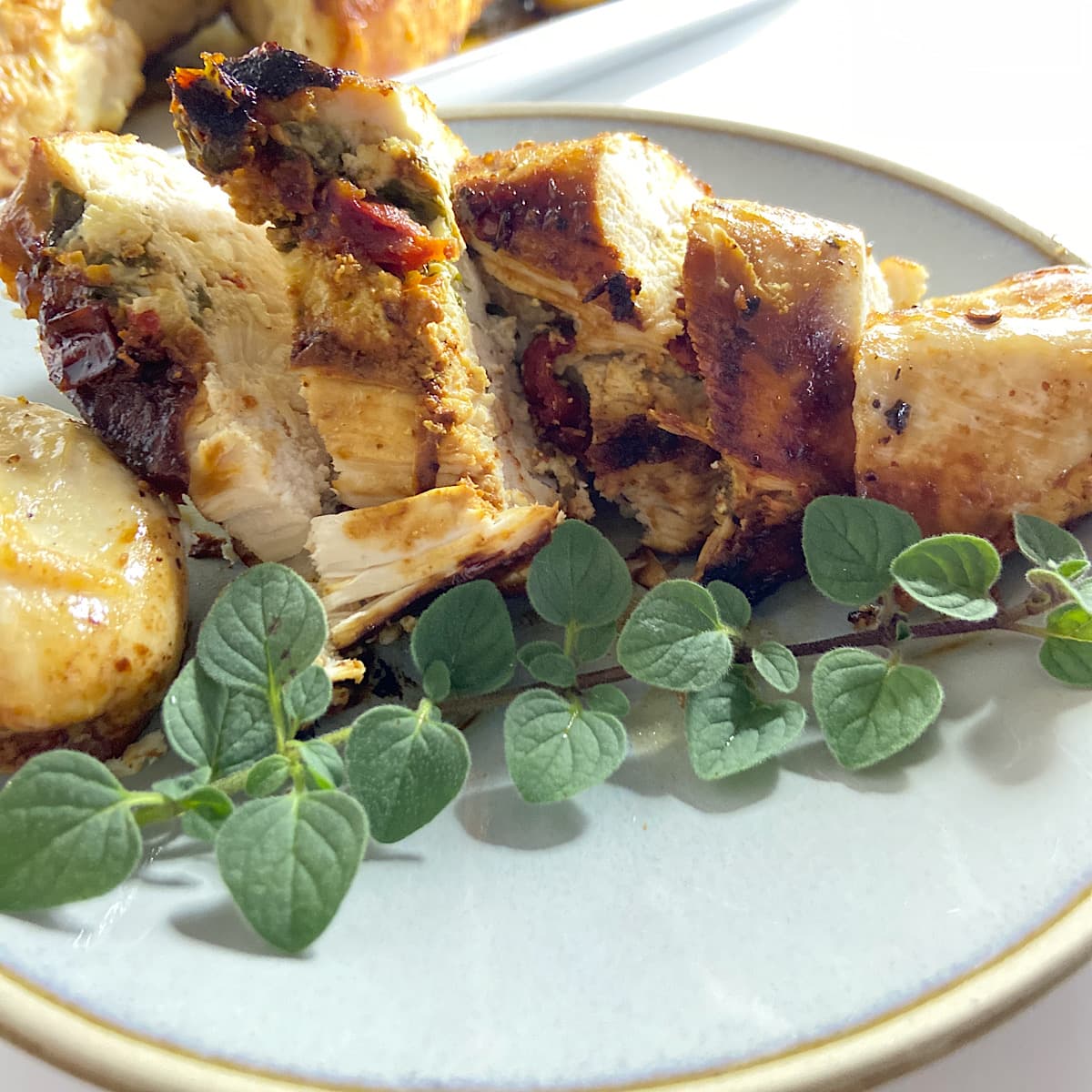 This flavorful spinach and feta stuffed chicken dish include feta cheese stuffing of a simple mix of tomatoes, fresh spinach, feta, greek yogurt, and fresh basil.
Ingredients
Instructions
Step 1 Chop tomato, spinach, and basil and add to a bowl.
Step 2 Mix tomato, spinach, and basil with feta cheese, Greek yogurt, olive oil, salt, and pepper together to form the filling. Set aside.
Step 3 Using a knife cut a pocket in the thick part of the chicken breast.
Step 4 Add approximately a tablespoon of filling to the chicken pocket.
Step 5 Season chicken with a pinch of salt and pepper.
Step 6 Heat the remaining olive oil in a frying pan over medium-high heat.
Step 7 Cook chicken breast in the hot pan for 5-6 minutes. Turn chicken breast and continue to cook for 3-4 minutes. Lower the heat to low. Cover the pan and allow to cook until the chicken reaches an internal temperature of 165F.
I use a temperature probe like this one to make sure the chicken is done.
Frequently Asked Questions
What is Feta Cheese

Feta is made from sheep's milk or a combination of sheep and goat milk. It is a brined block cheese that is often served crumbled on salads and used in pastries. With a tangy and salty taste, it adds a unique tang to recipes. 1
Side Dishes for Stuffed Chicken Breasts
For a colorful side dish to accompany this fGreek Stuffed Chicken with Feta and Spinach, check out my recipe for Colorful Julienned Vegetables. Other side dish recipes include Vegetable Couscous Salad, Apple & Pecan Salad, Honey-Glazed Carrots & Celery.
Looking for more chicken dishes? Check out my post on Easy Healthy Chicken Recipes.
Other Chicken Recipes for You
---
---
October 2022 Update: Minor post updates.