This post may contain affiliate links. This means I may make a small commission at no additional cost to you when you make a purchase. Find out more in the Disclosure Policy
Mediterranean Meatballs are tender and full of spice. These juicy meatballs are perfect as an appetizer with a sauce, with pasta, or in a soup.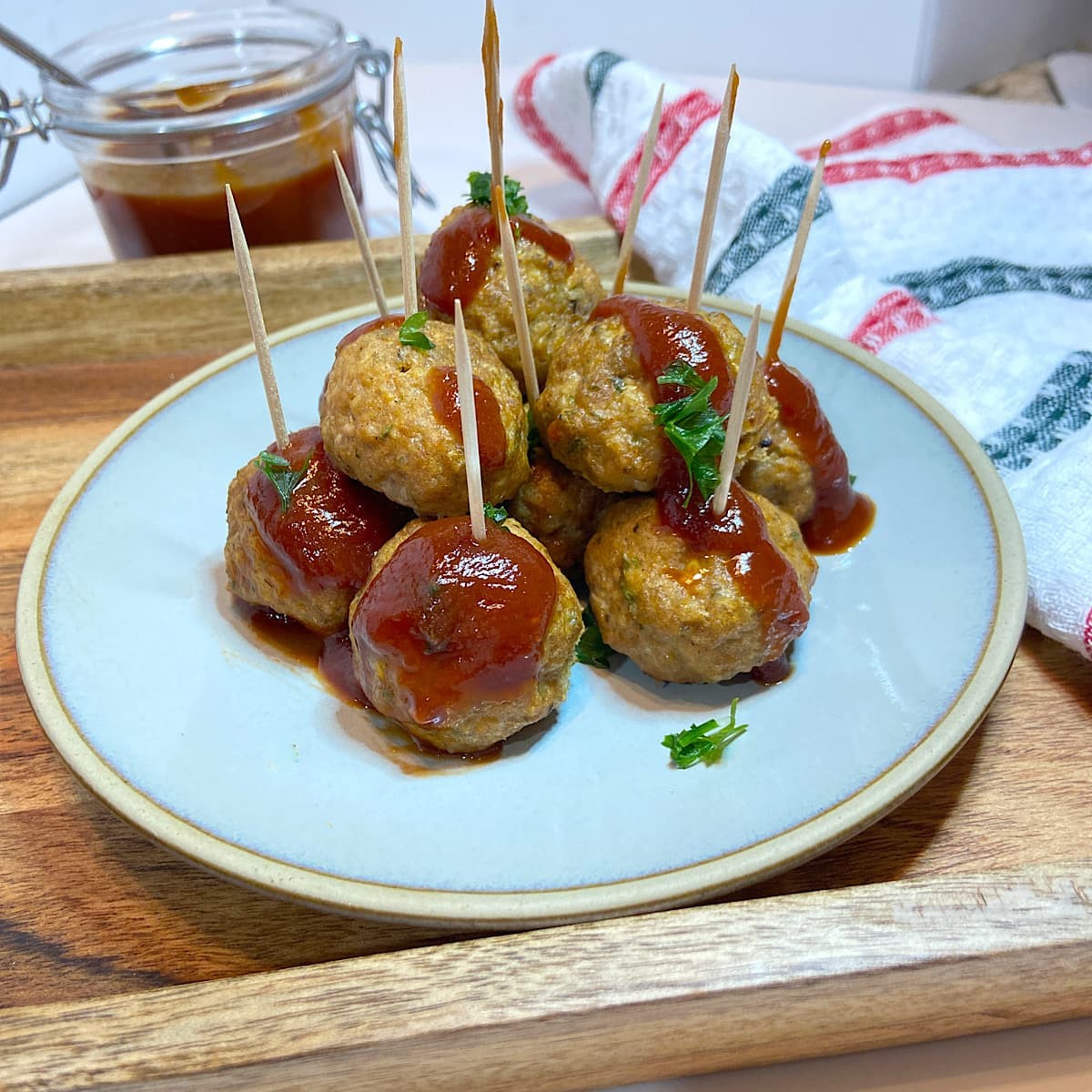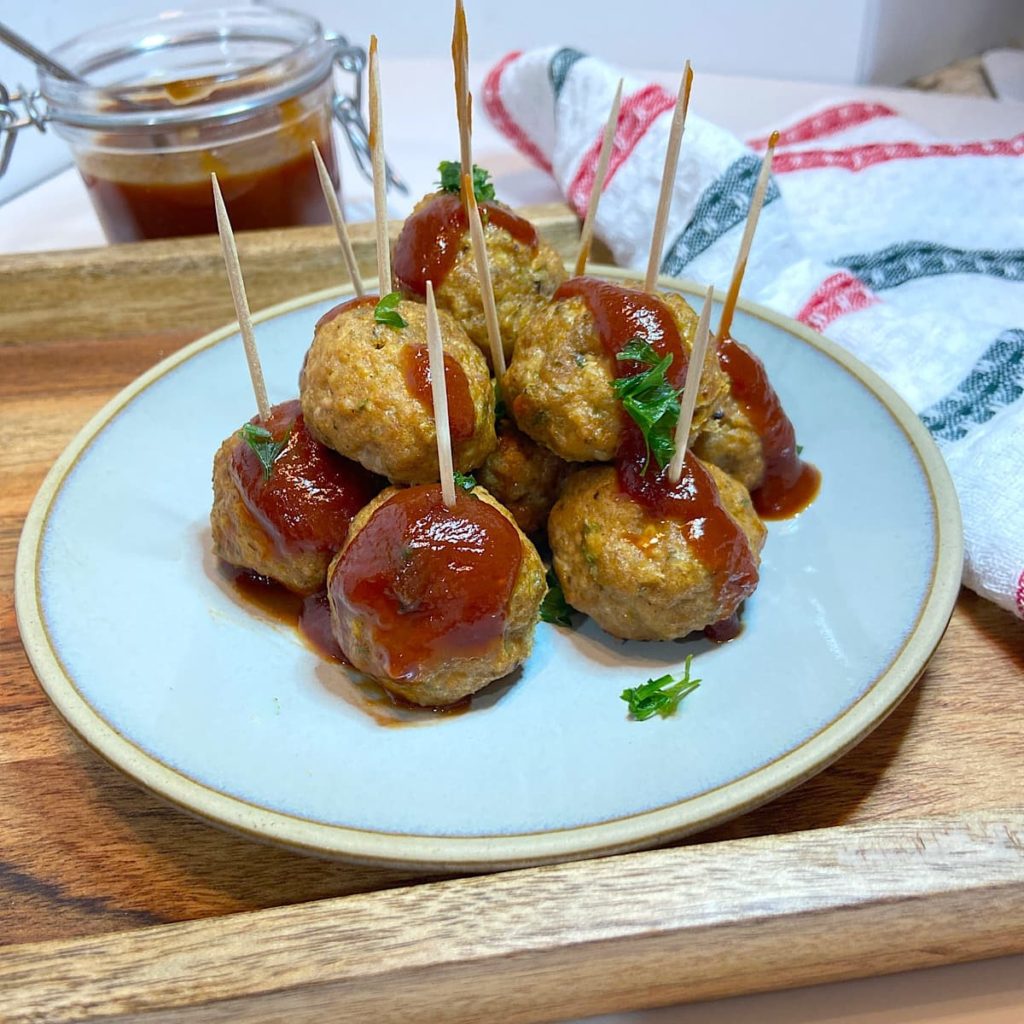 Most meatball appetizers are fried and drenched in a sauce. Usually, a high sugar sauce.
These healthier meatballs are made with ground turkey, eggs, a small amount of bread crumbs, parmesan cheese, and spices.
Baked rather than fried, they are tender and juicy. To help keep the sugar and carbohydrates in control, offer a sauce to drizzle on the meatballs rather than soaking them in the sauce.
Mediterranean Meatball Ingredients
Using ground turkey rather than ground beef or another meat is a good choice for a leaner and healthier meatball. Eggs and bread crumbs help provide structure. Milk adds moisture to make the meatballs tender. Olive oil provides moisture and healthy fats to the lean ground turkey.
Sometimes ground turkey can be a little bland, so adding grated parmesan cheese helps add a flavor punch. Being a hard cheese it is generally lower in saturated fat.
Finally, the spice mix is where it is at. Italian spices, cumin, smoked paprika, cinnamon, parsley, onion powder, and salt and pepper.
These spices add up to a flavorful spice mix that will make it hard to eat just one.
How to Make Mediterranean Meatballs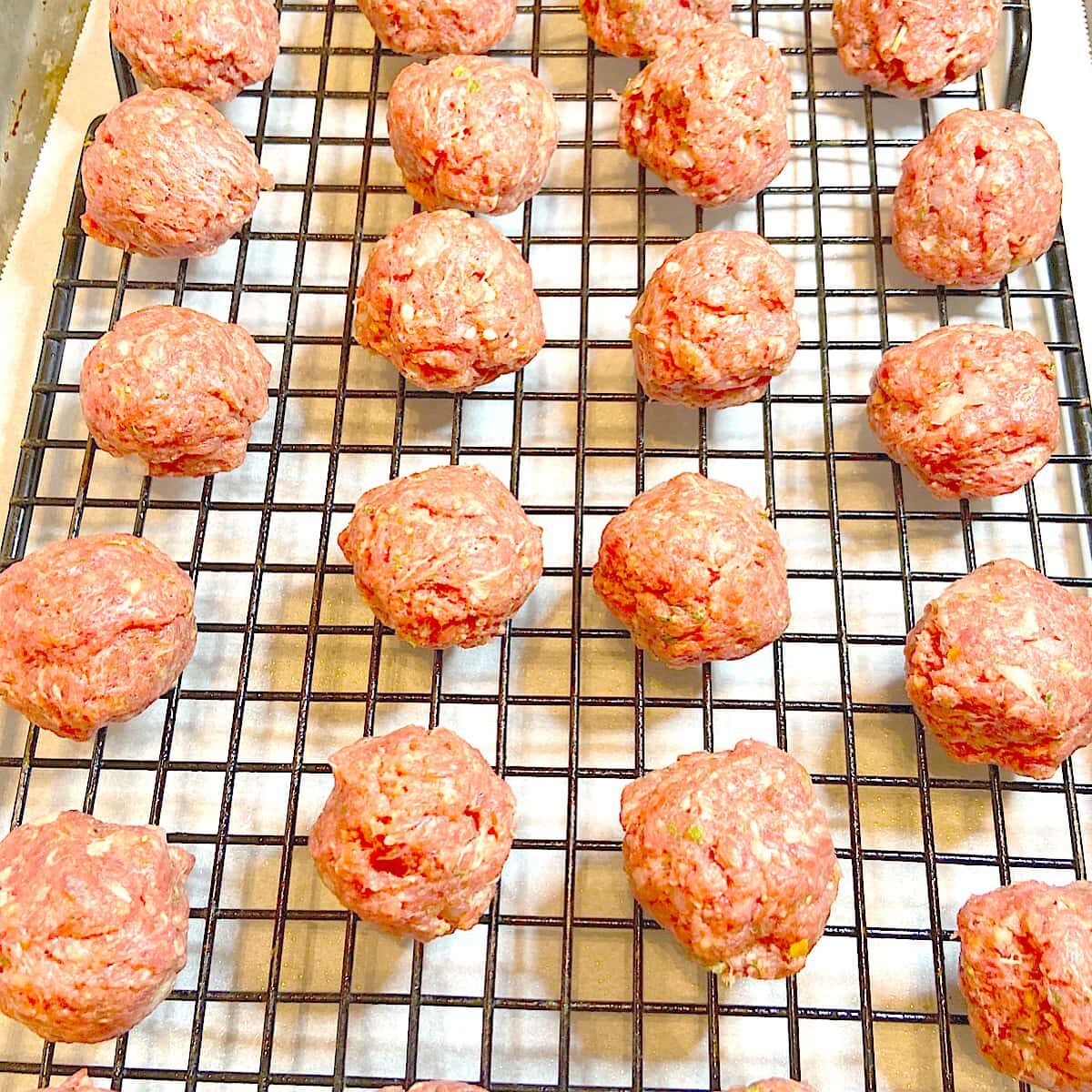 First, preheat the oven to 400F.
Take a large bowl and add turkey.
Whisk eggs, add milk, olive oil, and breadcrumbs. Mix well and add to turkey.
Add spices, salt, and pepper to a bowl and stir. Sprinkle spices over turkey.
Using your hand or a pastry mixer, mix turkey and other ingredients until completely combined.
Use a round tablespoon measuring spoon to form meatballs.
Place meatballs on a baking sheet covered with parchment paper or on a rack.
Put the baking sheet on the bottom rack of the oven.
Bake for 10 minutes and check the internal temperature. The meatballs are done when a temperature probe like this one #ad reaches 165F. Add additional cook time until the meatballs are done.
Meatball Tips
Size and Shape. This recipe makes about 3 dozen meatballs. I use a round tablespoon measuring spoon like this one to make consistent meatballs. Scoop and shape with the measuring spoon. Baking meatballs that are all the same size helps ensure they are all done at the same time.
If using a rack, spray the rack well with non-stick cooking spray before adding the meatballs. This is an important step.
Make-Ahead. If you are serving several appetizers, make meatballs the day before and reheat.
Low Carb. These meatballs are a low carbohydrate food, but I do include 1/2 cup of bread crumbs. You can substitute 2-3 tablespoons of almond flour and 2 tablespoons of coconut flour if you want to eliminate the breadcrumbs.
Meatball Storage
Store meatballs in a covered container in the refrigerator for 4-5 days.
Freeze in a zip lock bag for a month. Reheat on a baking sheet at 300F for 15 minutes.
Recommended Equipment
Cooling Rack - helps meatballs bake evenly
Parchment Paper - without a rack
Temperature Probe - a cooking temperature probe helps ensure your recipes are done to perfection.
Serve with Other Healthy Appetizers
Corn and Black Eyed Pea Dip - Corn and Black Eyed Pea Dip is a simple and flavorful dip or relish for tortilla chips or sliced cucumbers.
Spicy Roasted Almonds - baked almonds with savory spices are a crunchy and healthy treat.
Creamy Greek Yogurt Dill Dip - a creamy, flavorful, and healthy Greek Yogurt Dill Dip for vegetables, pretzels, and more. Simple to make and you know what ingredients are in your dip.
---
August 2021 Update: Updates to the recipe card and minor updates to post.