This post may contain affiliate links. This means I may make a small commission at no additional cost to you when you make a purchase. Find out more in the Disclosure Policy
Try a healthier whole wheat thin crust pizza. This yeast-free pizza crust is crispy around the edges and a little chewier in the middle. Whole-wheat pastry flour adds a slightly nutty flavor to the dough.
Making homemade pizza is easy and allows you to control the ingredients in your pizza. It is a healthier alternative to frozen or parlor pizzas.
A lot of whole wheat pizza crusts are thick and have more of a flatbread consistency. I prefer thin crust pizza and set out to see if I could perfect one made with whole wheat.
Ingredients
Dough
Pizza dough in general is made from simple ingredients. Thin crust pizza is no different, but it is missing one ingredient you find in many thicker crusts, yeast.
Thin crust pizza dough includes:
whole wheat pastry flour,
That's it. Super simple.
For whole wheat flour, I chose Whole Wheat Pastry Flour. This is a finely ground whole wheat flour made from Spring Wheat.
It has a finer texture, a lighter color, and a milder taste than regular whole wheat flour. Pastry flour worked great in this dough.
Whole wheat pastry flour #ad is less available than other forms of whole wheat flour. You will find it online at Bob's Red Mill and at Amazon. I lucked out and found it at my local grocer so it's always worth a look.
Sauce
Toppings
I made this a vegetable pizza with:
mozzarella and parmesan cheese,
Instructions
Dough
Step 1. Preheat oven to 450F.
The first step in making pizza at home is the dough. With a few simple ingredients, the dough comes together fast. I use a stand mixer with a paddle.
Add flour, baking powder, parmesan cheese, olive oil, salt, brown sugar, and water to the mixing bowl. Start the mixer on low and allow the ingredients to start to come together. Depending on if it is a dry day, you may need to add a teaspoon or more additional water.
Mix until dough has formed a ball in the bowl. It should feel light and spongy.
Step 2. Add a tablespoon of olive oil to a bowl or zip lock bag and add the dough. Let rest for 15-30 minutes.
Step 3. While the dough rests, pull out your cheese, make the sauce, and chop your toppings while the dough rests.
Step 4. When you are ready, roll out your dough, I use a Silicone Pastry Mat. If your dough is sticky you may need to add a little olive oil. Roll the dough into a circle or a rectangle until it is thin.
Step 5. Line your baking sheet with parchment paper.
Spread dough on the paper. Prick with a fork. This is the tip I always do to help the dough cook in the middle.
Prebake in the oven at 450F for 5 minutes.
Sauce
Step 6. Add tomato sauce, olive oil, Italian spice mix, garlic salt, brown sugar, and pepper to a bowl and mix well.
Spread a thin layer of sauce over prebaked dough.
Toppings
Step 7. Sprinkle mozzarella and parmesan cheeses evenly over the sauce.
Layer toppings over cheese.
Step 8. Bake in preheated 450F oven for 9-10 minutes until cheese melts and starts to brown.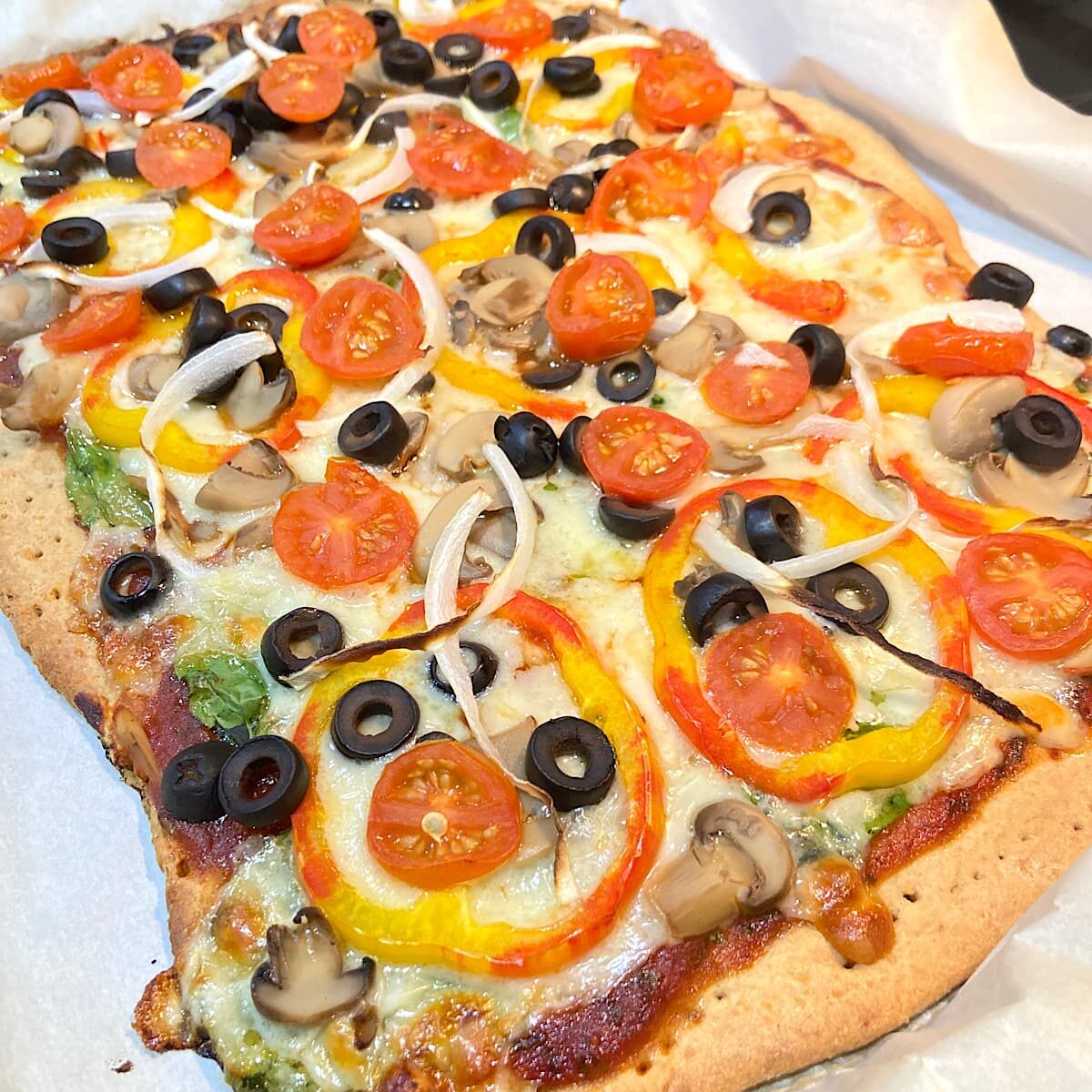 What you get will get is a flavorful and healthier thin crust pizza.
Frequently Asked Questions
What Can I Substitute for Whole Wheat Pastry Flour

White Whole Wheat Flour is an excellent whole-grain substitute for Whole Wheat Pastry Flour. You can use the same amount of white whole wheat in the recipe.

Its texture will be heavier than pastry flour. The final crust will not be as crisp and will have a thick and chewier consistency.
How Do I Use a Mixture of Whole Wheat Flour and All-Purpose Flour

If you are just starting to use whole wheat flour you might begin to replace a portion of your all-purpose flour with Whole Wheat Pastry Flour.

For this recipe, I suggest using 3/4 cup Whole Wheat Pastry Flour and 1 1/4 cup all-purpose flour.
---
Oct 2020 Update - recipe adjustments and new images.