This post may contain affiliate links. This means I may make a small commission at no additional cost to you when you make a purchase. Find out more in the Disclosure Policy
Now is the time to start walking for weight loss. Walking for most people is the most basic exercise. Keep reading for tips to help you get started with a regular walking routine to help you lose weight.
---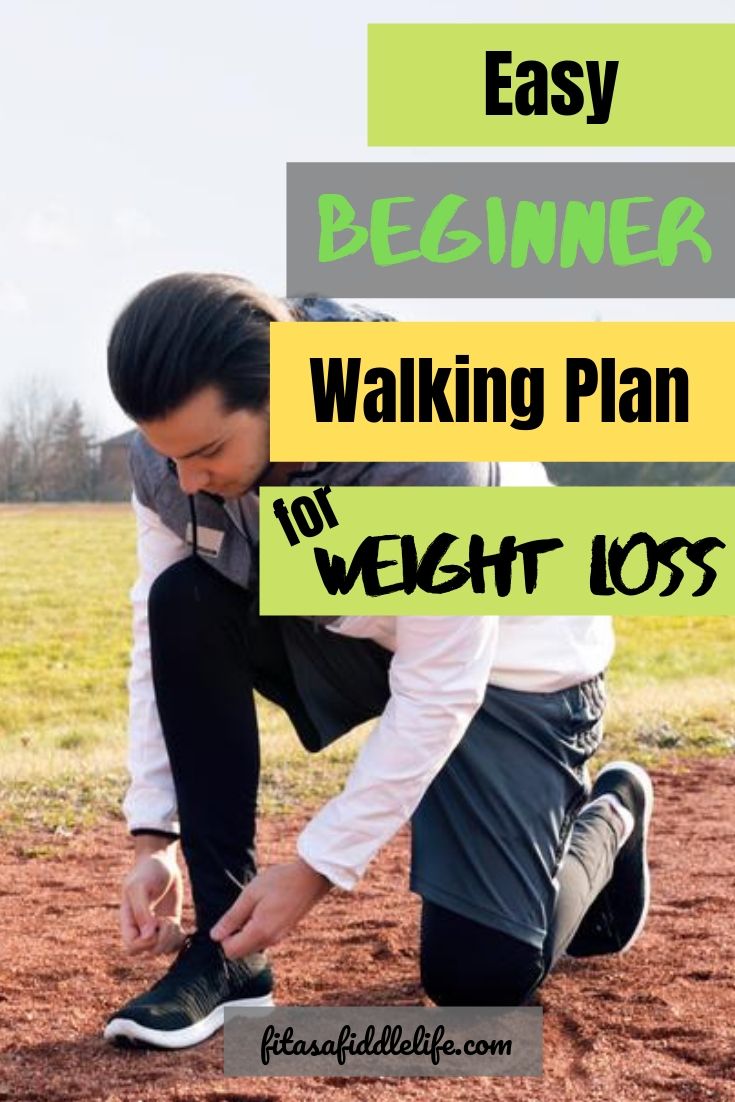 ---
Start Walking Today
The easiest way to work out is to walk. It is a natural way to increase your metabolism and burn extra calories and we can all do it!
Even with everything in place, getting myself outside on my first walk is a challenge. Hitting the snooze button one more time, chatting with coworkers an extra few minutes, or sitting down after dinner are all reasons I can stall starting my walk.
When I want to lose weight, I usually start with a daily walk. It is the simplest and fastest way that I have found to start getting my body back in shape for upcoming vacations and summer season.
For instance, I start slowly with a quick 15 minute trip around my neighborhood. After a few days, I increase my walk time by adding 5 minutes every day.
Benefits of Walking
Besides the benefits of
improved metabolism,
2. increased fat burn,
3. weight loss,
4. improved muscle tone and strength,
5. better sleep quality,
6. lower resting heart rate and blood pressure, and
7. walking gives me time for my own thoughts.
Being a mom and wife, I am almost always taking care of someone else's schedule, problem, want, or need. Most days there is little time for clearing my thoughts, and just enjoying my time, but as I drift along on my walk, I am able to do just that.
Walking also helps ease stress and anxiety from work and home schedules. In addition, walking can help me clear my mind and focus my creative juices on problems.
Soon rather than thinking the worst of a situation, I am planning the solution to whatever issue is troubling me.
Try it, take a walk. You will be amazed at how good you feel when you are finished.
10 Tips For Walking for Weight Loss
Commit to a Walking Schedule
Making a commitment is one of the most important things you can do when starting a walking routine.
It's easy to get derailed, by talking yourself out of walking, and the next thing you know you haven't walked for weeks. There are things you can do to keep up with your walking routine.
Pick a time that you like to walk. You may prefer to walk early in the morning or later in the evening.
Fitting in time can be a challenge. Breaking up the walk can help. For example, walking for 10 minutes at lunch and 15 minutes in the evening.
Weather
The weather can be a challenge. Too cold, too hot, too wet, or too whatever are easy excuses to stop your exercise routine.
When the weather isn't perfect you can still often walk outside. An extra layer for warmth or an umbrella for a misty day will keep your walk on schedule and as an added bonus, give you a different experience for your walk.
If weather conditions prevent you from walking outside, there are still solutions.
One way around this is to walk indoors. Walking at an enclosed mall before it opens is a great way to keep up with your exercise routine.
If you are a member of a gym or a community center, many have suspended walking tracks. These climate-controlled facilities, help you conquer bad weather and stay on track with your routine.
Another option is to purchase a treadmill and watch a walking video to take you away to a dream location for your walk.
Check out my post on the Ultimate Fitness Guide for other ideas such as a rebounder or exercise bike to add variety to your walking routine.
So get out and start your walk. There is really not much to it and we can all do it. No excuses. Start today!
Find a Walking Partner
Having a partner to walk helps make you accountable. You have a reason to get out and walk.
A walking partner will encourage you to walk when you would rather sit on the couch and binge-watch your favorite show. They will make you accountable for another person's walk.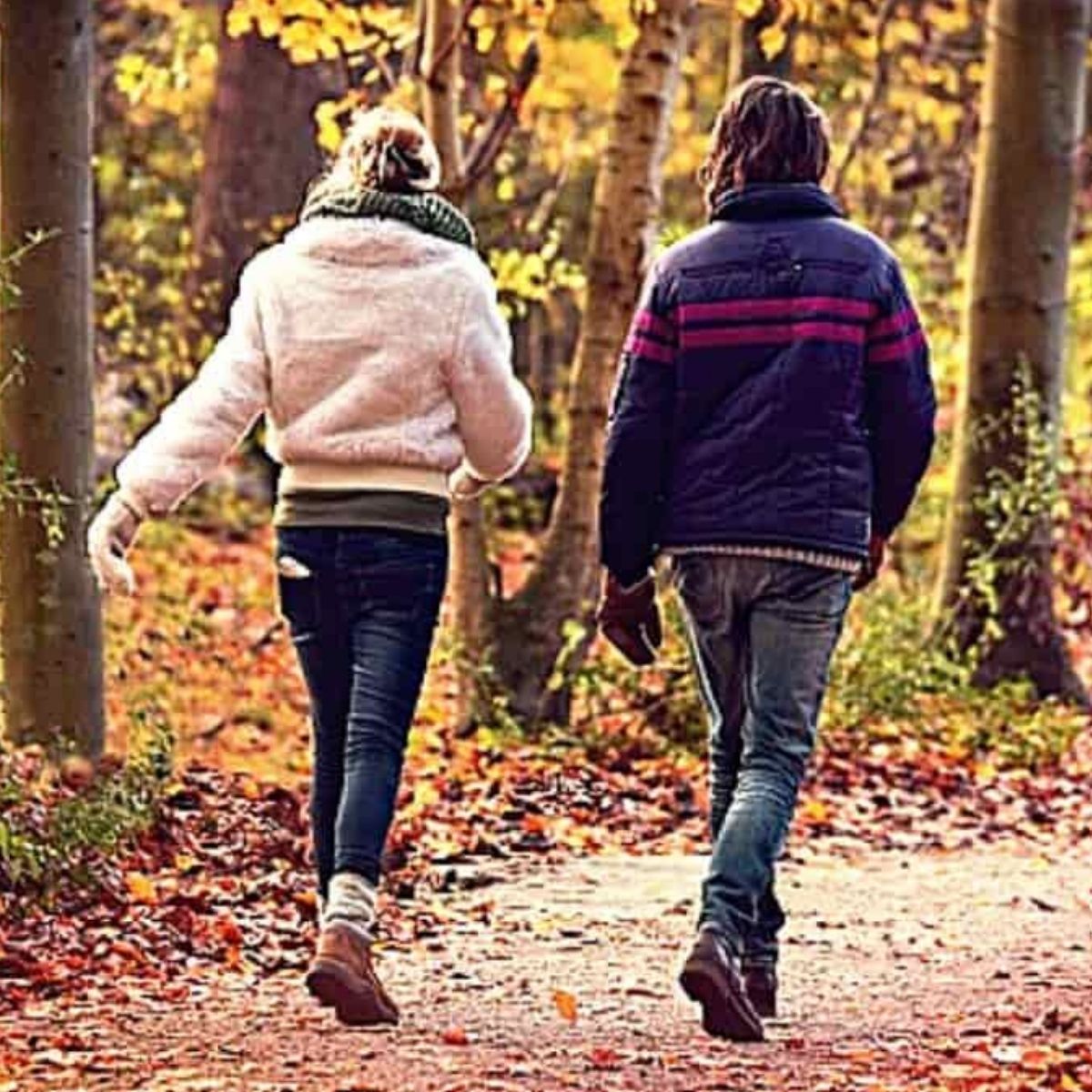 Listen to Your Favorite Tunes While You Walk
Add Wireless Earbuds #ad and listen to your favorite tunes while you walk. Walking to music helps set a rhythm and keeps you moving at a quick pace.
Think About Your Posture While You Walk
Stand tall and don't lean forward or back. Don't arch your back. Focus on a good stride, one that is not too wide between steps.
Swing your arms in opposition to your stride is part of a brisk pace. Thinking about your core muscles, and holding your abdomen in as you walk can help train your stomach muscles.
Add Light Hand Weights
Hand weights help tone your arms. They also help increase your heart rate as you walk.
Simple repetitive arms motions, such as pumping your arms as you walk, pressing hands straight up above your head, or straight out to the side are easy enough to add to your walk.
Use Good Footwear
When adding a regular walk to your exercise routine, it is important to wear cushioned socks and supportive athletic shoes. This is especially true if you plan to walk more than 30 minutes per day.
If it's time to kick your athletic shoes to the curb, check out my post on Top Athletic Shoes.
---
You also need to have a water bottle to stay hydrated. Staying hydrated on a diet and exercise routine is key to weight loss. Keep your drink cold and you on the move. Check out all the styles here.
---
Protect Yourself From the Sun
When regularly walking outside during the day, it's important to protect exposed skin by applying sunblock. The higher the SPF value the better. Another piece of gear to include is a hat to shade your face and keep you cool.
Plan How Long You Will Walk
For weight loss walking for 30 minutes to an hour allows you to burn calories but also helps rev up your metabolism to burn calories long after the walk is finished.
An hour sounds like a lot of time to commit to a walk, but in reality, your hour can be broken up into 15-20 minute sessions. Walking in the morning before work, 10 minutes over lunch, and after dinner daily will get you close to your sweet spot.
You may only have time for 10-20 minutes a day.
The important thing is to get started and to keep going.
When you start, walk slowly for 3-5 minutes to warm up. Walk briskly for at least 10 minutes, then walk slowly to cool down.
If you are walking for weight loss aim for at least 30 minutes 5 days a week.
Increase your daily walking time, longer walks equal more calories burned.
The following Walking Time Chart is an example to follow as you build up your endurance.
Warm
up
Brisk
Walk
Cool
Down
Stretch
5 Min
10 Min
5 Min
5 Min
5 Min
15 Min
10 Min
5 Min
5 Min
20 Min
10 Min
5 Min
Walking Time Chart
When tracking your calories, check the WebMD Exercise Calculator to help estimate your calories burned.
Finish with stretching while your muscles are warm. Stop and stretch your legs, calves, and hips to release your muscles and joints.
Stretch After Walking
Even with only a 15-minute walk, I am often stiff after the first couple of days. Over time I have discovered that stretching is crucial to easing this stiffness and allowing me to extend my walking time.
Leg, hip, and foot stretches are extremely important in easing the stiffness of a new walking routine.
Regular, routine stretching helps ensure you get as much exercise benefit as you can from your walk. Stretching helps open your joints, extending your range of motion so you can exercise in a confident fashion.
Take a peek at lower body stretches in my Stretching Exercise to Keep You Flexible post for a stretching routine. Pick 2-3 stretches to get you started.
---
Remember a Gaiam Yoga Mat for your floor stretches. I love this reversible mat in Marbled Peacock. Click on the mat for details and to check out the marbled backside.
Not sure where to start when buying a Yoga Mat? Gaiam has a tool to help you determine which size, thickness, material, and style you like. It's all about you.
---
---
Weekly Walking Exercise Plan
It's important to have a plan scheduled for your week. Mixing up the type of walk you take may help keep you motivated. For instance:
Wednesday - a 15 minutes Power Walk
Saturday - a leisure walk in the morning, a Power Walk in the evening
So what I am really saying, is set your goals and stick to them. The plan above is just a suggestion. You can mix it up as you choose.
The important thing is that you get out there and exercise. Ideally for 150 minutes per week.
Include Different Types of Walks
When it comes down to a routine for walking the belly fat off, you can start with a slow pace for about 3 or 4 minutes to get your legs warmed up. Increase your intensity to a fast pace on a scale from 1 to 10. Start your fast pace at 9 or 10 on the scale and walk this way until your breathing becomes very heavy. Slow down to a 5-6 pace. Then repeat.
You can even add intervals of other exercises such as jumping jacks, or planks to keep things interesting. By doing this your heart rate remains high for optimal performance. After a couple of intervals walk at a slow pace for 5 minutes to cool down.
This approach works for everyone.
Power Walk
Start with a slow walk for 3 to 5 minutes, then move to a 5-6 pace for a full 15 minute. Slow down for 5 minutes make sure to walk at ease to slow your heart rate.
Remember to walk with good posture holding your stomach in as your walk.
Well Being Walk
This walk is not about burning fat or cardiovascular benefits but about clearing your mind and relaxing.
In addition, walking has been found to improve creative thinking and problem-solving.
Of course, you still get the benefit of walking, but not at a structured pace. Enjoying your surroundings and company if you are walking with a partner is part of the benefit and experience of the walk.
---
Walking as Part of a Healthy Lifestyle
We are all striving to have a healthy lifestyle. Getting there can be a challenge in this busy world we live in.
A healthy lifestyle is typically defined as achieving a healthy weight, maintaining regular exercise, and managing stress levels.
For more on achieving a healthy lifestyle, take a peek at my post, Defining A Healthy Lifestyle.
Exercise
Walking and more specifically, exercise is one of the 3 pillars of a healthy lifestyle.
Due to the known benefits of exercise, we are all encouraged to get 30 minutes of moderate-intensity exercise, 5 days a week.
That may seem like a lot of time to spend walking, but once you focus on your weight loss goal, it is easy to make substitutions to get you there.
For example, take the stairs rather than the elevator. In many cases, the stairs are faster.
Take 10 minutes of your lunch break and take a quick walk. This will help get your steps in, but also will help with the 3 PM yawns.
At first, it may seem like a lot to add a walk into your day. But, faithfully by following these walking for weight loss tips, over the days and weeks, you will slowly start to gain endurance and walk further and longer periods of time. Eventually work your way up to your sweet spot, walking about 1 hour a day or at least most days each week.
Healthy Weight
If you have a few pounds to lose, consider the following weight loss programs. The Keto Diet and the Mediterranean Diet are very different in their approach to weight loss.
If you have a few pounds to drop consider the Keto Diet for rapid weight loss.
Check out my post, Keto Diet Essentials to learn about this effective weight loss program.
You can lose weight quickly when you follow the keto diet rules.
Another diet that is less restrictive, but will still encourage weight loss when followed is the Mediterranean Diet.
In addition, the Mediterranean Diet has been studied for its benefit in reducing the risk of many chronic health conditions such as heart disease, metabolic syndrome, diabetes, inflammatory conditions, and even depression.
Take a look at the benefits of the diet in Mediterranean Diet Basics.
Manage Stress
The final pillar of a healthy lifestyle is managing stress. Starting a walking program is a good start for managing stress. But, we also need to incorporate downtime into our day to relax and enjoy life.
Make sure and make time for a meal with family and friends. One where you sit together at a table and have a conversation. It is so easy to eat at your desk through lunch or eat on the run to kid activities. All the while never stopping to savor the food that we are eating or the people we are eating with.
Lastly, make time for reflection. Read a book, write in a journal, sit at the park and people watch. Slow down. This simple step can help manage the stress in your life.
Follow these walking for weight loss tips and you will be on your way to a healthier lifestyle.
March 2021 Update: Updated images and additional walking tips.
---
---
---
---
Medical Disclaimer
This site contains general information about diet, health, fitness, and nutrition. This information should not be used to diagnose, treat, prevent, or cure any disease or condition. Please consult with your physician before using any dietary supplement or before beginning a diet or exercise program.