This post may contain affiliate links. This means I may make a small commission at no additional cost to you when you make a purchase. Find out more in the Disclosure Policy
This Healthy Copper Penny Recipe is full of slightly sweet and tangy flavors. Made with sliced carrots, tomato juice, and brown sugar, it is a healthier alternative to the sugary vintage recipe you may remember.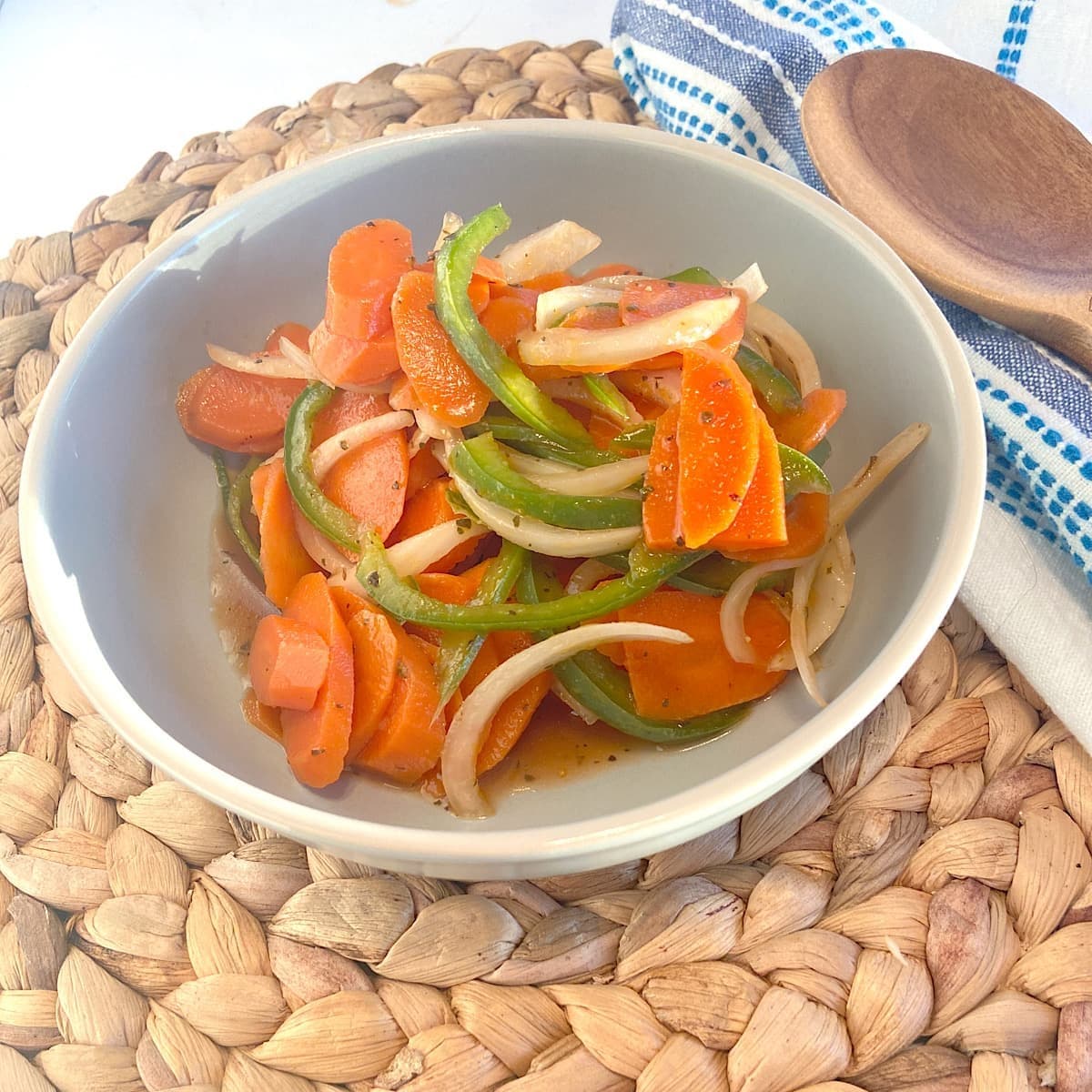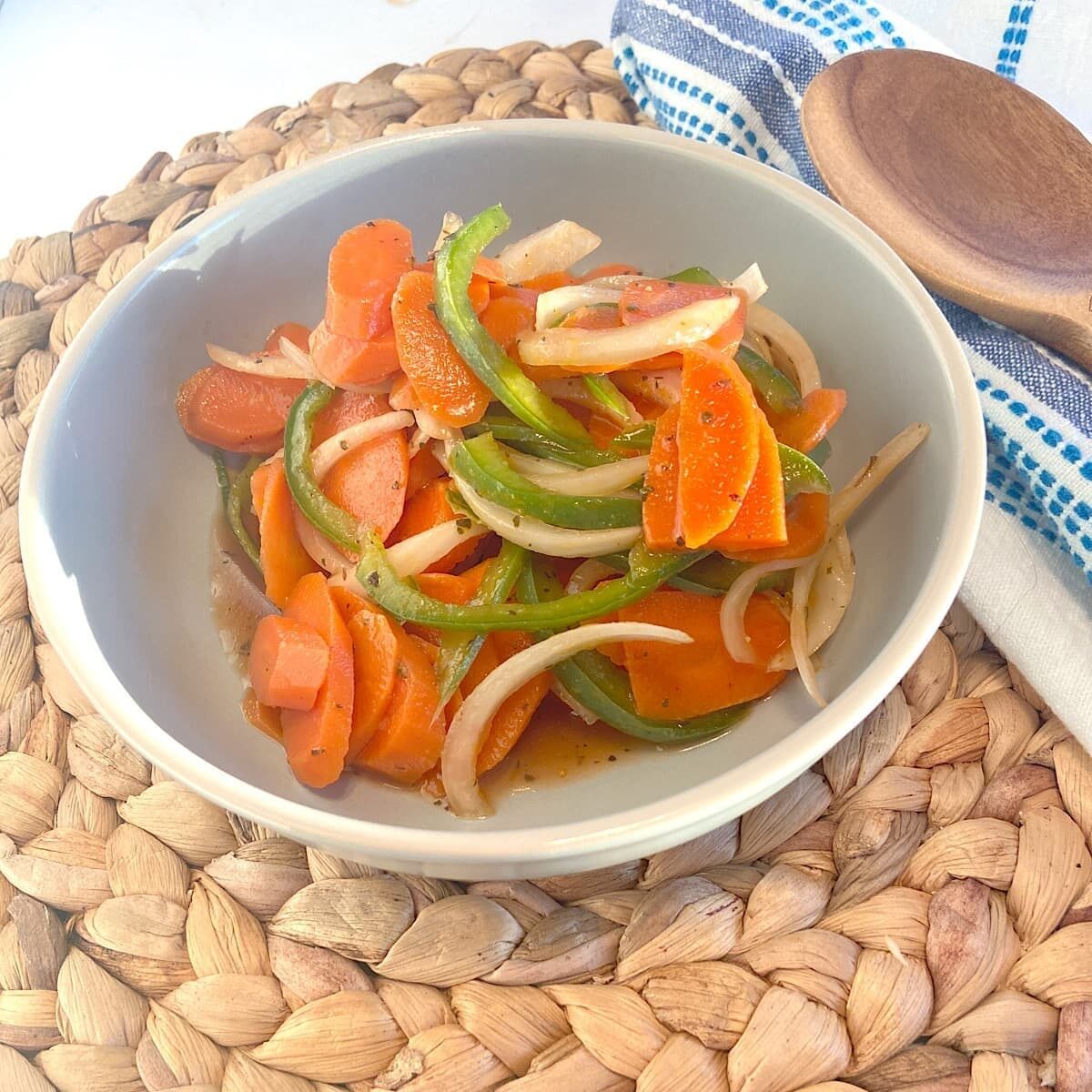 The traditional Copper Penny carrot recipe is one of my favorites, but the traditional recipe is made with a whole cup of sugar and a can of tomato soup.
A few tweaks to the original recipe and now you can enjoy the slightly sweet and tangy dressing melded with the flavors of the carrots, onions, and green pepper.
This copper penny salad recipe substitutes tomato juice for tomato soup, and a smaller amount of brown sugar for granulated table sugar to lower the sugar content in this healthier recipe.
Ingredients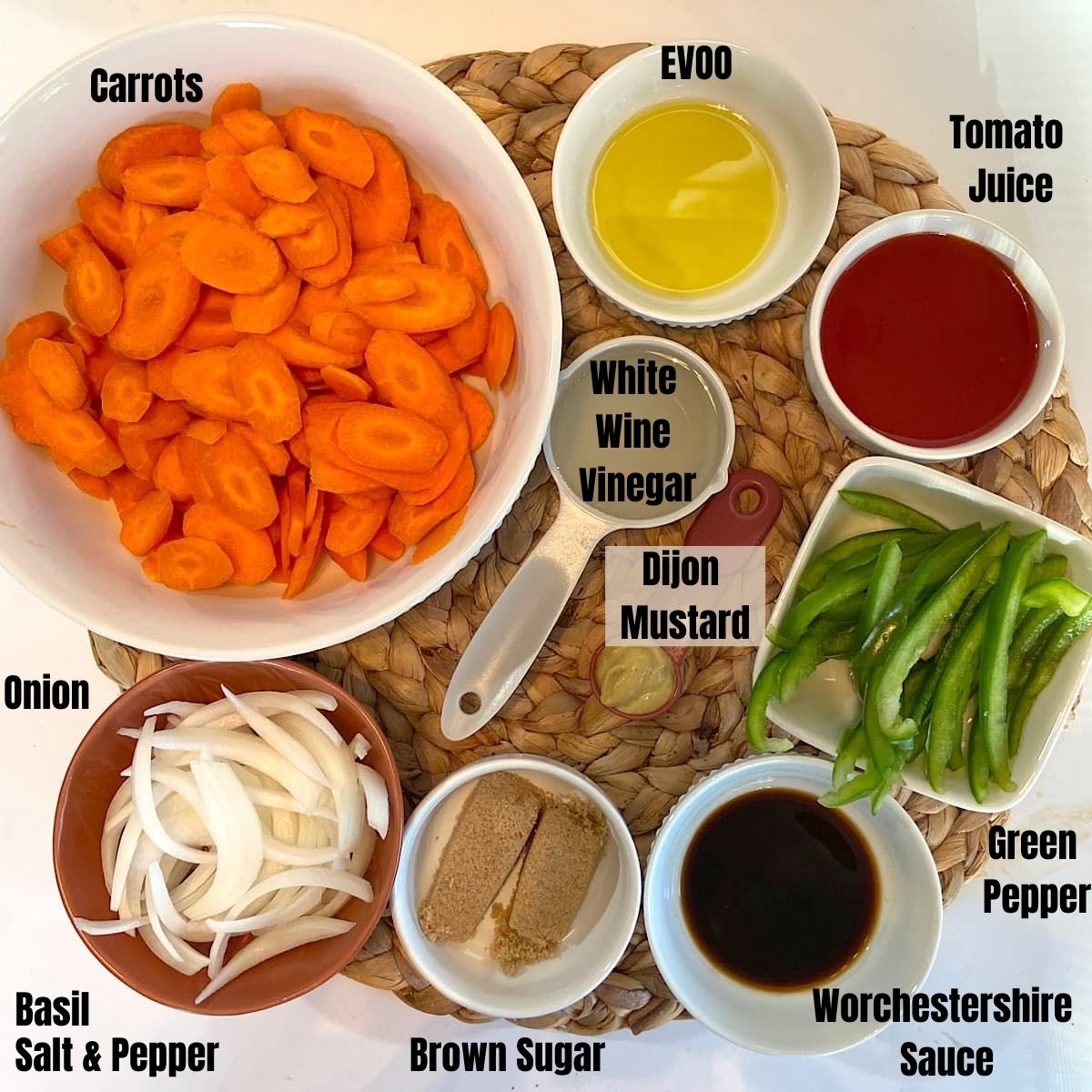 The ingredients in this salad provide a wonderful slightly sweet and tangy bite. Sliced carrots, onions, and green peppers fill the dish with bright colors.
The sweet and tangy sauce is a combination of white wine vinegar, tomato juice, brown sugar, olive oil, Worcestershire sauce, and Dijon mustard.
Salt, pepper, and dried basil season the sauce and vegetables.
Instructions
Step 1. Wash, and peel carrots. Slice thinly on the diagonal. Thinly slice onion and green pepper.
Step 2. Heat water in a pan over medium-high heat. Carefully add carrots to water, bring to a boil and cook for 3 minutes. Remove carrots from the water and run under cool water. Add to a covered dish with onion and green pepper.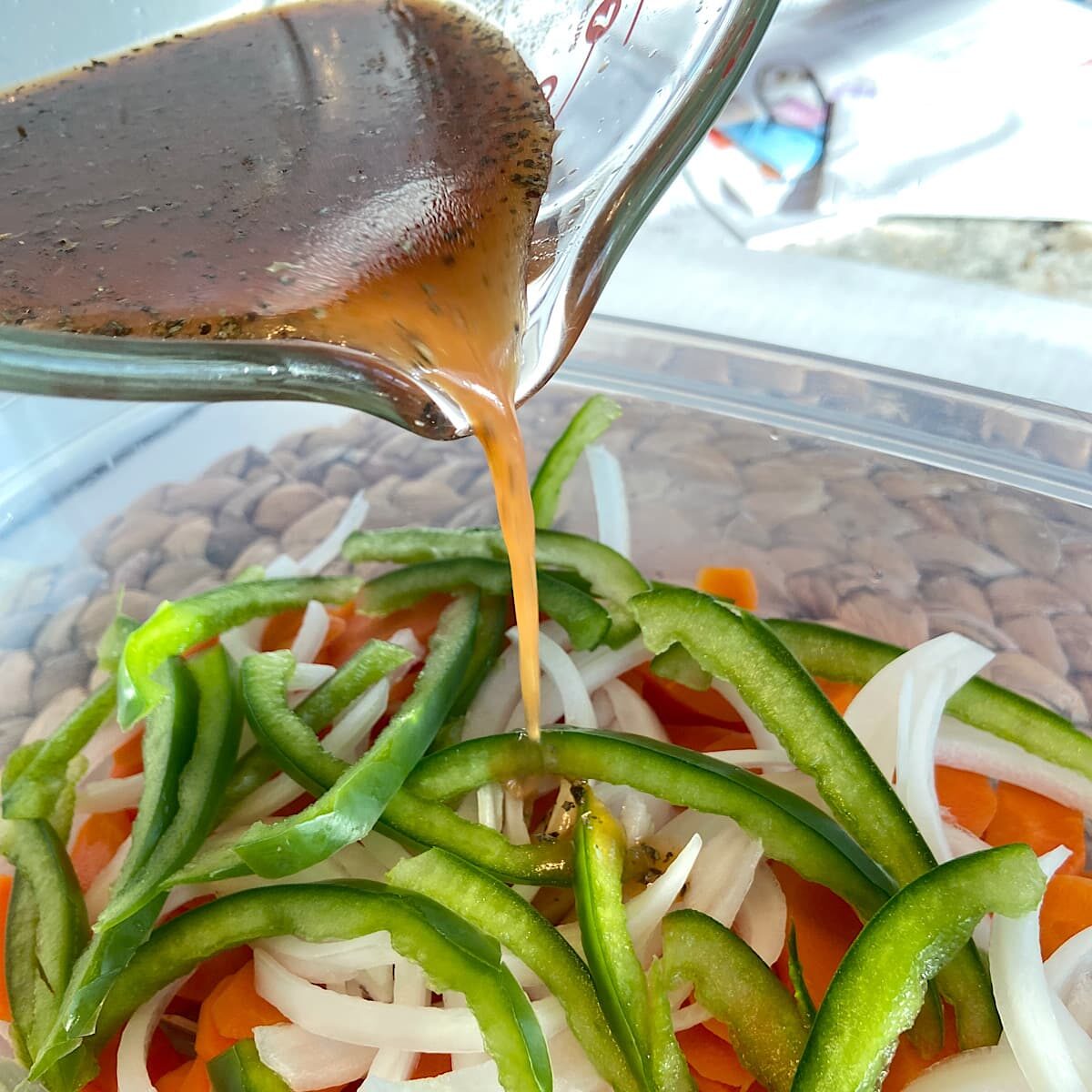 Step 3. Mix dressing ingredients, including vinegar, tomato juice, brown sugar, olive oil, Worcestershire sauce, and Dijon mustard in a glass bowl. Stir with a whisk. Add salt, pepper, and basil and whisk until combined. Pour dressing over vegetables.
Step 4. Cover the dish and refrigerate for 8 hours or overnight. Serve with a slotted spoon.
FAQs
How to Store Copper Penny Salad

Store in a covered dish in the refrigerator.
How Long will Copper Penny Salad Keep

Healthy copper penny salad marinates overnight, while the flavors continue to meld and develop.

Make the recipe one or two days prior to serving. This salad will keep refrigerated in a covered dish for up to a week.
What Can I Substitute for Brown Sugar
If you prefer, you can substitute honey or pure maple syrup for brown sugar.

Both honey and maple syrup will be slightly sweeter than brown sugar so you may want to cut back the amount to 3 tablespoons of honey or maple syrup in place of a quarter cup of brown sugar.
What to Serve With Copper Penny Recipe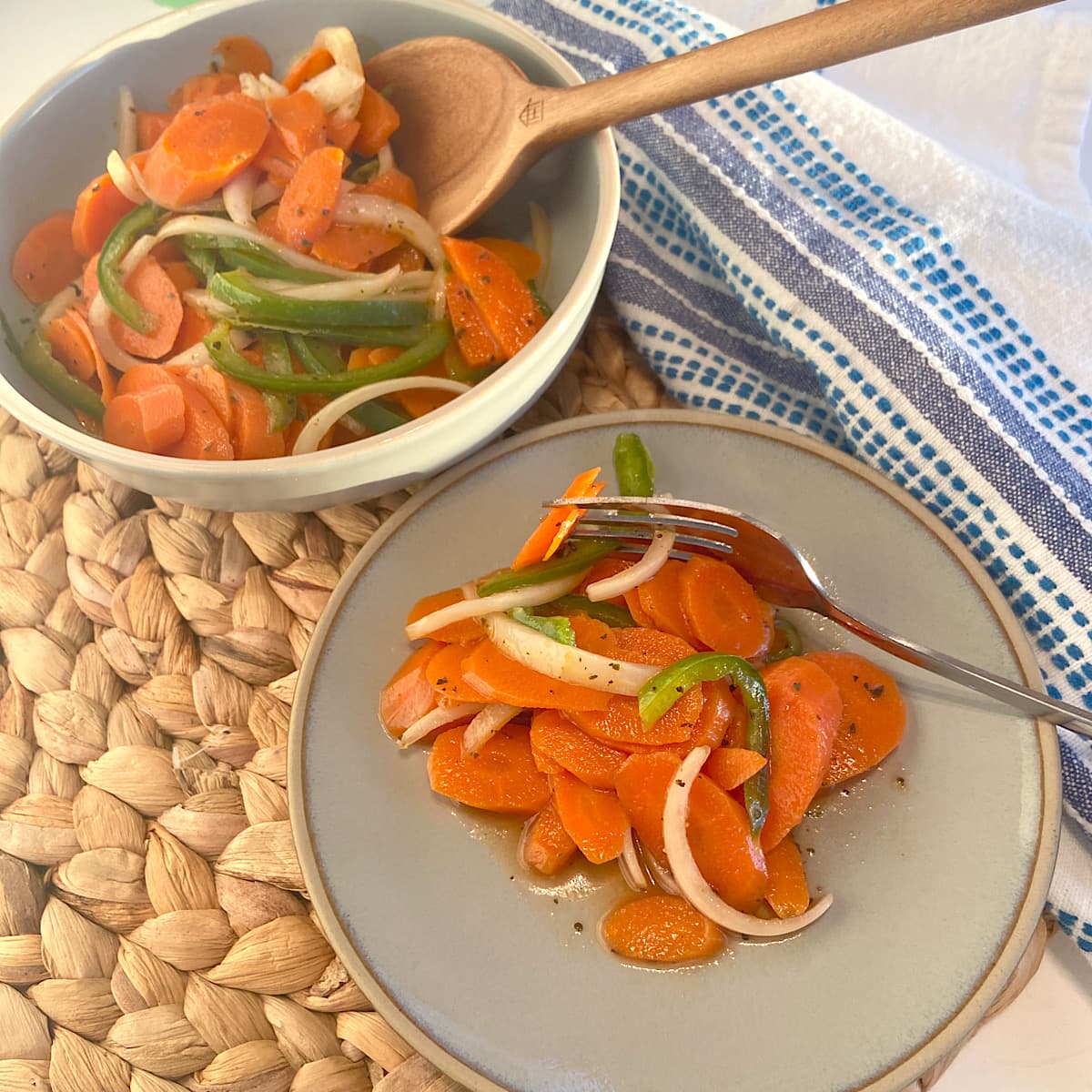 This tangy-sweet Copper Penny Carrots with brown sugar is perfect with grilled turkey burgers or Baked Chicken Legs. You might also enjoy it with a beef roast.
Other Vegetable Recipes for You
---
August 2022 Update: Minor post and recipe card.