This post may contain affiliate links. This means I may make a small commission at no additional cost to you when you make a purchase. Find out more in the Disclosure Policy
This light and savory Dill Cream Cheese Spread is a perfect recipe to make flavorful appetizers for Spring celebrations or showers. Made with healthier ingredients, It has lower fat and carbohydrates, but packs plenty of flavor for those looking for a healthier bite.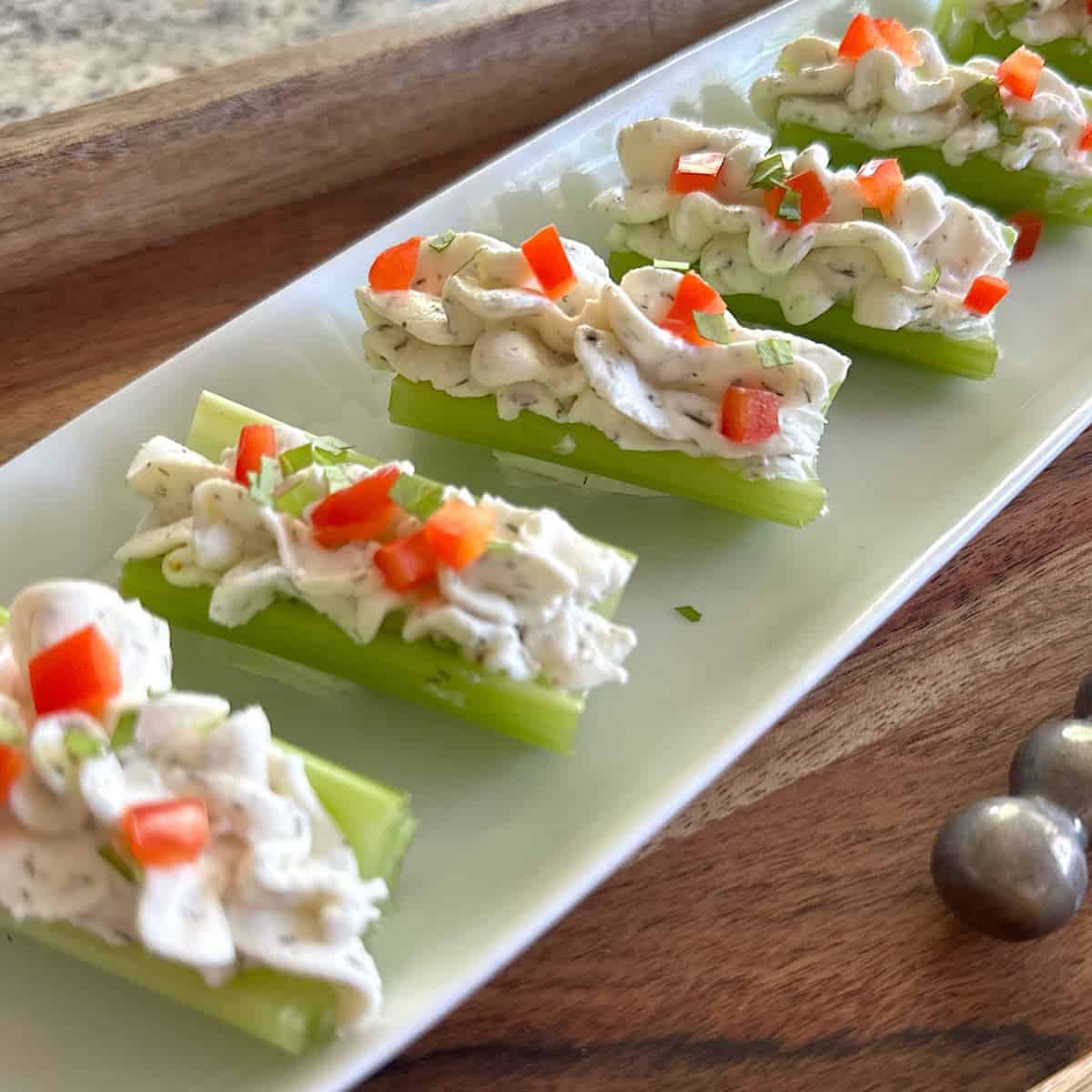 I love to dress up my appetizers and make them a little fancy by piping the cream cheese spread through a pastry tip. But you can simply spread it with a knife or skip the tip and pipe it from a bag.
Ingredients
This simple spread uses just a few ingredients including:
low-fat cream cheese, also known as Neufchafel Cheese.
dried dill, onion powder, minced garlic, and ground pepper
Instructions
Step 1. Place room-temperature cream cheese, yogurt, mayonnaise, lemon juice, dill, onion, garlic, and pepper in a bowl. Combine with a hand mixer until creamy.
Step 2. Cover the bowl and refrigerate for at least an hour to allow flavors to blend.
Step 3. Prepare vegetables, crackers, or bread in shapes and sizes for your appetizers.
Step 4. Spread or pipe onto celery logs, English cucumber slices, crackers, or bread. Finish with a sprinkle of spices or other toppings.
Frequently Asked Questions
What is Neufachel Cheese
Traditional Neufchatel cheese is an ancient cheese made in France from unpasteurized cow's milk. It is an aged cheese with a tangy flavor and a grainy texture.

The American version of this cheese is made with pasteurized cow's milk, is unaged, and has a creamy texture, similar to full-fat cream cheese. Since Neufchatel cheese is made with cow's milk rather than cream, it naturally has a lower fat content.
What to Serve With Dill Cream Cheese Appetizers
This savory Dill Cream Cheese Spread is perfect in a bowl next to crackers, spread on rye bread for cucumber sandwiches, or piped onto celery logs.
More Appetizer Recipes for You
---