This post may contain affiliate links. This means I may make a small commission at no additional cost to you when you make a purchase. Find out more in the Disclosure Policy
This is a simple thin crust pizza dough recipe that you can make at home for pizza night or serve as an appetizer. Just 6 ingredients and you are on your way to a filling meal.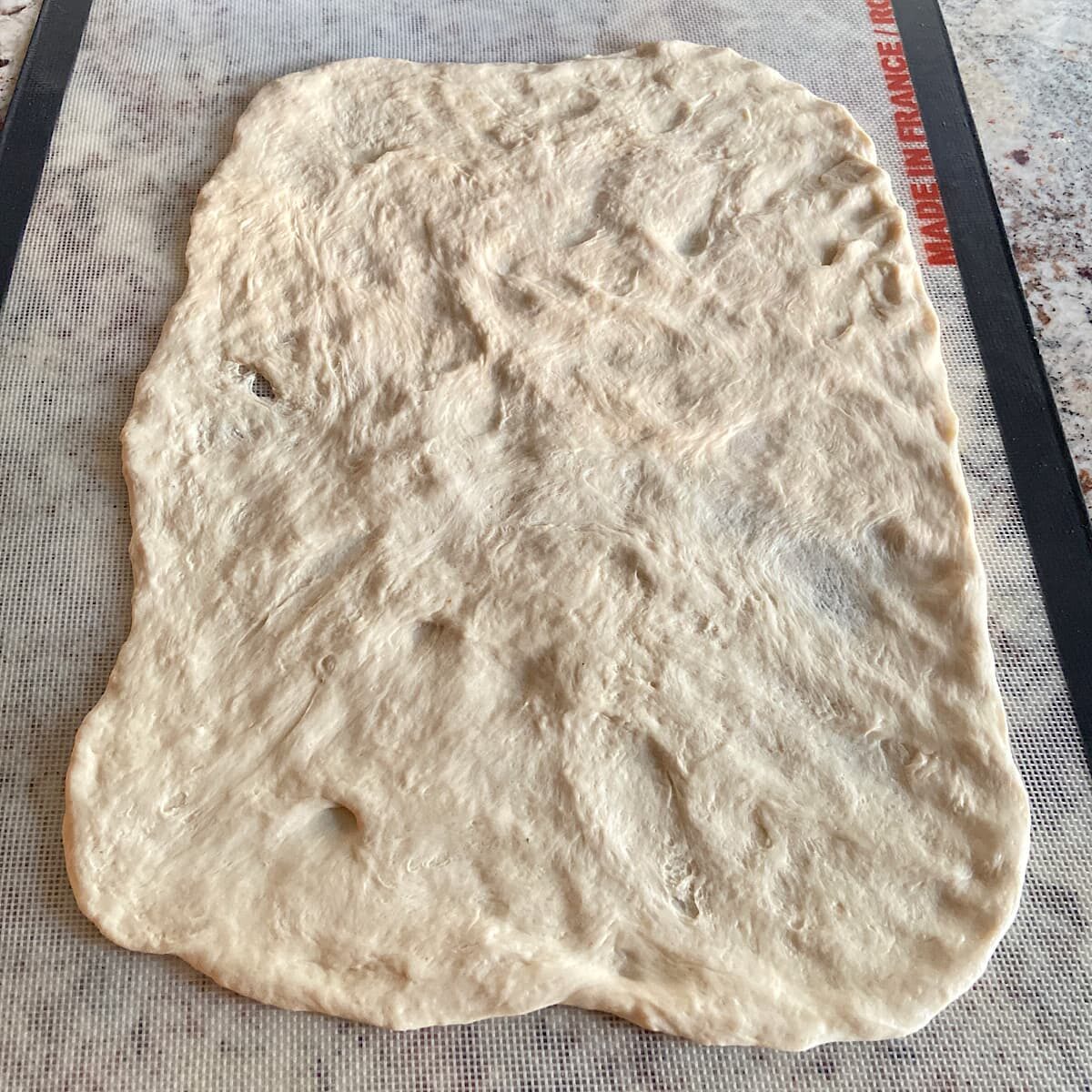 Quick and easy pizza dough recipe that comes together in a light and fluffy dough that bakes into a perfect base for your favorite pizza toppings.
Ingredients
Instructions
Step 1. Add flour, corn starch, and garlic salt to a mixing bowl. Use the paddle to mix and combine.
Step 2. Add warm water to a bowl and add sugar. Mix sugar to dissolve. Add yeast and whisk to combine. Let stand for 5 minutes until yeast thickens and becomes foamy.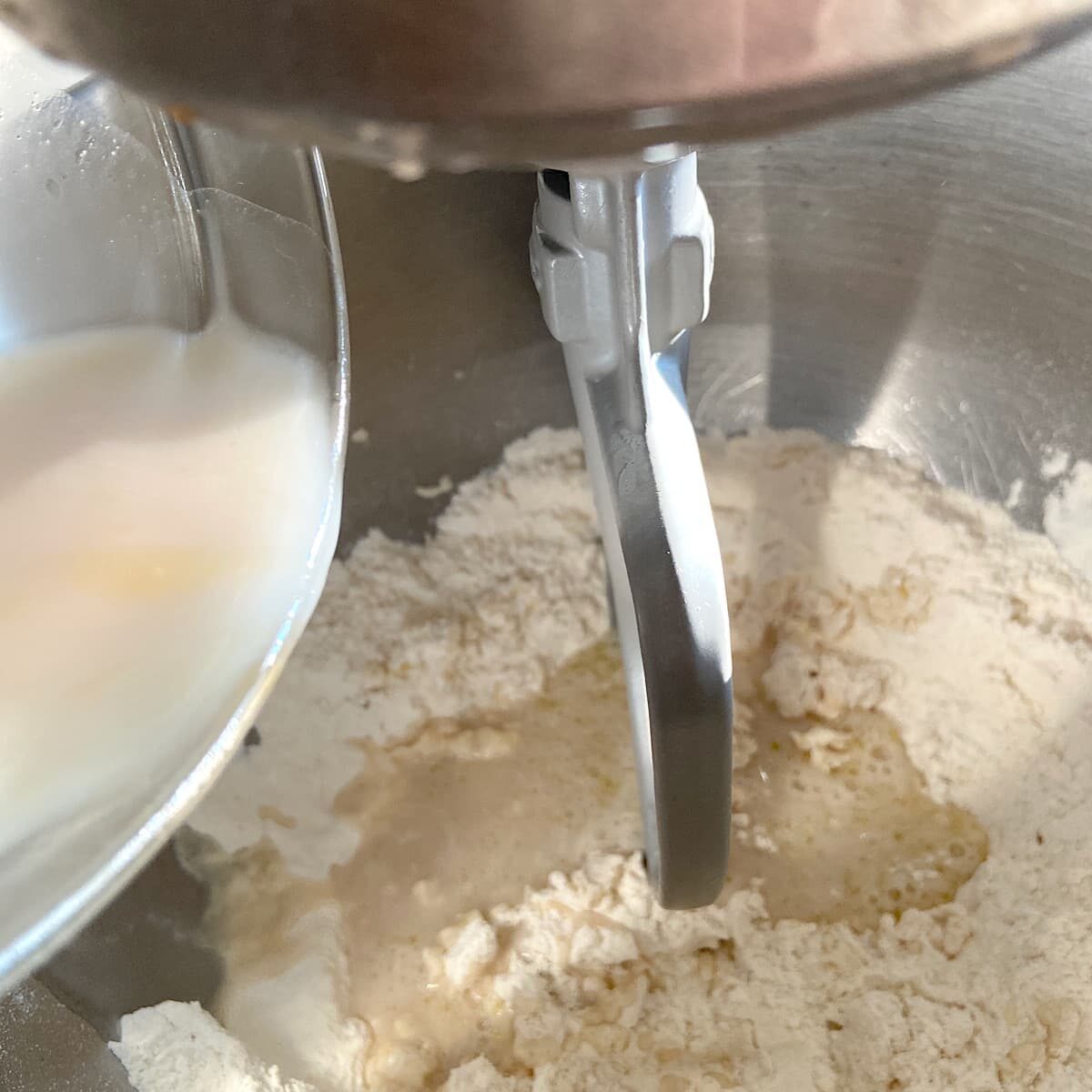 Step 3. Turn the mixer on low and slowly add the yeast mixture to the flour. Continue to mix until the dough is smooth and the sides of the bowl are clean.
Step 4. Add a small amount of olive oil to a large bowl or a zip lock bag.
Bowl: Use a paper towel to evenly coat the inside of the bowl. Add dough. Cover the bowl with a piece of plastic wrap coated with oil or cooking spray. Cover the bowl with a towel.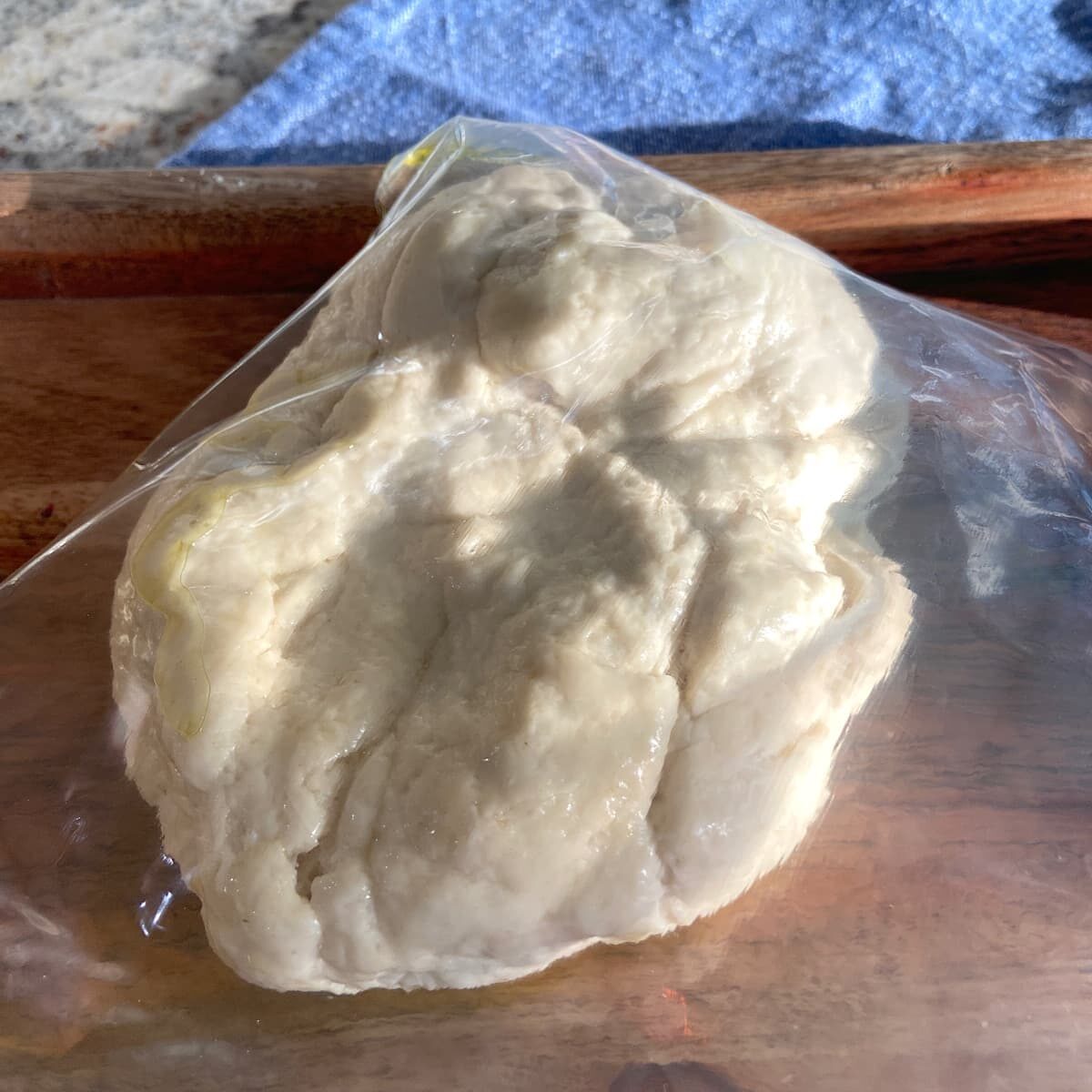 Bag: Add oil to bag and spread to all interior services. Add dough and close the bag.
Step 5. Set dough in a warm area of your kitchen for 1 to 1 1/2 hours.
Tip: A good place to set dough that is out of the way in the microwave. Turn on the microwave light and that helps add warmth to the inside of the microwave.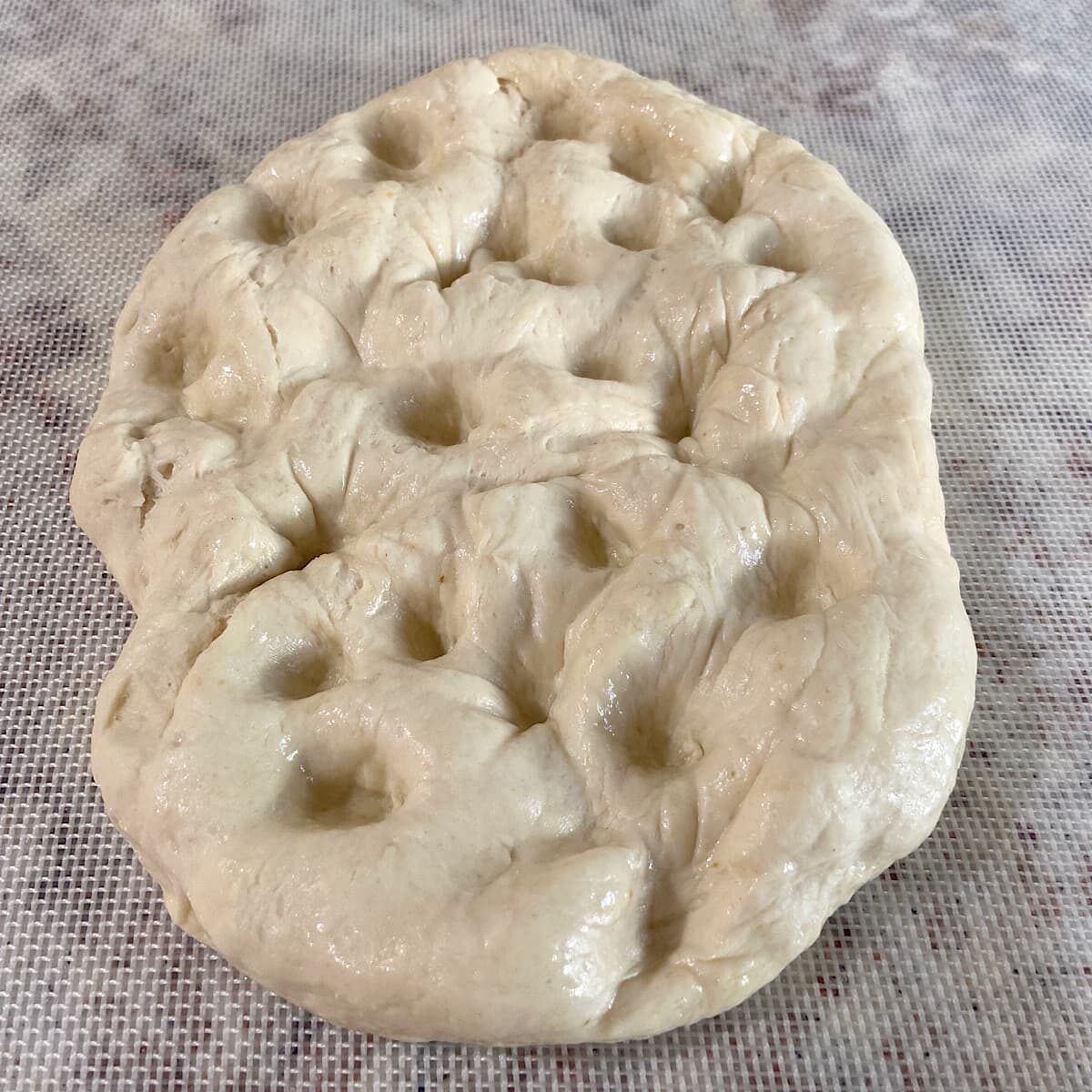 Step 6. Remove dough from the bag or bowl and place it on a floured surface. The dough should be squishy and hold shape when you push a finger into the dough.
Tip: I love my silicone mat. It makes rolling dough for pizza, pie, or bread so easy. I use one like this mat.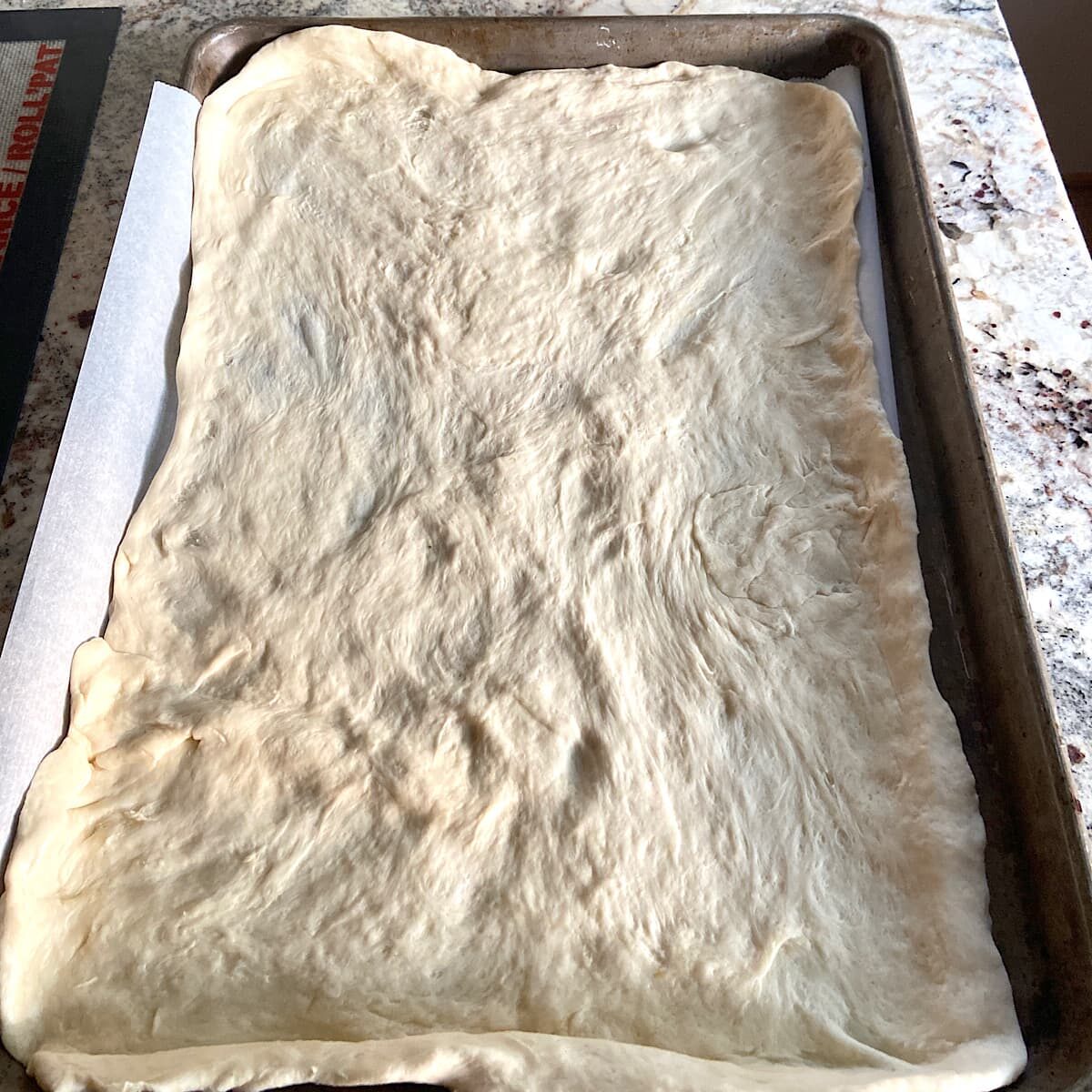 Step 7. Roll and spread with fingers into a large rectangle.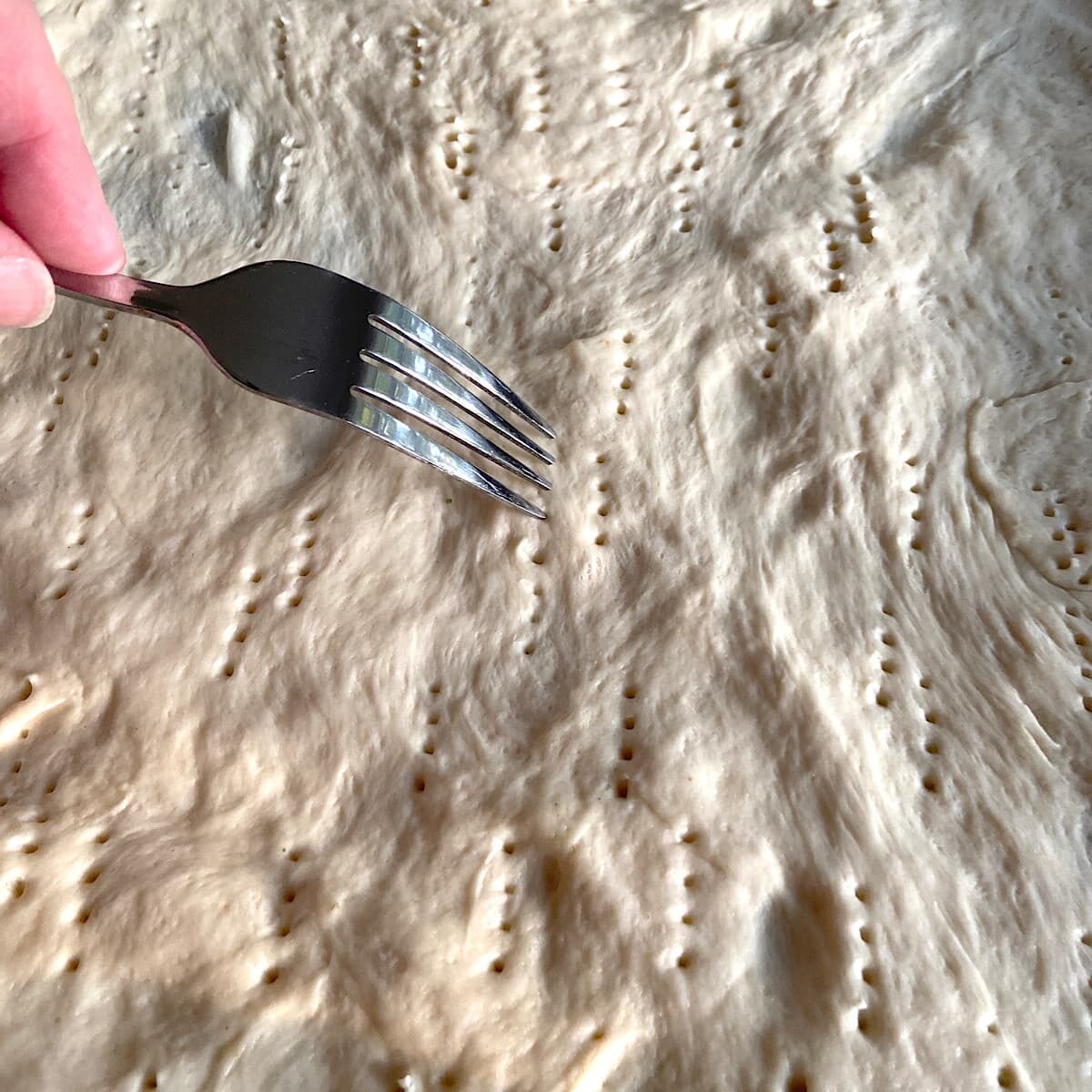 Step 8. Use a fork to pierce the crust throughout the crust.
Step 9. Place on a large baking sheet, and spread dough to the edges of the sheet. Place the dough pan on the oven's bottom rack and bake for 5 minutes.
Tip: Dough can also be split in half and rolled into two smaller pizza crusts.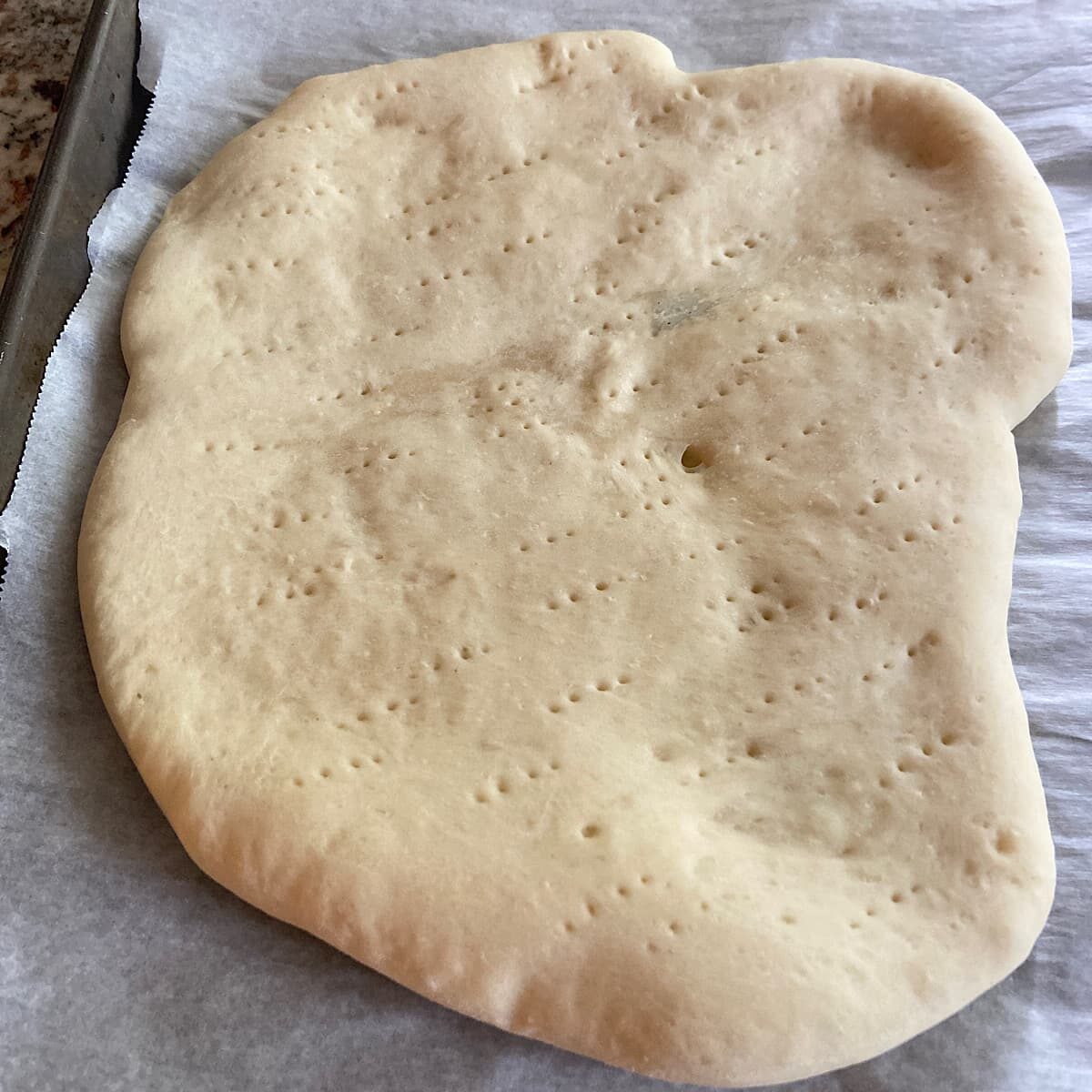 Step 10. Remove pan from oven and add toppings.
Step 11. Return to the bottom rack of the oven and bake for 7-10 minutes until the crust starts to brown at the edges.
Frequently Asked Questions
What Cheese is Best for Pizza
When picking your cheese for pizza, you need to consider how the cheese browns, melts and stretches.

The most common cheese for pizza is shredded mozzarella. It is a mild flavored cheese that doesn't overpower the other pizza ingredients. Other popular pizza cheeses include provolone, cheddar, and parmesan.

There are also pizza mixes like Provel which is a combination of cheddar, swiss, and provolone. It's a St. Louis favorite. Or, a mix like this one from Whole Foods Market, a combination of mozzarella, provolone, and asiago cheeses #ad.

But don't stop there, when using an olive oil base for pizza sauce, consider adding feta, or gorgonzola cheese for their sharp salty bite.
What Order to Add Pizza Toppings
When I first started making pizza at home, I assumed that cheese was the last ingredient. Because you want it melted over the other ingredients.

But, my husband, who worked in a pizza joint as his first job, says that sauce is first, then cheese, and then your toppings. You can add a bit more cheese before you pop the pizza in the oven to bake.
Toppings to Add to Homemade Pizza
Starting with a thin crust pizza dough recipe is the first step to a tasty weeknight dinner. Add your favorite toppings, and spices and you have a meal or appetizer your family and friends will love.
Start with the basics of pizza sauce, alfredo sauce, olive oil, spices, and cheese, then add your toppings.
My favorite is sausage, mushroom, black olive, and onion. Yum!
But, with pizza you can add almost any topping with ingredients and flavors you crave. Here are some ideas:
pizza sauce, cheese, Canadian bacon, and pineapple
olive oil, cheese, Buffalo chicken, and ranch dressing and celery added after baking
pizza sauce, cheese, and vegetables: bell pepper, onion, tomato, spinach, black olive
olive oil and Za'atar spice mix
pizza sauce mixed with Greek yogurt, topped with garlic, olives, feta cheese, spinach, and tomatoes.
More Tasty Recipes for You
---