This post may contain affiliate links. This means I may make a small commission at no additional cost to you when you make a purchase. Find out more in the Disclosure Policy
Healthy German Red Cabbage with Apples is made with olive oil in place of butter and natural honey in place of sugar. This recipe is a Fall staple at our house with a tangy and mildly sweet, warm slaw dish.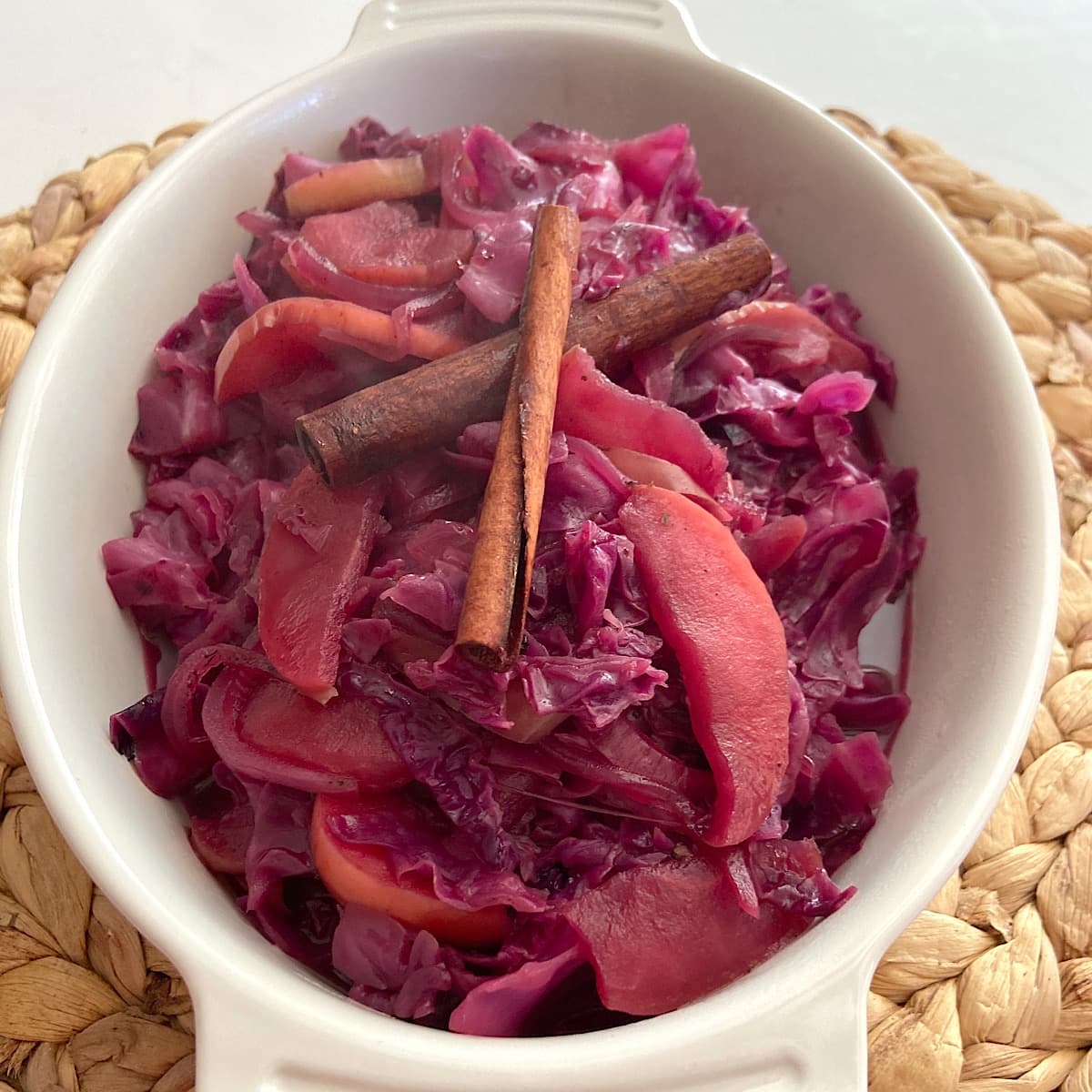 There are many recipes for German Red Cabbage, but they are often heavy on sugar. My recipe is healthier and made with less sugar, but it still has the tangy but slightly sweet flavor of traditional recipes.
Ingredients
Substitutions
Apple: this recipe is very forgiving and you can substitute ripe sliced pears for apples.
White Wine Vinegar: substitute red wine vinegar or apple cider vinegar. If using apple cider vinegar, decrease the amount to 3 tablespoons from a quarter cup of wine vinegar.
Dried Cloves: an easy substitute for dried cloves is allspice.
Cinnamon Sticks: replace sticks with 1/8 teaspoon of ground cinnamon.
Instructions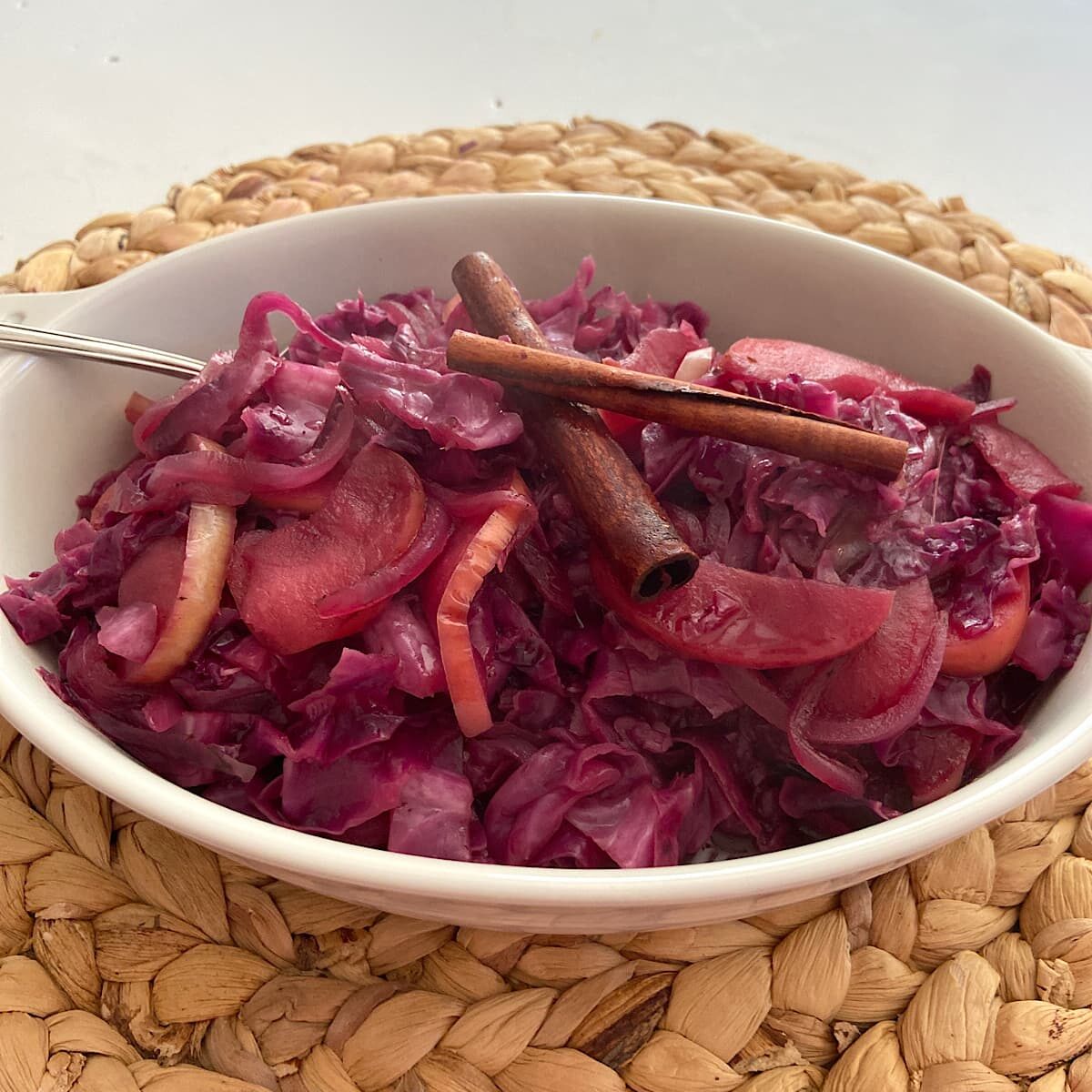 Step 1. Remove outer cabbage leaves. Place cabbage on a cutting board and use a kitchen knife to chop cabbage into 1/2-inch strips. After cutting place in water to soak. Heat olive oil in a frying pan over medium heat.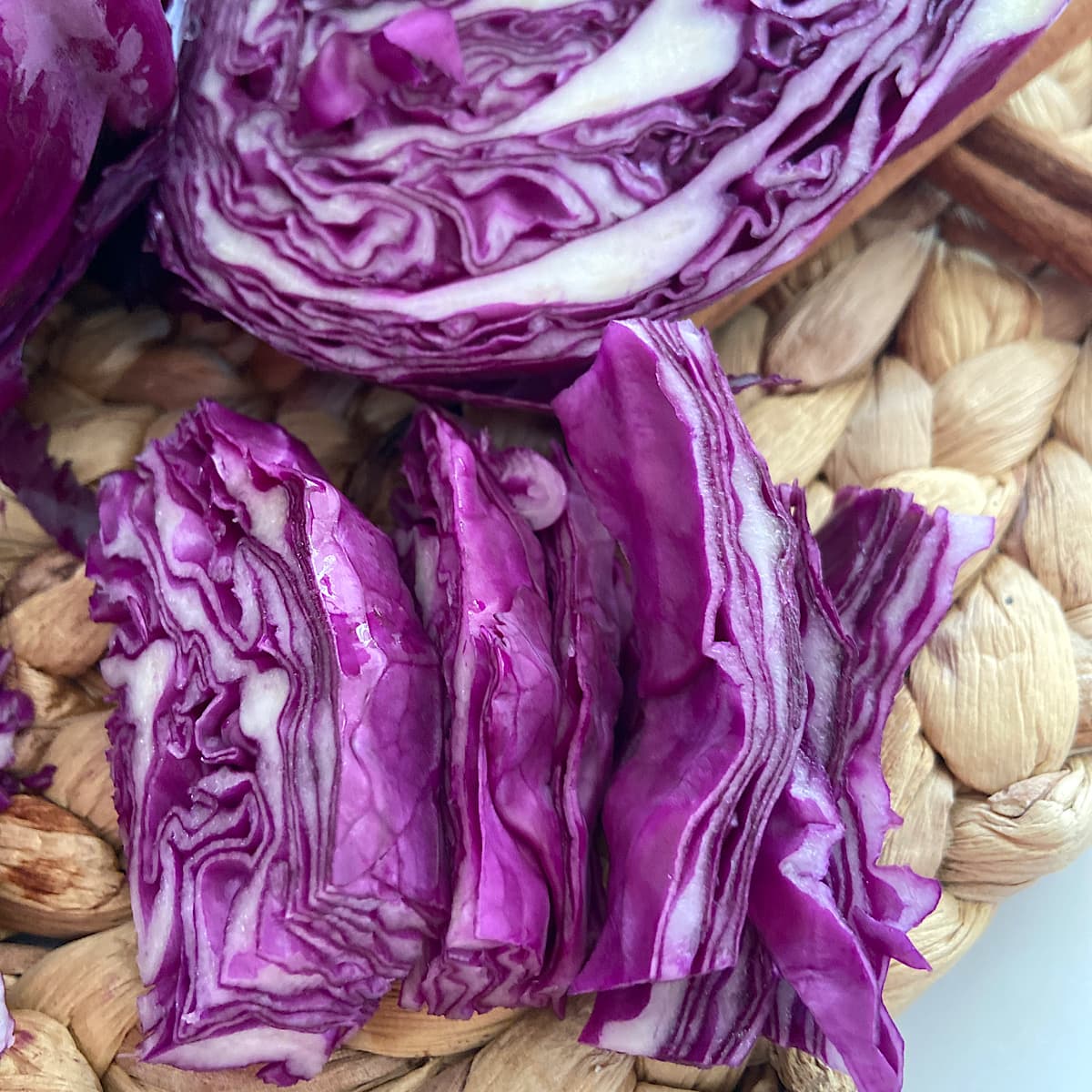 Add sliced onion. Stir and cook for 3 minutes. Add apple and stir and cook for 3 minutes.
Step 2. Drain the cabbage and add to apples and onion. Add bay leaf and cinnamon sticks. Stir and cook for 3 minutes.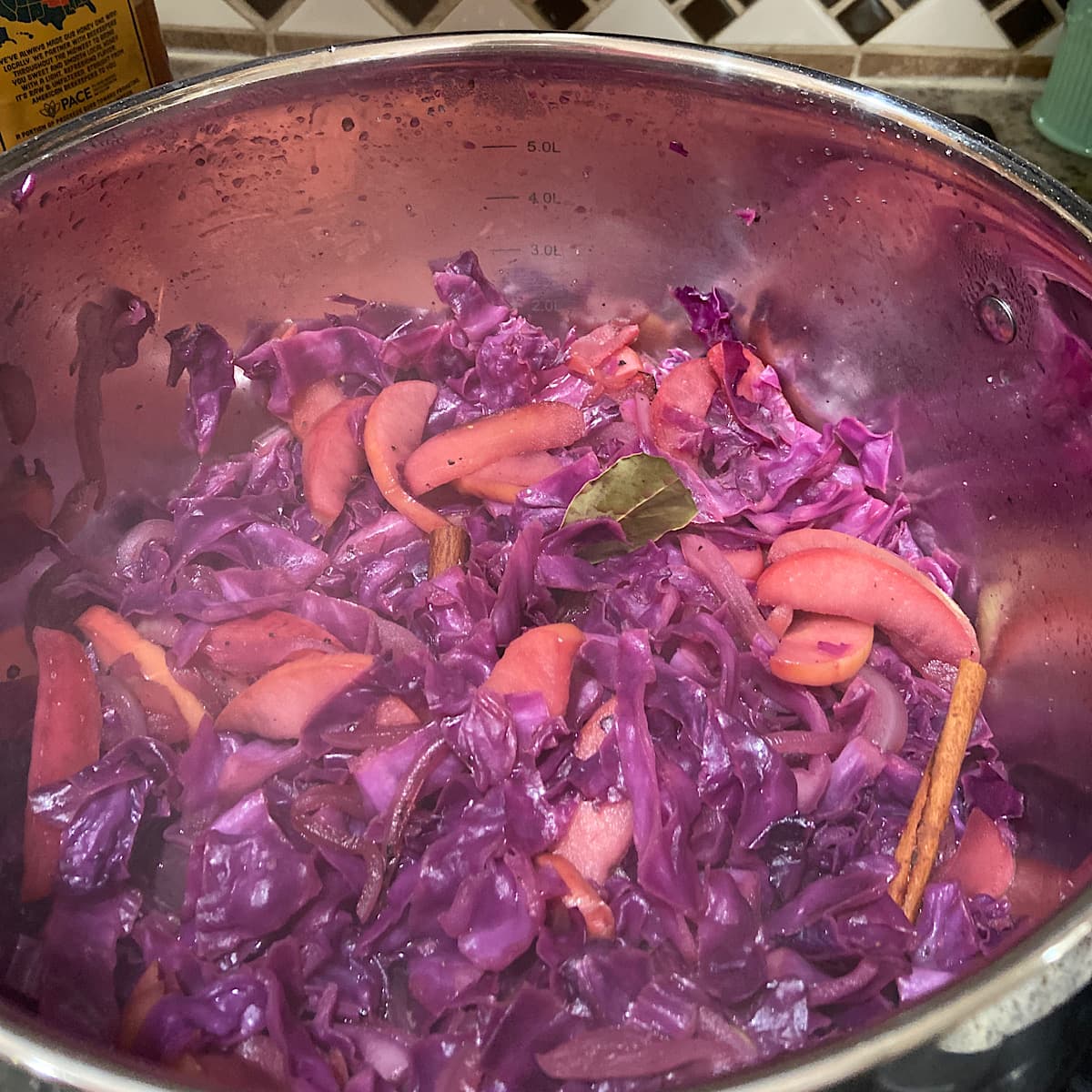 Step 3. Heat honey in the microwave for 10 seconds. Mix vinegar and honey. Pour over the cabbage mixture. Sprinkle with dried cloves. Cover and reduce heat to low. Simmer for 30 minutes or until the cabbage is tender.
Step 4. Remove bay leaf and cinnamon sticks before serving.
Frequently Asked Questions
How to Store German Red Cabbage

The flavors of German Red Cabbage with Apples meld and improve over time. Cover and store in the refrigerator for 5-7 days.
What to Serve with Red Cabbage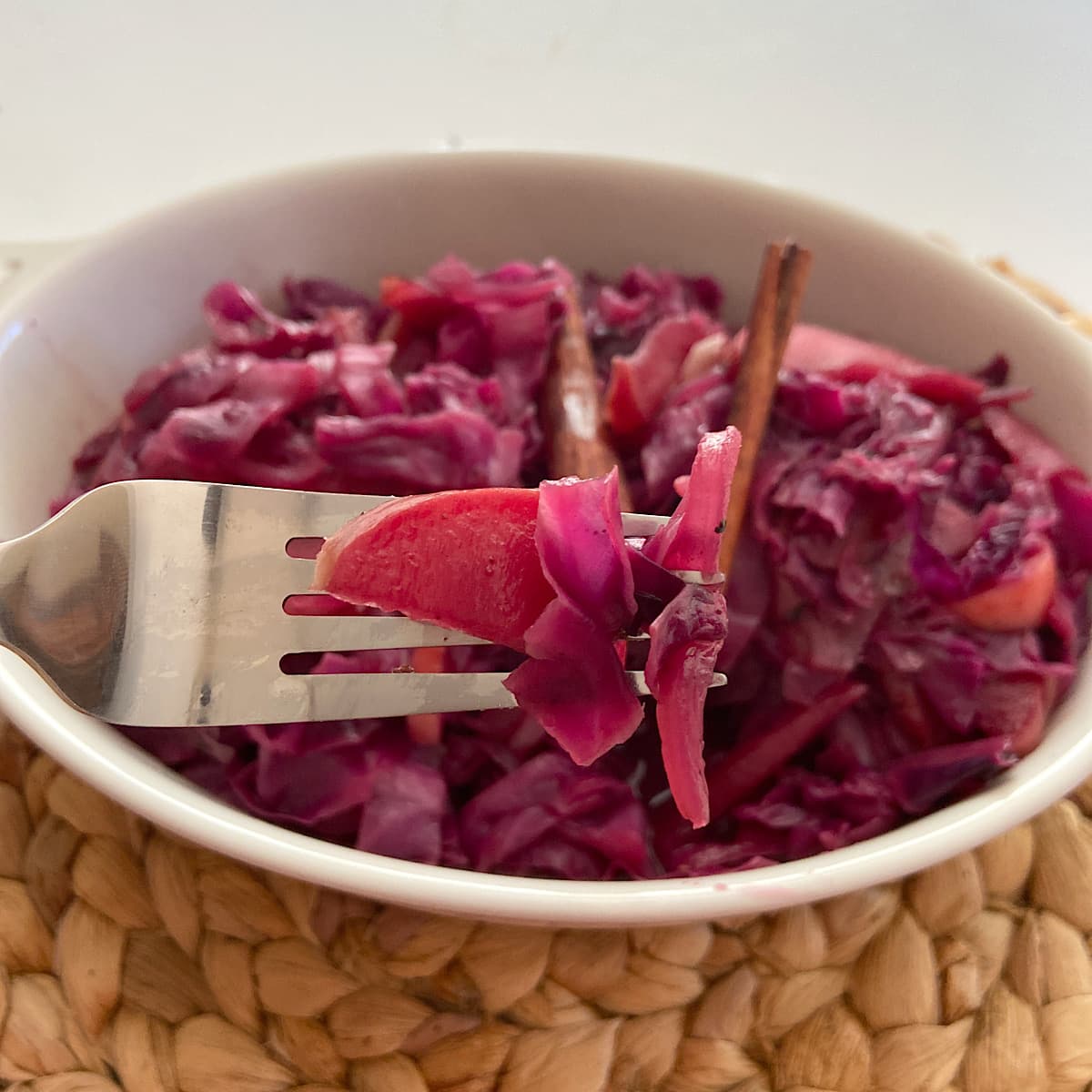 German Red Cabbage is a perfect side dish for beef or pork roast. Its tangy and slightly sweet flavors accent the heavy protein flavors.
Check out other Mediterranean Diet recipes.
Other Healthy Side Dishes for You
---