This post may contain affiliate links. This means I may make a small commission at no additional cost to you when you make a purchase. Find out more in the Disclosure Policy
This simple recipe for Easy Baked Artichoke Dip will be a hit on game day, at a party, or before a holiday meal. Made with healthier ingredients, it is lower in saturated fat but still packs all the garlicky flavor of the traditional artichoke dip recipes.
Almost any recipe can be lightened up on calories and fat. That includes Baked Artichoke Dip. Just a few simple swaps help lower the fat content without sacrificing any of the flavors.
Ingredients
Instructions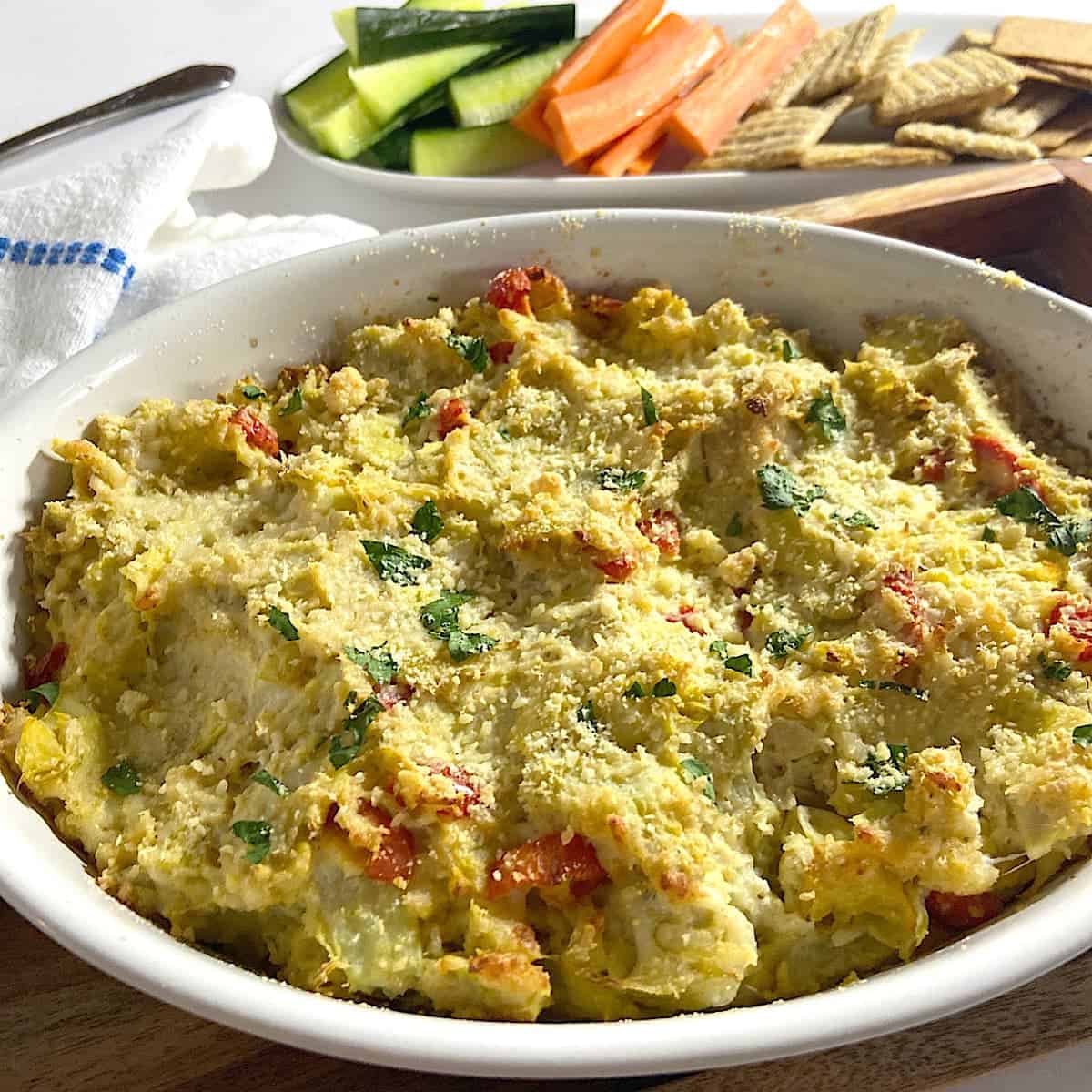 Step 1. Preheat oven to 350°F. Spray the baking dish with cooking spray and set aside. Chop tomatoes and remove most of the seeds.
Step 2. Combine artichoke hearts, garlic, lemon juice, avocado mayonnaise, Greek yogurt, red pepper, and whole wheat bread crumbs in a large mixing bowl. Use a hand mixer on low to medium to mix until combined and creamy.
Step 3. Gently fold in shredded Parmesan cheese and chopped tomatoes.
Step 4. Add to the prepared baking dish. Sprinkle with grated Parmesan cheese. Sprinkle with chopped fresh parsley.
Step 5. Add to the bottom rack of the oven and back for 30 minutes until browned and bubbly.
Serve with whole wheat crackers and chopped vegetables.
Frequently Asked Questions
What Can I Substitute for Mayonnaise
I used a reduced amount of avocado oil mayonnaise #ad in this recipe to make it creamy and combined it with low-fat Greek yogurt. Sir Kensington's avocado mayonnaise has the least amount of processed ingredients in a prepared mayonnaise.

If you prefer to avoid mayonnaise, you can substitute low-fat cream cheese for the mayonnaise, or double the amount of Greek yogurt and whisk in 1-2 tablespoons of olive oil before adding it to the artichoke hearts.
What to Serve with Artichoke Dip
I serve this Easy Artichoke Dip as a stand-alone appetizer with whole wheat crackers and chopped vegetables or as part of an appetizer group. It pairs well with Greek Yogurt Dill Dip, my Spicy Cheese Ball, and my Mediterranean Stuffed Eggs.
Check out my Appetizer Recipes for more options.
Other Appetizer Recipes for You
---