This post may contain affiliate links. This means I may make a small commission at no additional cost to you when you make a purchase. Find out more in the Disclosure Policy
Mildly sweet and tender bell pepper combined with ground turkey, riced cauliflower, tomatoes, Italian spices, and melted cheese into a mouth-watering Bell Pepper Casserole. A perfect recipe to satisfy your craving for stuffed peppers, but without all the carbohydrates and fat.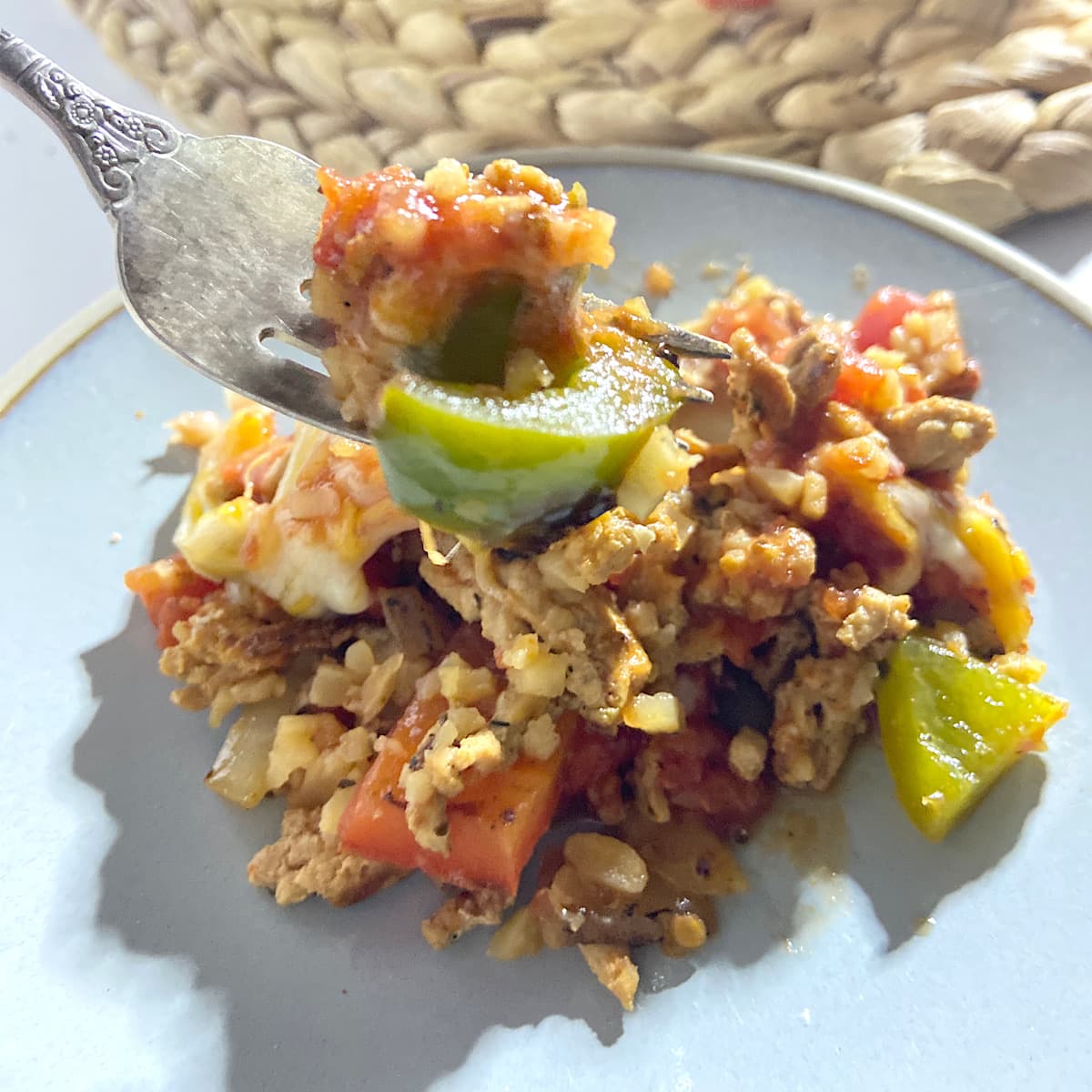 This is an easy recipe, made with healthier ingredients. Riced cauliflower is substituted for rice to lower carbohydrates. Ground turkey is leaner than ground beef and olive oil has less saturated fat.
A sprinkle of shredded cheese completes the dish.
Ingredients
Instructions
Step 1. Preheat the oven to 350F. Spray a 2-quart baking dish with cooking spray and set aside.
Step 2. Heat olive oil in a frying pan over medium heat. Add ground turkey. Sprinkle with half of the paprika, salt, and pepper, Allow turkey to cook undisturbed for 3-5 minutes so it browns. Turn turkey. Press turkey into the pan. Sprinkle with the remainder of paprika, salt, and pepper. Break up the turkey and continue to cook until no longer pink. Remove and set aside.
Step 3. Heat 1 tablespoon of olive oil in a frying pan, and heat over medium heat. Add riced cauliflower to the pan and spread evenly in the pan. Allow cooking for 3-5 minutes undisturbed. Turn and sprinkle with Worcestershire sauce. Cook for 3 minutes and stir. Remove from pan and set aside.
Step 4. Add the remaining 1 tablespoon of olive oil to the frying pan and heat over medium heat. Add chopped onion, and bell pepper to frying pan and cook for 5 minutes. Sprinkle with Italian Spice Mix. Stir and turn occasionally.
Step 5. Return browned turkey, and riced cauliflower to pan. Stir in chopped tomatoes. Mix well.
Step 6. Add turkey and bell pepper mixture to the prepared baking dish.
Spread tomato sauce over the top of the mixture. Place the dish on the bottom rack of the oven and bake for 25 minutes to heat through.
Sprinkle with shredded cheese. Return to oven for 5 minutes until the cheese is melted.
Frequently Asked Questions
How to Store Bell Pepper Casserole

This casserole can be stored covered in the refrigerator for 7 days. Portion and store in the freezer in airtight containers for up to 3 months.

Thaw and reheat in the microwave for a quick meal.
What to Serve with Pepper Casserole
Serve this Bell Pepper Casserole for dinner with a leafy green salad with olive oil and vinegar dressing and you will have a healthy and filling meal.
Looking for more Healthy Dinner Recipes?
Other Healthy Dinners for You
---