This post may contain affiliate links. This means I may make a small commission at no additional cost to you when you make a purchase. Find out more in the Disclosure Policy
The Apricot Almond Cream Cheese Spread is an appetizer that comes with a kick. Made with low-fat cream cheese, Simply Fruit Apricot Preserves, spices, and toasted almonds. It will be hard to enjoy just one.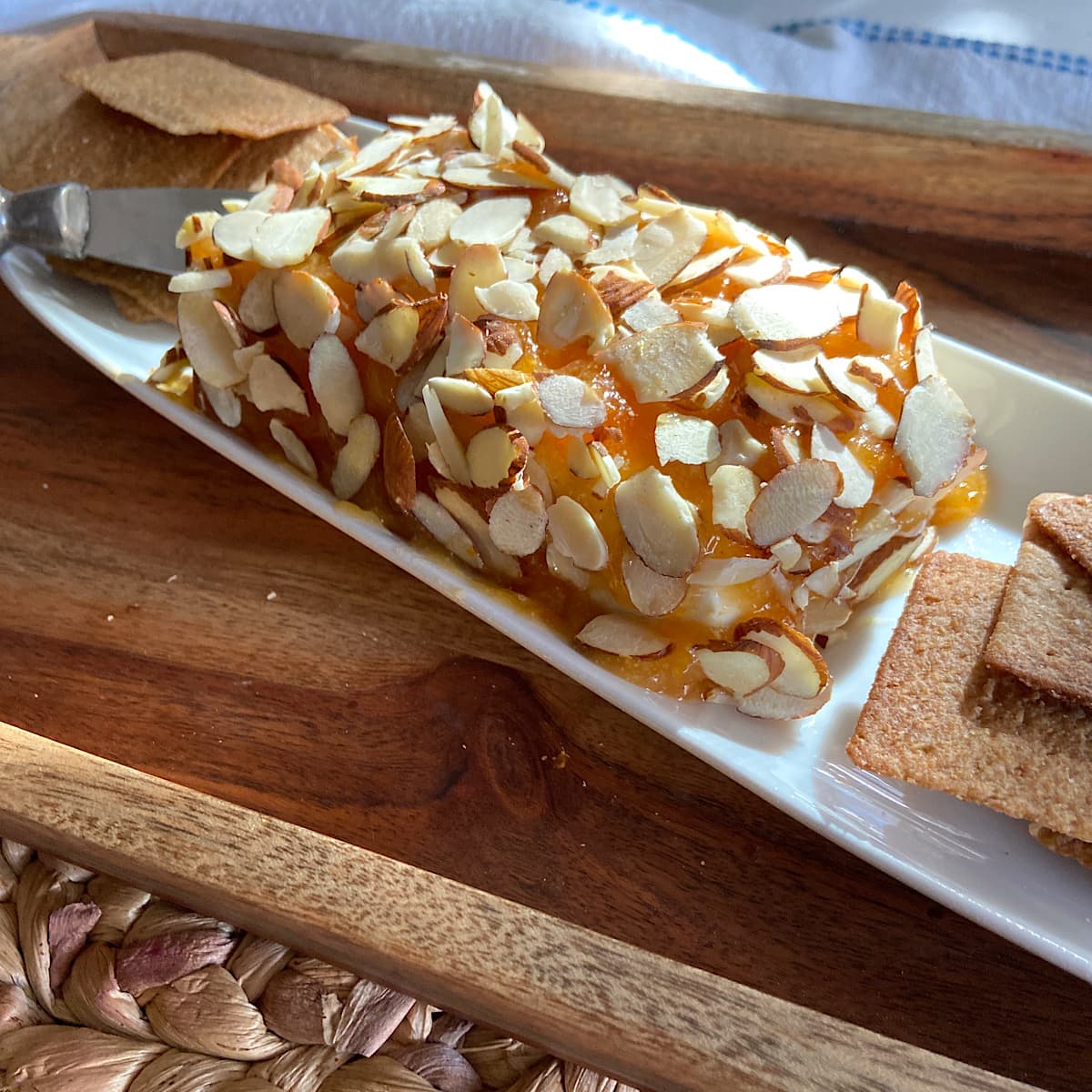 This Apricot Almond Cream Cheese Recipe is an appetizer recipe from my grandmother. Her recipe stopped with the Apricot glaze, but you had to know it was good to try it.
Adding toasted almonds (slivered or sliced), sprinkled smoked paprika, and chopped fresh parsley adds additional color and crunch.
Try this simple recipe and you will be hooked.
Ingredients
Instructions
Step 1. Preheat the oven to 350F. Line a baking sheet with parchment paper. Spread sliced almonds on paper.
Place the tray on the bottom rack of the oven and bake for 5-10 minutes. Turn almonds after 5 minutes and continue to bake. Remove and set aside to cool.
Step 2. Place Neufchatel cheese on a serving tray. Shape into an oval log.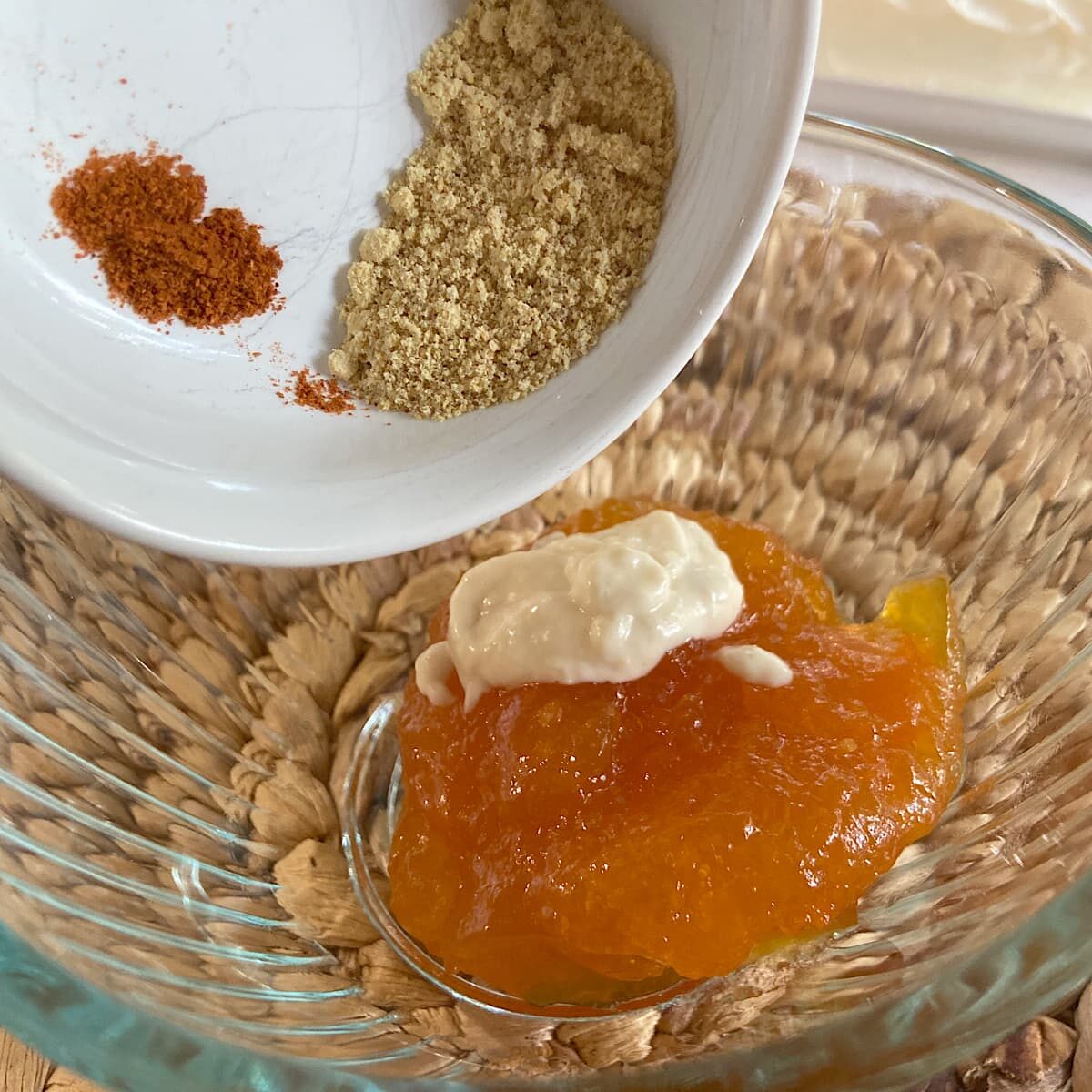 Step 3. Mix apricot preserves, dry mustard, prepared horseradish, and red pepper in a small bowl.
Mix well. Spread apricot mixture over neufchatel cheese. Spread evenly to cover the top and sides.
Step 4. Sprinkle almonds over the cheese log.
Cover and refrigerate for 2 hours. Sprinkle with Smoked Paprika and Chopped Fresh Parsley for additional color. Serve with extra large Triscuits and crackers.
Substitutions
Cream Cheese: this recipe uses low-fat Neufchatel cheese, substitute regular cream cheese.
Apricot Preserves: this recipe uses Simple Fruit Spread #ad. Substitute regular apricot jam or sugar-free apricot jam.
Dry Mustard: out of dry mustard? Substitute prepared mustard, Dijon mustard, Brown mustard, or other prepared variety.
Almonds: toasted walnuts, pecans, or peanuts can be substituted
Frequently Asked Questions
Can you Make Ahead the Apricot Cream Cheese Spread
This recipe is easily made the day before serving. Prepare the toasted almonds and store them in an airtight container. Cover the apricot cream cheese log and refrigerate.

When ready to serve, remove from the refrigerator and sprinkle with toasted almonds, paprika, and finely chopped parsley.
How Long Can Apricot Cream Cheese Spread Good For
This spread can be stored for up to 3 days in the refrigerator to maintain its flavor.
What to Serve with Apricot Cream Cheese Spread
This is one of my favorite cream cheese spread recipes. It has an amazing flavor that will stand alone as the only appetizer with crackers before a meal, or as part of 3 to four appetizers with drinks.
Try some of my Healthy Appetizer Recipes.
Other Tasty Appetizers for You
---