This post may contain affiliate links. This means I may make a small commission at no additional cost to you when you make a purchase. Find out more in the Disclosure Policy
Apple and Roasted Beet Salad is filled with tangy tart, slightly sweet flavors. The roasted beets and toasted pecans add an earthy depth to this mouth-watering salad.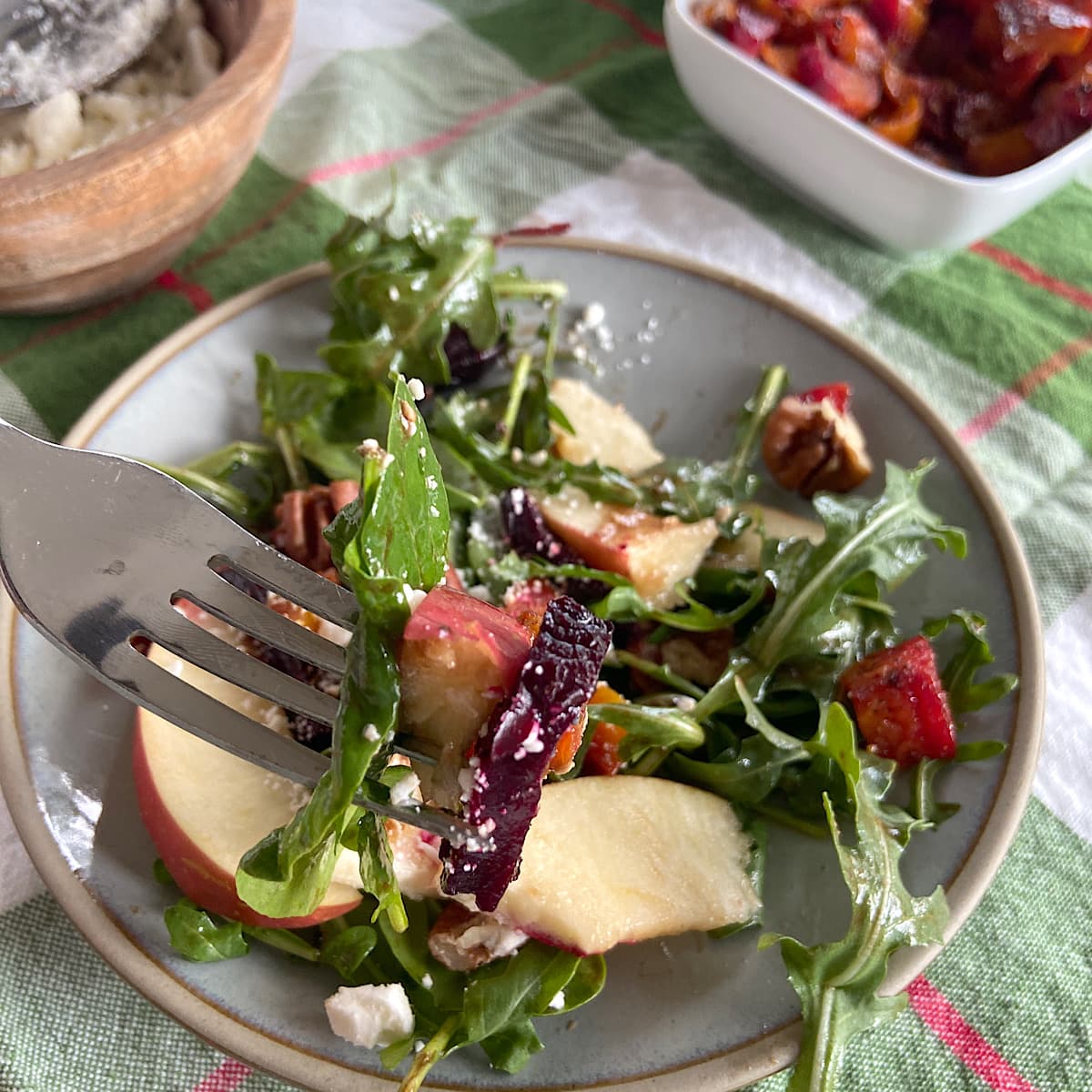 Feel like you are in a rut with your dinner salads? This roasted beet salad will raise your leafy greens to a new level.
These roasted beets have an earthy flavor you will love adding to recipes. I add a light vinaigrette to add a subtle tang, but you can dress it up in your recipe.
Ingredients
For greens, I love the slightly bitter chew of arugula and baby spinach. But, you can use any greens you prefer.
To add a little salty bite I included a small amount of crumbled feta cheese. Toast pecans to deepen their nutty flavor.
I use roasted beets with this recipe the day before and added a raspberry vinaigrette and allowed the beets to cool for 24 hours before adding them to the salad. For interest, I julienned the red beet and cubed the golden beets.
Instructions
Step 1. Wash salad greens in a salad spinner #ad. Place greens in a large bowl. Place pecans in a frying pan. Turn pan on medium heat and allow to toast. Shake pan several times over 5-7 minutes. Remove and allow to cool.
Step 2. Chop roasted beets into strips or cubes. Wash and slice an apple into thin slices.
Step 3. Drizzle greens with Raspberry Vinaigrette. Lightly toss to coat. Place greens on a plate. Add slices of apple, sliced red, and cubed golden beets, sprinkle with a teaspoon of feta cheese, and finish with a few pecans. Drizzle a teaspoon of dressing over the salad. Serve and enjoy.
Frequently Asked Questions
What to Serve With Apple Beet Salad
Apple and Beet Salad is a flavorful dish that will complement a steak or Slow Cooker Pot Roast. Check out more Salad Recipes.
Other Healthy Salad Recipes for You
---
October 2022 Update: Minor post updates.