This post may contain affiliate links. This means I may make a small commission at no additional cost to you when you make a purchase. Find out more in the Disclosure Policy
So you want to lose weight and have heard about the low carb diets. But, what is keto and how do you start?
The keto diet is an eating program that restricts carbohydrates and replaces those daily calories with protein and fat. Yes, fat. Adding fat to your meals is what helps you lose weight on the keto diet.
---
Article Index
---
What is Keto?
Keto, Keto Diet, Ketogenic Diet are all terms people mention when talking about this diet, but many still don't know the diet details and want to know, What is the Keto Diet?
The typical keto diet is a food program. It consists of eating a meal plan where total daily caloric intake consists of specific macronutrient amounts.
Typically, keto diet percentages require eating a daily caloric mix of 5-10% carbohydrates, 70-75% fats, and 20% protein.
On average, daily carbohydrate intake should not exceed 75 grams. Ideally, it should remain under 50 grams.
Many keto diet advocates suggest that carbohydrates should stay under 20 grams per day.
Why are Macro Limits Important
When eaten for extended periods of time, the Keto Diet mix of macronutrients depletes the body of glucose, which is the body's primary fuel.
To compensate for the lack of glucose, the body kicks into a state of nutritional ketosis.
Ketosis is a metabolic state where the body breaks down fats into ketones to use for fuel.
When the body uses ketones for energy, its production of insulin and insulin-like growth factors are both decreased.
This is important for decreasing the storage of fat. For more on Ketosis check out my post Ketosis, Burn Fat, Keto On and Lose Weight Fast.
How was the Keto Diet Developed
The Ketogenic Diet, now referred to as just the Keto Diet was developed in the 1920's as a treatment for epilepsy. Russell Wilder, MD from the Mayo Clinic developed the diet.
The diet was routinely used to manage epilepsy until post-World War II. After that time, its use as a treatment for epilepsy declined due to the pharmaceutical production of anti-epileptic medications.
Once available, medications became standard of care and the ketogenic diet was no longer used as an epileptic treatment.
The diet was rediscovered and popularized in the 1990s. It is now studied for its benefits in other medical conditions (see sources below) such as:
Metabolic Disorders

Autism

Brain Tumors

Alzheimer's Disease

Parkinson's Disease

Migraines, and Chronic Cluster Headaches
Research continues to expand knowledge of the diet in treatments of other conditions beyond weight loss. More clinical research is needed to confirm these initial studies.
Science Behind the Keto Diet
Glucose is the body's primary source of energy.
The body metabolizes carbohydrates into glucose.
When we eat too many carbohydrates and exceed our body's energy needs it may lead to elevated blood glucose.
The body releases insulin in response to elevated blood glucose levels. Insulin carries and stores the excess glucose as glycogen in the liver.
When fasting or when carbohydrates are reduced to an intake of fewer than 50 grams per day, insulin secretion is reduced. The body responds and enters a catabolic state.
The catabolic state is where the body breaks larger molecules down into smaller ones to produce energy. Specifically, glycogen stores are broken down into glucose and depleted.
Once glycogen stores from the liver are depleted, the body switches to the internal production of glucose called gluconeogenesis. In addition, the body switches to the breakdown of fats into ketones called ketogenesis.
Gluconeogenesis is the production of glucose from lactic acid, glycerol, and amino acids. Eventually, gluconeogenesis cannot keep up with energy demands.
When this happens the body replaces ketones from fat breakdown as the primary energy source.
Benefits of the Keto Diet
Benefits of the keto diet include rapid, fat-targeted weight loss, decreased carbohydrate cravings, improved mental focus, energy, and sleep.
This weight loss is important in clinical improvement of metabolic syndrome, insulin resistance, and type 2 diabetes.
Blood pressure and triglycerides and HDL cholesterol levels may also improve. The ketogenic diet may also improve inflammation in the body.
Is the Keto Diet Safe
The keto diet's foundation is ketosis or the production of ketones.
It is essential to distinguish between nutritional ketosis produced by the keto diet and ketoacidosis.
Ketoacidosis is the production of high levels of ketones. It is primarily a risk for patients with diabetes and is rare in non-diabetics.
Ketoacidosis is a life-threatening condition. It generally occurs when a patient has high levels of blood sugar and very high levels of ketones in the blood.
This combination of factors leads to a highly acidic environment and impacts the normal functioning of internal organs like your kidneys and liver.
Ketoacidosis requires immediate medical attention.
Nutritional ketosis occurs when your body burns fat for fuel and produces ketones.
This can happen if you are fasting and is the principal foundation of the keto diet.
The keto diet limits carbohydrates and reduces glucose levels so the body has to look for other energy sources and starts to burn fat for energy.
Using fat for energy produces ketones.
Patients with Type-2 Diabetes should discuss the keto diet with their physician before starting the diet. Diabetes medications may need to be adjusted because blood glucose levels will be lowered as a result of the keto diet.
In addition, patients with low thyroid should be monitored if on the keto diet long term. Thyroid medication may need to be adjusted due to the potential for lowered thyroid function on the keto diet.
Generally, the keto diet is considered safe for most individuals seeking weight loss. Most clinical studies have not looked at the long-term effects of the diet beyond 2 years. Although people have followed the it for longer periods of time.
Many consider the Keto Diet a lifestyle change.
Before starting the diet, please discuss it with your physician to rule out any personal health concerns.
Adverse Effects of the Keto Diet
Adverse effects or side effects of the keto diet include a cluster of short-term symptoms often referred to as the "Keto Flu".
Symptoms may include a headache, fatigue, dizziness, insomnia, low exercise stamina, electrolyte imbalances, and constipation.
These symptoms generally occur during the first week or two of starting the diet. Symptoms are usually short-lived and resolve as the body adapts to using ketones as fuel.
To minimize the symptoms of the Keto flu, drink plenty of water. In addition, you should supplement with electrolytes such as magnesium, potassium, and sodium to help manage symptoms. Drinking bone broth helps, too. My post on Bone Broth Rocks Keto Flu will tell you how to whip up a batch.
Lastly, light exercise, such as a daily walk during this time can help.
Transitioning to the Keto Diet
Most people start the Keto Diet cold turkey.
Others may gradually slide into the keto target range by eliminating certain foods every week.
Eliminating bread, chips, most high glycemic fruits, sugar, etc is the first place to start.
Gradual adoption of the keto diet may be a good idea for beginners with sensitive GI tracts. This approach gives the body time to adjust to increased fats in the diet.
Another option to put the body into ketosis is to fast for 48 hours prior to starting the diet. Starting a few hours before bedtime and only drinking plenty of water, tea, and coffee to support mental clarity.
Generally, after 48 hours you will be in mild ketosis. Start the keto diet at dinner on the second day of fasting.
What Can I Eat on the Keto Diet?
The Keto Diet includes proteins, healthy fats, and small amounts of carbohydrates. This mix of nutrients sets the stage for the body to burn fat for fuel.
When determining which vegetables and fruits to include in your diet check out my posts on Keto Diet Vegetable List to Help Lose Weight Fast and Eat Fruit and Still Lose Weight on Keto Diet.
Foods Allowed on the Keto Diet
Flour alternatives such as almond and coconut
Nuts, lower carb varieties
Drink Plenty of Non-Sugared Fluids
Filtered water, plain or flavored with lemon, lime, or cucumbers
Foods Not Allowed on the Keto Diet
Analyze labels of all foods looking for hidden sugars and carbohydrates
How do I Track Macronutrients on the Keto Diet

Many recipes you find online will provide macronutrient or macro breakdown for the recipe.
But you really need a place to record or compile the numbers. If you like to write your information in a journal, make sure it has a place to record, food, macronutrients, workouts, and goals.
You might try the phone app called MyFitnessPal. It includes features that make tracking your daily food intake a breeze.
You can search for many of the keto recipes found online with nutrition already defined.
Click the nutrition button on the bottom of the diary page. The ap will summarize your macronutrients based on the foods you load into the diary. This will help make sure you are hitting your keto targets.
Aim for carbs at 20-25 grams per day or less. In addition, work to keep carbs at 5% of overall daily intake, protein at 20%, and fats at 75%. For tips on how to calculate these macros, check out my post Tips to Get Weight Loss Back on Track.
Do I Need to Count Calories
Initially, you will not need to keep track of daily calories, but you should track your carbohydrate intake.
Ideally, you will also track your fat and protein.
Protein is important to track because you want to keep a moderate daily intake. If you eat too much protein your body can convert it into glucose. The general guideline is a maximum of one gram of protein per pound of body weight. Ideally eating between 0.6-0.9grams per pound of body weight.
After a time your weight loss may plateau.
You may need to determine how many calories you are eating during the day. In addition, determining the number of calories you need to consume for the weight you are aiming for is important.
Even if you are strictly following the keto guidelines, if you are eating more calories than your body requires for weight loss.
Weight loss may slow.
So tracking calories is really not a daily concern. It is something you may need to evaluate occasionally to keep your weight loss on track.
Ketosis and Burning Fat on the Keto Diet
Determining if you are in ketosis can be done with urine, breath, or blood testing.
Urine Testing
Probably the most common method of testing than blood or breath monitoring is checking the ketone levels in your urine. This is most effective during the first few weeks of the keto diet before your body becomes keto-adapted and starts using ketones for fuel.
Once you are keto-adapted, test strips will show fewer and fewer ketones in the urine, as your body becomes more efficient at using ketones. At this point, testing becomes more accurate with blood testing.
The advantages of urine testing are that there is no finger stick, and no meter with specialized meter test strips to purchase. Urine test strips are more affordable. Due to cost, urine testing allows for more frequent testing than blood testing.
Remember, once your body is keto-adapted, ketones will no longer be excreted in the urine and urine test strips are less useful.
So:
If you want to test ketone levels at the beginning of your keto diet or if you fall off track and restart the keto diet, urine test strips are the way to go.
You can easily test by dipping the test strip in your urine stream, there's no finger prick, and the cost is reasonable so you can test daily or more often if you desire. They provide an estimate of your ketone production during the first 3-4 weeks of the keto diet before you become keto-adapted.
If you want to continue to test ketone levels, there are also ketone blood test meters and breathalyzers available for purchase and home use.
Most people will rely on symptoms to show they are in ketosis. Early symptoms include having a dry mouth and being thirsty. Also having keto or bad breath is a sign.
Rapid weight loss and decreased appetite are other indicators of ketosis. For more check out my post on Ketosis Burn Fat Carry On and Lose Weight Fast on the Keto Diet.
When starting the keto diet and in doubt, if you are in ketosis, purchase keto test strips and end the debate.

Exercise on the Keto Diet
During the first few weeks of the keto diet, it is best to take it easy.
You may have fatigue, dizziness, or headaches. These symptoms are common in the beginning as your body changes from burning glucose to ketones.
After you are fat-adapted you will start to have increased energy and well being. This is the time to add in exercise.
If you haven't been exercising prior to starting the keto diet, then adding a brisk daily walk may be enough to help keep your weight loss on track.
Other forms of aerobic exercise such as biking or running may be maintained with little impact from being on the keto diet.
Exercise programs such as High-Intensity Interval Training (HIIT) programs may be an option. HIIT does not require long hours at the gym or special equipment.
It can be completed anywhere in short bursts of exercise.
---
Just remember to start slow until you see how you feel after your keto workout.
As a beginner on the keto diet may feel overwhelming. There is a lot of information online on the keto diet. So much that many dieters can get information overload.
Planning your meals ahead of time with keto-specific recipes and grocery shopping lists will simplify the process.
Meal planning is an important process for staying motivated on the diet.
Striving for a variety of foods within the target macro percentages is important. Over time, once you have a file of favorite recipes, meal planning is an easier task.
Check out my post on Keto Diet Beginner to find out what to expect the first 3 weeks on Keto Diet.
I created a 7-Day Meal Plan for your first week on the keto diet. I also put together a Grocery List to help you pick up the ingredients to make your meals.
My 7-Day meal plan includes suggestions for Breakfast, Lunch, Dinner, and Snacks. Sign up for my Keto Diet Tips & Strategy Newsletter and I will send PDF links to the guides.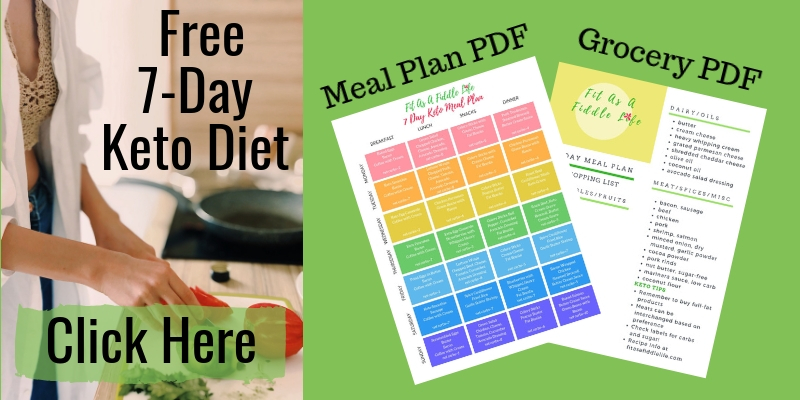 Its also important to track your progress in a journal, such as the Fitness & Nutrition Journal. This handy tool allows you to record your food, macros, workouts, and goals. It even comes with a handy rubber band to keep everything neat and tidy.
Ways to track your progress include a scale such as RENPHO Bluetooth Body Weight Bathroom Scale, an Amazon's Choice product, and a cloth tape measure where you can record inches lost.
Lastly, it's important to have a visual recording of your body's changes as you lose weight. Take selfies right when you start and then weekly thereafter. You will be amazed by the results.
How do I Maintain the Keto Diet
Staying motivated on any diet is important to successfully reach your weight loss goal. Tracking your progress will help you celebrate weight loss milestones and keep you motivated. My post on Hubby Starts the Keto Diet details his approach to staying motivated on the diet.
Once you have the basics down with macro targets, meal plans, and favorite recipes, it becomes about WHY you started the keto diet in the first place.
How does the keto diet and losing weight benefit you?
Keeping those benefits that are important to you is key to maintaining the diet to reach your goal weight.
Also, be kind to yourself and know that you aren't always going to be perfect.
If you stray from the diet, return as soon as you are ready, is important to reap the weight loss benefits of the diet!
Want more answers to your questions? Read my post, Keto Diet Facts.
---
---
---
---
Medical Disclaimer
This site contains general information about diet, health, fitness, and nutrition. This information should not be used to diagnose, treat, prevent, or cure any disease or condition. Please consult with your physician before using any dietary supplement or before beginning a diet or exercise program.
---
---
Sources:
April 2021 Update: Updated images and links in post.