This post may contain affiliate links. This means I may make a small commission at no additional cost to you when you make a purchase. Find out more in the Disclosure Policy
Starting the keto diet? The great results people talk about are intriguing, aren't they? But it seems a little complicated, doesn't it? How do you start? Check out these 5 starting keto tips and learn how to start the keto diet to make the process a lot easier.
---
Last week the hubby decided to restart the keto diet. The first week on the keto diet can be a little scary.
The keto diet also called a low carb diet is when carbohydrates are restricted, protein is eaten in moderation, and fats, well fats are the icing on the cake, of course without sugar.
Making a lifestyle change to the keto diet starts with the following steps.
Five Tips for How to Start the Keto Diet

The First Tip
Mentally preparing for the change in food and making the commitment to the keto diet is the first of the starting keto tips.
This pledge is important before starting any diet. Making a conscious decision to change your eating habits and accepting that favorite food may not be included in the diet.
If you are a sugar addict like me, the thought of no more candy, ice cream, soda, etc. is a lot to give up.
Also, carbs are in all sorts of other favorite foods such as fruits, chips, crackers, bread, and potatoes.
These are all foods that while we love them are not very good for us or our figures.
Luckily, the food allowed on the keto diet is infused with butter, cream, and oils leading to satisfying meals that leave few cravings for carbohydrate-rich foods. 
Hubby made up his mind that he was ready to start the diet and made a commitment to lose weight. To mentally prepare for a diet, he thinks of the health benefits that we all know are related to losing weight.
Your motives for a diet may be less health-focused and might be about looking better in your clothes.
Whatever your motive for starting the keto diet, it is important to track your progress.
Track your progress from the start.
A scale is important to track your weight loss victories, a cloth tape measure to follow your loss of inches, and a camera for selfies.
That's right! Use all three methods to measure your progress. You will be amazed at how quickly you will see progress on the keto diet.
A key step in starting a diet and fitness program is making a plan and keeping a journal record of your progress.
A Fitness Journal below is a perfect way to document your progress with the keto diet. When picking a journal, make sure it includes areas to record food, macronutrients, workouts, goals, and review progress.
Or if you prefer, use a phone app like MyFitnessPal where you can record your meals and it will keep track of your macronutrients.
The Second Tip

Once you have mentally committed to starting the keto diet, the second of the starting keto tips is to clear your cupboards of foods that are not allowed on the keto diet.
Pitch the chips, candy, bread, pasta, candy, soda, and other high carbohydrate food.
At our house, with a teenager and 2 pre-teens, these foods don't stand a chance anyway. But it's always a good idea to start with a clean slate.

The Third Tip
The third starting keto tip in preparing for the keto diet is to plan meals and purchase the food you will eat on the diet.
Knowing how to combine the food into mouth-watering meals, along with calculating the macronutrients may be a challenge unless you do a lot of research.
There is a lot of keto information on the internet. So much that it can be overwhelming weeding through all the recipes and advice.
To make the first week easier, I created 7-Day Keto Diet Meal Plan and Grocery List Guides. The meal plan includes breakfast, lunch, dinner, and snacks. I've also estimated "Net Carbs" per meal to help with your macronutrient tracking.
Sign up for the Fit As A Fiddle Life Keto Diet Tip & Strategy Newsletter and I will send you links to the Meal Plan & Grocery List PDFs. Click below to sign up!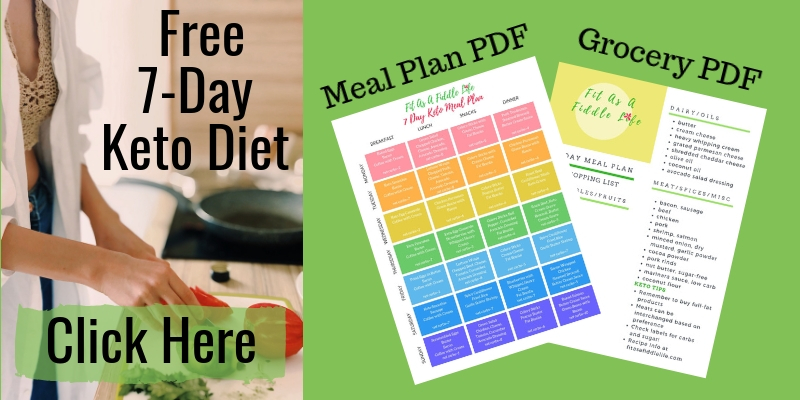 Ways to Make Meal Planning Easier
When learning how to start the keto diet there is a lot to consider. Purchasing a book such as The Keto Beginning, Complete Guide & 30 Day Meal Plan eBook will make starting the diet a lot simpler. It is perfect for the beginner keto dieter.
This will make your first month on the diet a breeze. It also supports users who have food sensitivities.
Alternative recipes are provided so that you don't have to rework them to fit your needs. This alone will take much of the time-consuming effort to meal plan out of the diet.

Variety is the key to maintaining enthusiasm for the diet. There are some really good online keto recipes. Searching for them can take time.
For a more seasoned keto dieter, another way to collect recipes is by purchasing keto cookbooks such as the Keto in Five Meals series by Tasteaholics. The series includes cookbooks for breakfast, lunch, dinner, and dessert.
This program takes a lot of the work out of researching recipes. It also has the macronutrients calculated for each meal. Then simply pull a daily recipe out of each for breakfast, lunch, dinner, and snack cookbook to plan your meals and macros.
Click below to learn more.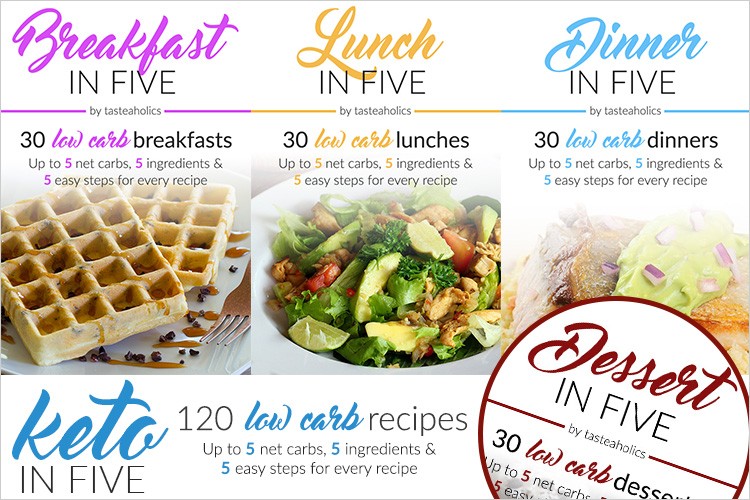 The Fourth Tip



Most keto dieters track macronutrients. Macros are your running tally of carbohydrates, proteins, and fats.
I suggest recording in a daily journal or use the MyFitnessPal app on your phone. It has a lot of features that make tracking your daily food intake a breeze.
There is a search feature where you can find many online keto recipes with nutrition defined. Clicking on the diary page nutrition button will allow you to make sure you are hitting your keto targets.
I suggest aiming for carbs at 20-25 gms per day or less. In addition, work to keep carbs at 5% of overall daily intake, protein at 20%, and fats at 75%. This takes some practice, but once you have the hang of it, the fourth easy step of eating within these targets is a breeze.

The Fifth Tip
The final easy step in how to start the keto diet is preparing for how your body reacts to cutting off the carbs. This is often labeled the keto flu. It occurs when your body becomes depleted of carbohydrates, and before it becomes fat adapted.
You may experience a variety of symptoms from headaches and irritability, to dizziness, nausea, and cramping. This is your body's reaction to depleting its glucose stores before it starts using fat as fuel.
Overall with the keto flu, you may just not feel yourself or you may have more severe symptoms.
Luckily these symptoms pass within the first week or two. Drinking lots of fluids, including bone broth, eating enough fat, supplementing electrolytes such as sodium, potassium, and magnesium, and getting light exercise, Finally, being good to yourself will help you through this time.
My husband says...the good thing he experienced on the keto diet is very few cravings for high carb, sugary foods. He's not saying that he was never hungry, but the flavorful and fat-filled foods that are allowed on the diet quickly take care of your hunger so that you are satisfied.
While a change to the keto diet journey may seem like a challenge at first, if you follow these easy starting keto tips above, and prepare, the first week will be a breeze.
Adding new workout gear will help motivate you to add exercise while following the keto diet. Check out my post where I picked out the Best Work Out Clothes for Women.
When you are ready and experiencing good energy, adding a daily walk will help keep your metabolism humming on the keto diet. Check out my post, Why Run When You Can Walk to Lose Weight?
April 2021 Update: Added images and updated post.
---
---
---
---
Medical Disclaimer
This site contains general information about diet, health, fitness, and nutrition. This information should not be used to diagnose, treat, prevent, or cure any disease or condition. Please consult with your physician before using any dietary supplement or before beginning a diet or exercise program.
---
---
Are you ready? Let's get started!
Sign up below to get your FREE 7 Day Meal Plan and Shopping List Guides!
---
---