This post may contain affiliate links. This means I may make a small commission at no additional cost to you when you make a purchase. Find out more in the Disclosure Policy
It's that time of year again. The time of year when we get a fresh start. When the whole New Year spreads out before us and the possibilities of what we can achieve seem endless. When preparing for all this wondrous accomplishment, if improved health and fitness are part of the plan, then I always like to start with the best workout gear. Specifically, the best workout clothes for women.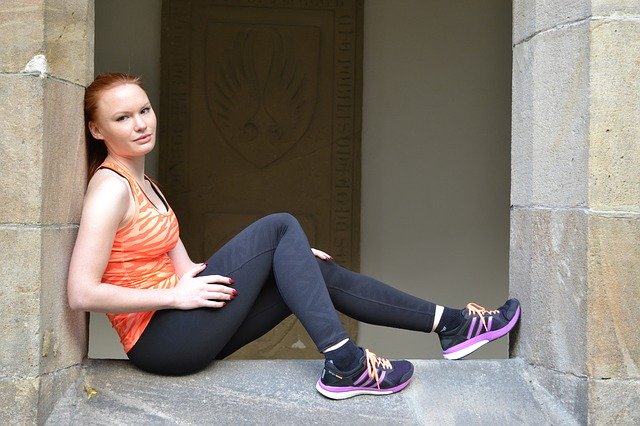 Let's face it there are a lot of workout gear brands. Finding one that you like, that makes you feel good, and that fits your body is critical.
For instance, take Gaiam, yes the yoga mat brand. In the past, I really only associated them with yoga and well... yoga mats.#ad While they offer a huge variety of beautiful, high-quality mats, they have many other products to support health and fitness.
Take a look at their workout clothes for women, balance balls for workouts, and balance stools for work (see below). They also have a great assortment of recovery tools, such as foam rollers, to help with muscle stiffness from your workouts.
Check out this Balance Ball Stool. Engage your core, while improving posture and circulation.
The variety of products Gaiam offers may surprise you and hopefully will entice you to start a plan for improved fitness and health.
---
Workout Apparel
There is nothing like new workout gear and apparel to put you in the mood when you are picking up a new workout. Women's workout apparel has come a long way. Fit and function have elevated these pieces to everyday wear for their comfort and style.
These Leggings are constructed with quality material, fit great and while they may appear to be just a basic black legging, they have a "peek a boo" mesh insert that gives them a little something extra. If you are looking for full-length leggings, this is the pair for you.
---
---
Open back and racerback tops in various colors to finish your look.
Don't see your size? No worries. Find other size options here.
---
Workout Accessories
If you are heading to the gym after work you probably need a bag to carry your workout clothes to the gym or studio.
I love this Studio to Street Bag. It is big. 17 inches long by 9 inches deep by 13 inches wide. It has a large main opening and lots of zippers and pockets on the inside and outside to store keys, water bottles, or whatever you need.
---
Workout Shoes
Is it time for a new pair of workout shoes? Shoes are some of the most important workout gear for women. They provide stability and allow you to maximize your workout benefits. Shoes also protect your feet.
Take a look below at some of the best athletic shoes to support your workouts.
I already own a pair of great running shoes, but I also need athletic shoes. Shoes I can wear during HIIT workouts or when I hit the gym.
Shoes that are a little more flexible, maybe less heavy, and let me move quickly as needed.
Once I started researching athletic shoes I realized there are different types of athletic shoes depending on what you are wearing them for.
There are:
running shoes,
trainers,
studio shoes, and
walking shoes.
Each is constructed in slightly different ways for its intended purpose.
So are you loyal to a particular athletic shoe brand, but due to wear, manufacturer changes, or just the itch for a change, now you are looking for a new shoe? Check out these top athletic shoes.
Top Athletic Shoes
Cross trainers or trainers are shoes that keep the foot grounded. Heel box support, a cushioned midsole with a flexible insole, and firm support for lateral movements are critical.
Trainers are intended for the gym when you are doing weight training and squats and jump training or plyometrics.
HIIT Trainers provide a good grip on slippery gym floors. They are constructed to keep your foot secure during active workouts.
Look for shoes that have a low-cut design that supports free motion and quick transitions.
---
Looking for all-day comfort and maximum cushion to make your daily walks a dream? When evaluating walking shoes, look for a shoe that is snug but not tight.
---
Experiencing heel pain with your workouts? Try a pair of Vionics. They are manufactured with a built-in arch and often help relieve heel pain.
---
Proper Shoe Sizing is Very Important
Before ordering your new shoe, sizing is going to be important especially if you are making a change. Consider the following when picking out a new pair of kicks.
Make sure your toe bed has plenty of room. We often pick a shoe that fits too snug and this doesn't allow movement of the foot during running.
Try on shoes with the socks you typically run in.
Don't tie laces too tight to allow for foot spread.
Stand on your toes so your foot slides to the front of the shoe. You should have at least a finger width of room between your heel and the back of the shoe. If not, you need a bigger size.
Try the shoes out and see if they are comfortable while running on a hard surface.
---
Didn't find the shoes you were looking for? Check out, Top Running Shoes for more options.
---
---
October 2022 Update: Links and minor post updates.