This post may contain affiliate links. This means I may make a small commission at no additional cost to you when you make a purchase. Find out more in the Disclosure Policy
You've probably heard about the keto diet and the great weight loss results that everyone talks about, but what keto diet foods can you eat?
Let's delve into that in a little more detail.
How The Keto Diet Works
The Keto Diet is based on eating specific amounts of carbohydrates, fats, and protein daily. This is typically referred to as daily macronutrients or macros for short.
The cornerstone of keto is eating about 5% of daily food intake as carbohydrates. What I mean is that for a typical 2000 calorie per day diet, you would eat about 80 to 100 calories of carbohydrates per day.
That my friend is not a lot.
But:
it is this carbohydrate restriction that lowers your blood glucose to the point that your body has to find another source of energy or fuel. Luckily it has a backup plan called fat.
The process of burning fat for energy is called ketosis. Ketones are the byproduct of fat metabolism and that is where the terms ketogenic or keto diet come from.
So, there is a little more to it than just limiting carbohydrates, you also focus on 75% of your daily calories from fat. That's right. Fat.
In contrast to what we have been told for years, adding a little or a lot of fat as with the keto diet, still sets the stage for weight loss. In fact, with the keto diet, most people lose fat and weight quickly and steadily as long as they follow the guidelines and stay away from sugar and carbohydrates.
What Foods Can You Eat on the Keto Diet
Carbohydrates
Let's start with carbohydrates. Limiting your daily intake to 20-25 carbohydrates is not a lot. It is best to focus those precious grams on plant-based carbohydrates. Focus on leafy green vegetables, and other low carbohydrate vegetables.
A rule of thumb is to avoid vegetables that grow underground. Foods like potatoes, yams, carrots (ok in small amounts), corn, etc. All these vegetables should be avoided on the Keto Diet.
Most Versitile Keto Vegetable
One vegetable that will be your friend is cauliflower.
You may be thinking, but I don't really care for cauliflower. The thing is that cauliflower is a chameleon when it comes to keto recipes. Chopped fine it can substitute for rice or even fried rice when it is seasoned with the correct spices.
Cauliflower can also be a substitute for macaroni in Mac n Cheese, hash brown potatoes in Cheesy Cauliflower Casserole or even mashed potatoes when prepared and processed into a smooth consistency.
The key in all these dishes is adding flavor. That means butter, cheese, sour cream, cream cheese, garlic, bacon bits, etc. The good thing about these flavorful additions? They help you meet your fat quota too.
The most surprising ways I have used cauliflower is in pizza crusts and to make lasagna noodles. Unbelievably good. It takes a little effort to pull off these dishes, but when you are craving your favorite slice of pizza or a big cheesy piece of lasagna you will be amazed at the power of cauliflower.
All this with very few carbohydrates to count toward your keto diet macros.
For more on low carb Keto Diet vegetables, check out my post, Keto Diet Vegetables to Help Lose Weight Fast.
Protein
Next, let's talk about protein.
Gone are the suggestions to remove excess fat from your steaks. Now we are looking for fattier cuts of meat. Marbled steaks and roasts will help you increase your fat intake. Salmon is an excellent choice both for the protein but also for the healthy fat.
Don't forget about bacon, but make sure and check the package ingredients, because manufacturers often add sugar or other sweeteners to bacon. You know we love sweet tasting food. Sugar is in everything so always check your package labels.
For chicken, including dark meat will help with fat macros. Adding strips of bacon to chicken breasts is an excellent way to increase the flavor of the chicken, but to also increase the fat in the meal.
The key to protein is the keep your intake to moderate levels. I would suggest eating about 4 ounces of protein per meal.
The problem with eating too much protein is that the body can only metabolize and store so much. Once you take in more than that limit, your body will convert the protein to glucose and there goes the delicate ketosis that you have worked so hard to achieve. It's not that you can't achieve ketosis again, but why have to go through the process all over again.
Fat
Now the focus is on fat. Fat is a little challenging to get up to 75% of daily calories that is often suggested that you eat on the keto diet. The thing is, you should really only eat until you are satisfied. So its best not to try and eat up to the very limit of fat that you can eat.
Eating less because you are satisfied with less, means that your weight loss will keep going. The lucky thing is that when you are in ketosis, you often lose much of your appetite anyway. So this does not end up being an issue as much as you would anticipate it would be.
Fats can include butter, bacon grease, ghee, olive oil, coconut oil, avocados, etc. Really mostly these are added to your carbohydrates and proteins to add flavor. They will also satisfy your hunger and cravings so make sure and eat as much as you need without going over your macro limit.
For more on Keto Diet Fats and Oils see my post, 8 Must-Have Fats for the Keto Diet.
One way to get fat into the keto diet and address cravings for a treat is to make a batch of fat bombs. Fat bombs are highly concentrated bonbons of peanut butter, almond butter, coconut oil, butter, cream cheese, or other fat with flavoring such as cocoa powder, berries, etc. Prefer a savory treat? There are savory fat bombs for you too.
Check out this 100 Sweet & Savory Fat Bombs Cookbook for ideas.
These sugar-free treats are just what you need when you are craving your favorite candy bar or savory snack.
Healthy Foods on the Keto Diet
Keto diet food should focus on low carbohydrate whole foods. It's best to eliminate most processed or prepackaged foods because manufacturers often add sugars or starchy products to extend their shelf life or improve their flavor. The following is a list of foods to keep on hand for the keto diet.
Eggs, Meat, Chicken, Turkey, Fish, and Low Carb Seafood
Cheese
Avocados, high in fat and fiber
Coconut, olive, and avocado oils
Full-fat plain yogurt, cottage cheese, butter, and whipping cream
Low carb vegetables and fruits
Lower carb nuts and seeds
Sugar substitutes, such as Swerve Granulated and Powdered Sweeteners
Flour substitutes, such as coconut flour or almond flour
Favorite Keto Recipes
Since the keto diet requires tracking daily macronutrients, most people end up cooking the majority of their meals. I have a few favorite keto recipes here.
It's important to have a meal plan in place and keto diet foods purchased and ready to be prepared. This will make it easier to stay compliant on the keto diet. Check out my post, Start Fresh Today for a one-week meal plan and grocery list to get you started.
So when cooking at home, you need to have a lot of recipes to keep variety in your diet. You can search online for free recipes and there are many good blogs where bloggers have refined recipes for the keto diet and provide nutrition facts for their recipes. Check out I Breathe I'm Hungry, Hey Keto Mama and Elana's Pantry to name a few.
You can also check out my post, Best Keto Diet Cookbooks to Tempt Your Taste Buds. In this post, I highlight some of the great Keto Diet Cookbooks that are available. There are great cookbooks for remaking your family favorites, using the Instant Pot to shorten cook time and more.
Something else to consider is some of the substitutions you make for cooking low carbohydrate meals will have a learning curve.
For example, coconut flour absorbs a lot of moisture so you will see more liquid ingredients in keto recipes using coconut flour.
Another example is sugar substitutes, some work better than others in baked products. For more on sugar substitutes, check out my post, Best Sugar Substitutes for the Keto Diet.
For those meals when you need to or want to eat out, I have suggestions on how to do just that and stay on the keto diet. Check out Eating Out on the Keto Diet is a Treat.
Tracking Keto Diet Food
One of the most important tips for the keto diet is to track what you eat. The food you eat daily on the keto diet is broken down into 5% of your daily caloric intake as carbohydrates, 20% as protein, and 75% as fat. The best way I have found to keep track macros is with the MyFitnessPal app on your phone.
Download MyFitnessPal
To get started, download the MyFitnessPal app from the App Store on your phone. Create an account, set up a profile and you are ready to go. It will track your starting weight, your goals, your daily calories, your water intake, exercise, etc. It is very easy to use.
Track Your Daily Macros
To get started, press the Diary Button at the bottom of the page. Next, you will see Today at the top of the page, with a section for Calories Remaining and then below Breakfast and Lunch, Dinner, and Snack, Exercise, and Water subheaders. But:
With the keto diet you can, for the most part, ignore the daily calories.
Add Food to the Diary
Press on the meal you that you want to track. For example, selecting Breakfast will bring up a search bar where you can enter what you are eating for that meal. So if you are starting the day with a couple of slices of bacon, enter bacon and press the blue search button.
Scroll down the page until you find the brand of bacon or generic listing you want to add to your breakfast tracker. Press the listing.
The next page will show you what a serving is. You can adjust to how many slices of bacon you are having. So if one serving is one slice and you are having 3 then you will need to press on the number of servings. This will allow you to specify if you have 2 or 3 servings.
If you are having less than 1 serving, you can zero out the whole serving and estimate what portion of a serving you want to enter in the diary. For example, 1/2 a serving. Press the check mark.
You will be brought back to the bacon screen and will see the correct number of servings. If everything looks correct, press the check mark at the top right of the page. This adds the first food to your breakfast. Repeat the process for the remainder of the items you are having for your meal.
Now to see how your food breaks down into macros, scroll down to the bottom of the page and press the Nutrition Button. This will open a page that shows you how your food breaks down into macros.
Carbohydrates, Fat, and Protein are listed by percentages. There is even a chart that shows you visually how your food breaks out into these macrolide categories.
Pretty cool, huh?
Want a Simpler Option
For a simpler option, have Keto Diet Meal Plans and Recipes with all the nutrition and macronutrients calculated sent right to your email.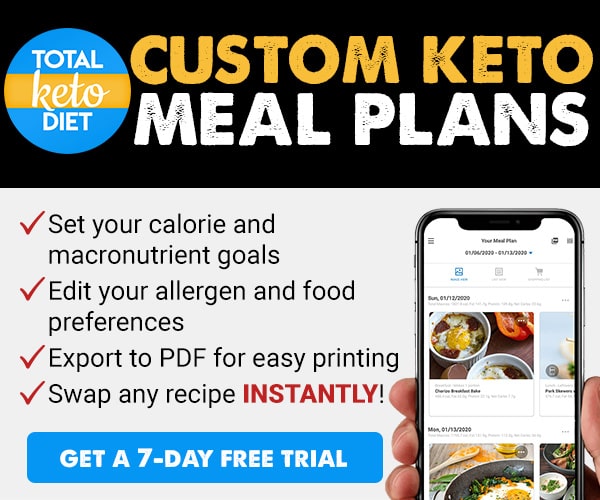 Food to Avoid on the Keto Diet
High carbohydrate foods to avoid on the keto diet include:
Fruit, except berries
Root vegetables, potatoes, yams, carrots, etc
Grains, rice, wheat, bulgur, oats, quinoa, etc
Flour and corn-based products, bread, taco shells, pizza, crackers, etc
Sugar based products, cookies, muffins, ice cream, BBQ sauce, etc
Sweetened drinks, fruit juices, sweet wines, beer, cider, etc
Checking the label on prepared foods is key. Even when you purchase from the deli at the grocery store. Ask and you will be amazed at which dishes have added sugar.
Now you are on your way to starting the Keto Diet! Let me know how it goes!
---
---
---
---
Medical Disclaimer
This site contains general information about diet, health, fitness, and nutrition. This information should not be used to diagnose, treat, prevent, or cure any disease or condition. Please consult with your physician before using any dietary supplement or before beginning a diet or exercise program.